It's finally here people! The Bachelor Canada after a two-year hiatus has returned. Canada doesn't churn its reality TV out as quickly as our American friends but when it produces a show it does it well. Both Amazing Race Canada and Big Brother Canada have outdone their American counterparts and I see The Bachelor Canada doing the same.  Our first Bachelor Brad Smith found love with Bianca only to have it end a year and a half later. Let's hope Tim Warmels has better luck. He has already said he will do things differently this season. He's going to take chances and not follow the rules. Was that a bit of friendly shade thrown Brad's way?Our hopeless romantic Tim needs to buckle up because this looks like it's going to be wild ride. Within in the first few minutes the words Bat Shit Cray have been uttered. After a quick intro to our Bachelor and his ladies (you can find my introduction to them here) the limo's start to arrive. I don't think you can make this experience not be awkward but lets see these 25 girls give it a shot!
Our first 5 out of the limo are Rileigh, Kaylynn, Raelee, Jennifer and April Brockman. Yes not only do we have 2 April's  we have to April B's. This won't be confusing at all!  First out Rileigh brings shots to our Bachelor to break the ice. Smart move. Being first you need to make a huge impression. I am sure he'll remember her. Kaylynn our ballerina gives him big hugs and seems to ooze confidence, and Tim is digging that. Raelee was Canada's pick to be on the show, as a gymnast she could have done something fantastic with her entrance but it was just ho-hum. Our Joyologist Jennifer came out talking.  I wasn't sure I'd like her but her short intro in the beginning warmed me to her. She's going to be the girl you either love or she'll annoy the crap out of you and then there was April Brockman, looking stunning in a sequined red dress. She played it aloof and hard to get and Tim definitely took a second look at her as she walked up to the door. This was a hard first 5. A lot of beautiful ladies and big personalities.
The next limo brought out Sachelle, Dominique, Trisha, Andrea and Renee-Anne. The names on this show might kill me and my spell check! To get Tim to remember her name Sachelle brings him a seashell to keep in his pocket. Good move if you ask me. Now he has something in his pocket that will make him remember you, but it's not so cheesy he'll find it lame. Trisha the pageant queen who has yet to win a title comes wearing her sash so he won't forget her name and Renee the doctor writes him a prescription for a good night. Andrea and Dominique were just there for me so we'll see what our Bachelor thinks of them later.
Ritiuska, Alison, Jacqueline, Rebecca and Sarah arrive next. Riti gets Tim to speak Spanish which in my opinion is super sexy, Alison gets him to dance and makes him laugh what I think was the first genuine laugh of the night and Rebecca intrigues and terrifies him with a promise of a surprise. Jacqueline and Sarah had some pretty awkward conversations outside, hopefully they can pull it together side when the pressure isn't so great.
The next Limo brings Natalie, Sharan, Martha Kelsey and Jenny. Natalie does the two kiss greet and gets a double take from him as she walks away. Our bachelor is a pretty open book when he decided someone catches his fancy! Martha gets some more spanish out of him and when he learned she's a fashion buyer her he said good, you can dress me! Kelsey was a another awkward one and Jenny brought him some weird flower that he wasn't allowed to have until he found out more about her. I wish Jenny's dress had been tailored better. It was pretty but didn't seem to fit her.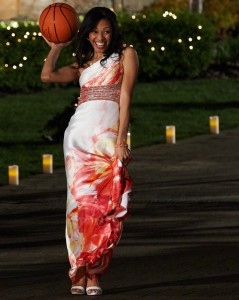 Last but not least we get Jewel, Sonja, Christine, Lisa and April Bognetta. Jewel, who happens to be the big sister of Topaz Brady from Big Brother Canada 1 comes out with a basketball and let me just say I love her dress! Sonja got Tim laughing quite a bit and Christine got second glance from Tim as she walked away too. Lisa's conversation was a bit awkward I found but he is liking her and we are going to have to keep our eyes on this fiery red-head. The entrance of the night had to come from or Vagician April. Confetti cannons erupt and she emerges from the limo amid gold glitter. Tim was terrified and turned on all at the same time. He seems smitten with her right out of the gate if that huge smile on his face is any indication.
Now that all our ladies are in the mansion let the drama begin! Tim is working the room like a champ. He's interacting with them in large groups and one on one. The ladies are making friends with each other and cutting in on Tim's conversations. Natalie believes it's love at first sight but the first real interaction we have is Tim and Kaylynn.  Watch these two because there is a connection there. She reveals she left home at 9 to train for the ballet and that she was made fun of for being an ugly duckling. Tim says he can relate, he wasn't a great looking kid either. Hard to believe considering he is smoldering hot and sexy now. Why do I think we should watch these two? Body language says it all. His hand immediately went to her knee and they sat there hand intertwined so naturally that if she doesn't end up in the final 2 I'll stop watching. My only problem with Kaylynn is that she could be her own worst enemy. She goes from confident to crying very quickly. She is going to be a lot of work to keep on an even keel but I hope she can overcome this! Our Joyologist Jennifer is working the girls when she should be working Tim. All the girls think she is a hoot to be around. She certainly is! She's loud, goofy, funny and always has something nice to say about the girls. She does get time with Tim and she overwhelms him with her resume. He would love to sit and have coffee with her for an afternoon to hear all her stories, but that was the kiss of death for her run on The Bachelor think!
Vagician April steals Tim away from Alison and tells him that she is a burlesque dancer (she has yet to tell him she waxes vajayajays too) and that the girls think this is easy for her to do. Sure she can take her clothes of and dance, but talk to a man for realz….that is hard. He is trying to figure out if she is putting on an act to make him laugh for if this is really her, but he's going to have fun figuring it out. Rileigh cuts in on them and not a minute later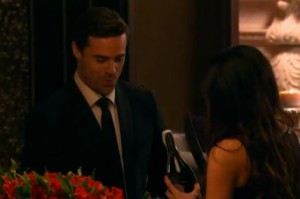 Kelsey is trying. Rileigh stands her ground and tells her to go away for a bit, she just sat down. THANK YOU RILEIGH. I have been waiting for this. Someone finally said "Bitch….wait your turn" Kelsey goes off but comes back soon after and she is carrying a giant knife. Rileigh stands down and Tim reluctantly goes off with Kelsey. Why is carrying a huge knife. She shows him she can pop the top off a champagne bottle with it and he breathes a sigh of relief that he's not going to be chopped into a million pieces. He has barely recovered from that frightful incident when Rebecca walks in with an apron on over her gown. This is the girl who promised him a surprise when she got out of the limo.  She baked him an apple pie! WHAT! He eats a piece hoping it's not laced with arsenic. Christine then pulls him aside and decides to share a song she wrote for him. OMG the girls are dying….just dying. Her voice isn't bad but it's not great either and the song was just strange. All the girls are thinking that it's, she's outta here.
All evening long that dreaded first impression rose has been sitting on the table and Tim has decided who he's going to give it to. He brings all the girls together and all I can think of is Tyler would die right now, totally scream and have a fit. In front of everyone he gives the first impression rose to……….CHRISTINE! Jaws literally dropped. No one gets it and quite frankly I am wondering what was in that shot that Rileigh gave him at the
beginning of the night! He talks again with Sachelle and while the shell got him to remember her name he didn't pronounce it right and he had a really good talk with Natalie too. He finds her confidence sexy and seemed genuinely interested in what she was saying. We meet our villain Lisa now too. She said it herself she's more an observer than a mingler and while talking to Jenny "accidentally" knocks a drink all over her. She runs to the bathroom and Lisa just shrugs her shoulders. I know I should hate her but I am actually loving this villain for now. Tim talks with her and he is finding her edge sexy and thinks that while she may be a handful he is up for  the challenge. Remember how Tim said he's not following rules? Well he breaks one rule night one. He likes two girls so much he can't wait to give them roses. I'm thinking ok it's got to be Kaylynn and April Borgnetta. Nope! Natalie and  Sachelle get roses before the rose ceremony begins. I am totally shocked by those choices and it sends Kaylynn into bit of a depression. Tim can see she's upset and he actually takes time to comfort her and make her feel better. Our Bachelor does have a heart. He just wants her to be herself and if it's meant to be its meant to be.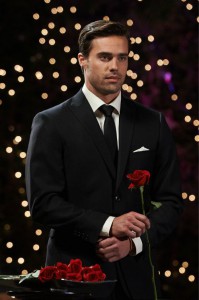 Finally it's time for the rose ceremony. Ten girls are leaving and three already have roses. Knowing that Kaylynn is a bit upset he puts her at ease right away giving her the first rose. He does make pageant queen Trisha sweat it out and she gets the final rose. The ladies that weren't lucky enough to continue the battle for Tim's heart were Canada's pick RaeLee (proving production doesn't have a say in who stays or goes),  Sarah (Where was she all night?) Joyologist Jennifer (I think she put herself in the friend zone) Andrea (Who….didn't see any of her all night) Ritiuska (me and my spell check thank you) Jacqueline (again who….was she even there) Rebecca (guess the apple pie wasn't very good) Sharan ( what? There was a Sharon?) Kelsey (I guess the knife party trick backfired) and Jewel (Having reality TV connections gets you know where here) Now that I've seen them in action my top three would be Kaylynn, April Bornetta and Lisa. Who do you think is going to stick around to the final rounds and maybe win Tim's heart?