After the Double Eviction, the next HOH had a movies theme. Details have been spotty. Angela won the HOH, bringing both her and Tyler to a total of 3 HOH wins each. Between Kaycee, Tyler and Angela, they've won the last 10 competitions in a row. The night before the Double, Angela told Tyler that she's in love with him and he said it back. So now, Tyler has Final 2's with JC, Sam, Kaycee and a full-blown relationship with Angela. He has a good chance of sitting in Final 2, but how will the jury view his game? It depends on who he sits beside.
In the hours leading up to the double eviction, Tyler let Kaycee and Angela know that Brett told him that they need to take out Angela and Kaycee because they'll have an easier time beating JC or Sam. The 3 planned backdooring Brett during the double, and executed the plan flawlessly, except that Tyler didn't tell JC what he was doing, which caused a major disagreement between the two of them Thursday night. This is the first time that JC wasn't in the know about what was going on in the game. He feels that Tyler made a mistake by taking Brett out, which makes their road to final 2 more difficult. Tyler told him that he couldn't tell JC because he had gotten so close to Brett. He lied to JC, telling him Brett said JC.
Feeds were down until about 11:30 PM EST on Friday for the Bebe Rexha concert. (I had to Google her and found some compilations that I've heard with G Easy and Florida Georgia Line.) Feeds came back after the nomination ceremony and predictably, Sam and JC were nominated. JC freaked out to Tyler about being nominated. I think he believes he is the Derrick of this season, so his Final 2 "never been nominated" speech is out the window, which isn't happening if Level 6 continues to steamroll through the comps.
JC continued to bitch about Tyler's game move of taking Brett in the double without discussing with him first. He told Tyler that he needs to win the POV and use it on him, so Kaycee is the replacement. He poi out that if they don't take Kaycee out's not wrong about that!) JC wants to make it to Final 2 with Tyler because he's his best friend in the house, and they can "do The Amazing Race after BB and will have lots of opportunities together." I loathe when houseguests automatically think BB is the launchpad of "opportunities," i.e. Mark and Elena, who still think they're relevant. Nope. Nobody gives a shit. CBB is coming up, and before we know it, it'll be time for BBCAN7. Once Tyler sees the #MinionFucker video, he's distancing himself from JC.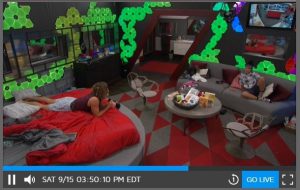 Nonetheless, even after JC made valid points about her, Kaycee and Tyler reaffirmed their Final 2, saying that they've had it since Day 2. They both think that Angela feels comfortable that either of them would take her to Final 2. Kaycee thinks Angela would take Tyler to Final 2. Honestly, Tyler's most likely route to win is throwing part 3 of the final HOH to Angela if the two of them make it there.
JC also talked to Sam about taking each other to final 2 if either of them won the POV; they promised to vote out the person nominated in their place. JC said that the 2 of them are the most liked by the jury, so he believes that Tyler, Angela and Kaycee will send them out next. At least he sees the writing on the wall.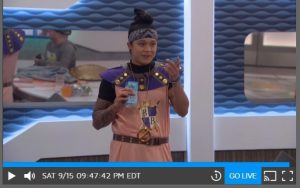 The feeds were down for several hours during the POV. When they returned, KC was wearing the POV with everyone dressed in medieval costumes. That's her 4th POV, making Level 6 11 for 11 in comp wins, 12 for 12 if you include Brett's POV. (Tyler REALLY needs to heed JC's advice.) She completed the comp in approximately 5 minutes, and Tyler was a close second with a time of about 5:30. Sam timed out in the competition. It was a maze that featuring a wizard and witches they had to knock down. (The next POV should be the days comp.)
Houseguests will get the yard minimally (if at all) this week to set up the competitions happening between Wednesday and Thursday's evictions. Cabin fever will send JC's paranoia into overdrive, possibly keeping feeds interesting until they're down for the comps. He'll be relentless in making sure he remains this week's pawn. For now, a teary-eyed Sam seems to have accepted that she is leaving. It'll be interesting to see how Tyler handles Sam. He needs to explain his game to gain her vote. He should have done that with Hailey to gain a jury advocate, unless Sam's a secret superfan that's played the houseguests, producers and audience. Fucking doubtful.
Only 10 days until the finale! Who should win BB20 verses who will win? Please leave your comments below!
Enjoy Eric's nightly comedic shows on YouNow with BB20 tea served piping hot. Former Big Brother houseguests will join him during the season. Make sure to FAN him on YouNow. Follow him on Twitter @RealityRecaps. You can follow me @rebeccakayj. If you ever have any complaints or issues, contact @YRR_Cust_Svc.
There is going to be SO MUCH to keep up with this season!  So make sure you follow us on TWITTER and check our BB20 page daily for updates!
AND DON'T FORGET… we are doing YouNow shows all season when the feeds go down so make sure you BECOME A FAN there!  We will of course do recap shows and interviews too!  Whenever something goes down on the feeds we will get on social media via YouNow or Twitter to discuss LIVE with you!  We will have recap blogs after every episode, spoilers blogs, feeds updates 24/7 on Twitter  and live tweeting during them!   Still want more? Then become a Patreon for EXCLUSIVE content, giveaways, access to reality stars and become a member of the private Patreon group! 
So in order to help support us in our coverage of Big Brother this season please consider: Getting the live feeds from us here, a Patreon, making a pay pal donation.  Of course we get it, money can be tight… so if you'd like to help us for free, please subscribe to our shows on YouTube, iTunes and YouNow, then thumbs up and give us a nice review. (We want to win a podcast award this year.) Also, follow us on your favorite social media site (by clicking the icons in the side bar) and share our content. It's a great way to help! We can't thank you enough for enjoying our shows these last 8 years. Hopefully, with your support, we can continue to do them for the rest of the year.  You could also see what specific help we need by checking out our HELP US page HERE!  Thank you for all your support!  We love you all!