Now that the women have told all (not enough in my opinion) Tim can get down to the business of choosing is wife. April and Trish are in Tahiti and I am so jealous I'm not going lie! We had a lot packed into this hour so let's get started! Tim takes Trish on the first fantasy date of the week. They are horse back riding on a Pineapple Plantation. Tim can totally see his life laid out with Trish. She's an open book with him.  I am really loving Trish since Italy
and the connection between the two of them is just so easy and fun. Tim is right at home on the horse and poor Trish got a horse that marches to the beat of his own drum. It's going crazy but Trish being so much fun and easy-going is both terrified and laughing while Tim is right there helping her out. Most girls would have been "Eff this get me off the horse" but Trish stuck it out and the two had a fun time riding in the mountains of Tahiti (which are beautiful by the way) I just love watching them together, it doesn't feel forced and she brings out a fun and goofy side of Tim that is so nice to see. They end up at a picnic on the plantation where Trish tells him that her heart says she loves him but her head says it's crazy but she is going to follow her heart and that it's good to be a little scared. He takes her to a beautiful dinner that night where there is more talk, and Trish really feels like the most special girl in the world when she is with Tim. The two have some cozy make outs throughout and after declaring how happy she is Tim presents her with the Fantasy Suite card. I totally forgot about fantasy suites so I was all giddy at the prospect and of course Trish says yes and the end up in a private cabin for the evening. You know what they say. If the "hut is a rockin' don't come a knockin'" The lights are quickly turned off so I am sure the two are getting to know each other a lot better.
April is up next and is treated to an afternoon on a yacht. The relationship with Tim is so different. April and Tim have this crazy sexual chemistry but their conversation is so forced. Tim feels they turned a corner after hometowns and that her saying that she is falling for him touched him to the core. If  I were
Tim I'd want more than that! She tells Tim after some immediate making out that she thinks she is on the right path with him. The right path? Who says that? What is that supposed to mean. You are less than a week away from being proposed to you should be at the end of the path already.  There is little conversation between them  thankfully because April had something going on with her upper lip that was crazy distracting. They jump into the water and where they continue to make out. Dinner that night is also on the yacht. They toast to trust and leaps  and he asks her where her head is when it comes to a possible proposal. She is honest I'll give her that and says she doesn't know if she is quite ready yet. She knows she wants to be with him and isn't ready for it to be over. She tells him she thinks she might be falling in love but she's scared. Just what every guy wants to hear a few days before he proposes is that the girl might be in love with him right?  He gives her the Fantasy Suite card and she decides that she needs that extra time with him. They head below deck to the yachts bedroom where they will spend the night. Does time alone with no cameras help April make up her mind?
Not only did we get Fantasy Suites we also go to Meet the Warmels.  Mom and Pop Warmels are in Tahiti to meet Tim's ladies. I love Tim's dad. He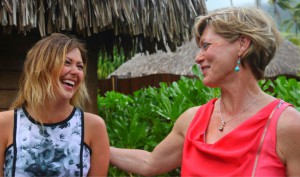 seems like such a nice guy. His mom (I am sure she is really nice) scared the crap out of me. Trish gets the first kick at the can and she is immediately given huge hugs from dad and mom.  Trish puts everyone at ease with jokes about her hair not loving the Tahiti weather and her grandmothers dry pot roast. His Dad asks her to tell them about herself and after some initial jitters Trish settles in and everyone is relaxed and having good conversation. Tim's dad is carrying most of it. His mom is quiet until she asks Trish to talk to her alone.  This woman had a list of questions like she was interviewing Trish for a job. Trish's anxiety goes from medium to high alert. Her first question is how does she see herself fitting in with Tim and his love of family. Trish nails the question by saying she wants a big family, she is tired of the single life and wants to make a home with Tim. When asked what makes her the most happy with Tim she tells his mom he makes her feel like there is no one else in the world, when she with him nothing else matters and her relationship with him is so easy. Mom is convinced and is now on  #TeamTrisha but she has yet to meet April. Trish is confident I seriously think Trish is the "frontrunner" of the season. Do you agree?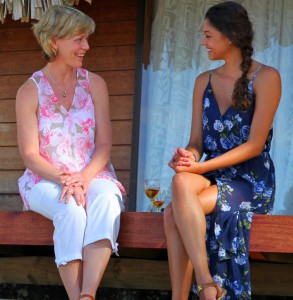 It's April's turn to meet the parents and she's freaking out already. She is so overwhelmed, she says Tim needs things faster than she's ready to give them, and Tim is worried that she is going to clam up completely. April's sheilds are up and nobody is going to penetrate them. I really think April didn't think things through when she came on this show. An accelerated relationship isn't the place for someone like her. As much as she wants things to work if she isn't willing to just say to hell with it and let it all out it's going to fail. Immediately you can see the difference in the greetings. Where Trish was open and smiling and gave and received huge hugs, April walked in like a scared puppy and timidly out stretched her hand setting the tone of the whole meeting. Tim's dad asked her the same questions as Trisha and she ummed and ahhed and skirted around the issues. She couldn't even really answer the question what do you find attractive about Tim? When she was asked about her childhood I thought she was going to tunnel herself right out of the room! Her one on one with his mother was just as awkward and when she left there wasn't even a kiss good-bye to Tim. It was quick and abrupt, not a normal good-bye between April and Tim.  I totally understand that nerves will get the best of you but April was acting down right squirrely. Is she just not into Tim anymore? Has she sealed her fate with that meeting?
Tim sits down with his parents and he asks who they like better. Of course they don't give a definite answer but their feelings are that Trish is more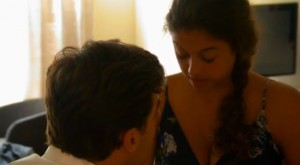 comfortable in her own skin than April but they feel April is totally honest in her replies. Do they think Trish was putting on show? I really hope not, I think Trish is genuine, where as April when she could spit out an answer was giving answers she thinks you want to hear. The tell him he'll make the right decision  While Tim is sitting with his parents April is in her room freaking out. She knows she blew the one time to meet his parents and production tells Tim he needs to go see her. He goes to her room and she's totally melting down and the episode ends with her saying she wants to go home. Does Tim really have a third woman bail on him? Can he convince April to stay?   What do you think is going to happen between Tim and April? Comment below and let me know what you think!
Ever wonder exactly what happens behind the scenes and how all these girls are contained! Check out this video with Anuj the Handler of all the ladies this season. He'll tell you exactly what they've been up to!