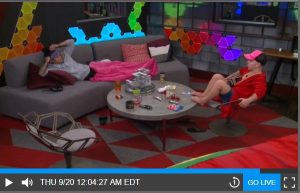 JC went on a power trip after HOH, nominated Tyler and Angela with the goal of getting Angela out. When feeds came back after the blackout for the surprise eviction, JC was working on getting Angela evicted with Kaycee. She seemed deep in thought as to what to do. Turns out she was just zoned out bored listening to JC's Avril Lavigne CD from 2002. WTF? Interesting choice for a 'professional dancer.'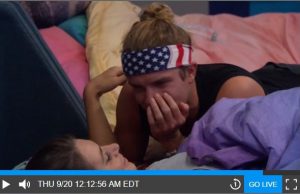 Meanwhile Angela and Tyler were talking about one of them going home. Angela seemed ready lay on her sword for Tyler, thinking he has better jury relationships than she does. She said that she would talk favorably about him to the jury. Tyler shared with her that he is a superfan, making it to finals twice during the audition process (she did, too) and that he had one more game-related secret to share with her on Thursday, assuming he is referring to receiving The Cloud app and never having to use it.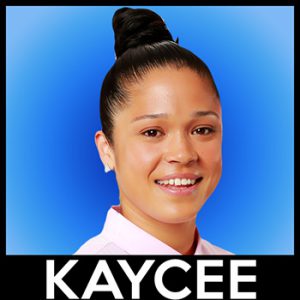 For the POV, it was the Days competition, and involved putting the HOH, POV and Hacker winners in order using balls, but details have been spotty. Kaycee won POV #5, has 1 HOH and a hacker win under her belt. That's impressive. Tyler has 3 HOHs, 3 Vetoes and won the second Power App that he never had to use through 8 evictions. His HOHs also sent Scottie and Brett to jury, both feeling betrayed by him. Their records are very similar, and based on Tyler's DR during the show, he wants to show the jury that he doesn't mind sitting next to a strong player in the end.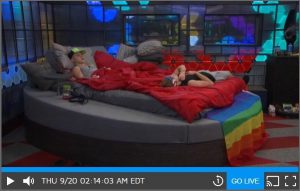 Shocker: JC was a real dickhead after a taste of power. JC continued to bitch at Tyler about not letting him know about his plan for the double eviction, saying taking Brett out was stupid, and he should have played it completely differently. He says that Tyler is in the position he's in as karma for putting JC on the block, and now Angela's best friend is deciding his fate. He insulted Tyler's intelligence, saying that Tyler was supposed to win the comps and JC was supposed to be the brains behind their alliance. WTF? After Tyler left HOH after his reaming, JC spoke to the cameras about his nervousness that Tyler will be voted out, making his own road to Final 2 more difficult. Kaycee reaffirmed her Final 2 with Tyler a few days ago, to which JC is clueless. Tyler could probably throw part 3 of the HOH and still end up in Final 2, but he might need that extra comp to win.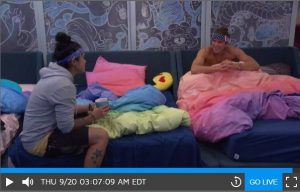 After Kaycee and Tyler had a chance to talk privately, she told Tyler, "Welcome to fucking Final 3." Kaycee again reaffirmed they are making it to Final 2, saying they formed it on Day 2, before Level 6 was started. JC is pitching Kaycee their LGBT connection as a reason why they should make it to Final 2. They even had a LGBT sleepover Wednesday night in the HOH room. She's playing along. She's telling JC that she is thinking about who to evict and will tell him once she decides. She and Tyler both must make JC feel comfortable that he's heading to F2 with either of them. If he feels comfortable enough, would he throw a comp to keep their blood off his hands?
So, Angela is headed to jury Thursday night, leaving JC, Kaycee and Tyler as the F3 and giving Rockstar, Fess and Scottie the satisfaction of seeing Angela arrive to the jury house.
Predictions:                                                                                                                                                                          If Tyler ends up in Final 2 with Kaycee, he's probably not winning; she is well-liked by the jury, only has Hailey and Rockstar's blood on her hands and kept noms the same with each veto win. I'm surprised Tyler hasn't done a better job of jury management, unless he's doing it with his GBMs a la Josh last season. If he's there with JC, Tyler should win, but it could be a toss-up with a bitter jury. At least Angela will be in jury to plead Tyler's case and even said that she'd take responsibility for Level 6 evictions for him, particularly with Scottie and Brett, who left during his HOHs. She can also tell The Hive that JC helped evict every one of them, running back to them with all the info he gathered. However, she's disliked by Rockstar, Scottie and Fess, so it could have the opposite effect. If Kaycee and JC end up in Final 2, Kaycee wins hands down.
6 Days until the Finale…Who do you think should win verses who will win? Please comment below.
Enjoy Eric's nightly comedic shows on YouNow with BB20 tea served piping hot. Former Big Brother houseguests will join him during the season. Make sure to FAN him on YouNow. Follow him on Twitter @RealityRecaps. You can follow me @rebeccakayj. If you ever have any complaints or issues, contact @YRR_Cust_Svc.
There is going to be SO MUCH to keep up with this season!  So make sure you follow us on TWITTER and check our BB20 page daily for updates!
AND DON'T FORGET… we are doing YouNow shows all season when the feeds go down so make sure you BECOME A FAN there!  We will of course do recap shows and interviews too!  Whenever something goes down on the feeds we will get on social media via YouNow or Twitter to discuss LIVE with you!  We will have recap blogs after every episode, spoilers blogs, feeds updates 24/7 on Twitter  and live tweeting during them!   Still want more? Then become a Patreon for EXCLUSIVE content, giveaways, access to reality stars and become a member of the private Patreon group! 
So in order to help support us in our coverage of Big Brother this season please consider: Getting the live feeds from us here, a Patreon, making a pay pal donation.  Of course we get it, money can be tight… so if you'd like to help us for free, please subscribe to our shows on YouTube, iTunes and YouNow, then thumbs up and give us a nice review. (We want to win a podcast award this year.) Also, follow us on your favorite social media site (by clicking the icons in the side bar) and share our content. It's a great way to help! We can't thank you enough for enjoying our shows these last 8 years. Hopefully, with your support, we can continue to do them for the rest of the year.  You could also see what specific help we need by checking out our HELP US page HERE!  Thank you for all your support!  We love you all!