The moment we have all been waiting for is finally here! Who does Tim choose, April or Trish? The Bachelor Canada manages to pack into one hour what The Bachelor takes 3 to show so let's get started. Tim wakes the day before engagement day and he has one last chance to talk to the ladies before he
makes his decision. First up is April. Did April stay or in her moment of panic yesterday did she take off and leave. It looks like April stayed put and waking up in the morning with the Tahitian sunrise put everything in perspective and cleared her head. Tim knows this is his last shot with her and what happens in the next moments will literally make or break the relationship. April is clearer and calmer and more like herself. Ever since hometowns she's been behaving like a skittish cat just wanting to bolt. But she runs to Tim with a big hug and the two sit on the beach for one last talk. She tells him that in all the craziness she forgot to be in the moment and that she realize that sometimes the things that scare you the most bring you the biggest reward and she wants to be here more than ever. The relief on Tim's face is palpable. It's what he wanted and needed to hear from April and I think it calmed him in way that he so desperately needed. They seal their morning together with a kiss and April slips Tim a note that explains her love and that she wants to be with him more than ever and he should follow his heart and she'll follow hers no matter the result. What will be, will be! The physical chemistry between these two is crazy. They can't keep their hands off each other but is that enough to sustain a marriage or is Tim looking for something different?
As excited as Tim is to see April, he is also really excited to see Trish. He has no questions with Trish, she has laid her feelings out for him. Their
relationship has been easy and been steadily progressing without any sidetrack. He meets her on a mountain view vista and the scene is breath-taking. On the railing people place love locks like on the bridge in Paris and after enjoying the view the two of them place their love lock and Tim throws the key into the distance. You are supposed to come back in 10 years to see if your lock is still there. Tim can see himself coming back in 10 years with Trish to find their lock and they seal their lock with a kiss. Both agree that the kiss felt really right. Trish has a calmness about her, like she knows that this is it for her and she is ready to take on the next step of their relationship. She is 100% ready to become Tim's fiance. Our Bachelor really has a huge decision ahead of him. The connections with both of them while different are strong. I think his connection with Trish is one that a long-lasting relationship is made of, but then we don't see enough to really base our decision. I am totally Team Trish on this, not that  I don't like April so calm down everyone, but I just think Trish is a better fit for life. Does Tim agree? What do you guys think?
Tim has made his decision but before he can reveal it he needs to pick out a ring. Canadian jeweller Michael Hill shows up at Tim's suite with everyone woman's dream. A briefcase full of bling! Tim has his work cut out for him choosing this ring from 5 stunners that Michael has brought to show him. He narrows it down to two, a 2 carat solitaire and a 2 carat solitaire. Both are amazingly beautiful. As I pick up my chin and wipe the drool off my face Tim picks the 3 carat diamond for his fun and silly but romantic girl. He is talking Trish right? I haven't really seen April be fun and silly. Romantic and passionate yes, but Trish has the market cornered on fun and silly, and will they both have beautiful check off. The ring is simple and stunning and whoever he is going to give it to is one lucky lady!
It's time to find out who he chooses. Trish is looking gorgeous in a pale aqua gown and April has chosen an amazing purple/white patterned dress that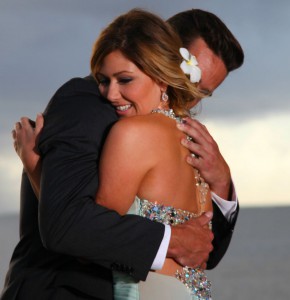 she looks so beautiful in. How does he choose between these two ladies? My heart sinks as I see Trish walk up to Tim first. He tells her how beautiful she looks and she tells him how this has been the craziest things she's ever done and she feels so special to be there in the end. He tells her how she is so funny and makes him feel so special that he doesn't need a filter. He can totally see a life with her but his heart is more fully somewhere else. At that moment Trish looked like she had been stabbed in the gut and my heart broke for her. He brings her in for one last hug and afterwards without a word she turns around to walk away. Tim, being a gentleman, walks her to the limo, where she then breaks down. She really thought this would work but he doesn't want her but what's worse is that he's going to be with April. She feels like the special moments they shared aren't so special anymore and she can't hold back her tears. I can see how she feels that. When someone tells you they can see their life with you but that's just not enough it leave you wondering what is wrong with me?
April appears before Tim  like a vision and you can see the love in both their eyes. She starts the conversation telling him that he fits every  quality she has on a long list of things she wants in a man as well as having qualities she didn't know she needed. He has shown her patience and understanding and that is why she fell in love with him. He tells her the first time he saw her he saw calm, and it wasn't sure if she was hiding a shark underneath that or if it was too good to be true. Then they were the last two diving with sharks and then he ended up at her home town where he inevitably fell in love with her. She just wants to kiss him but he tells her she has to wait. He bends down on one knee and asks April to be his wife where she responds "Yeah I will" in a sassy but cute way. He places the ring on her finger and the melt into each others arms. Tim has one last order of business though for this to be official. He grabs his final rose and asks her if she'll accept this rose and of course she says YES. The two then run to the beach to  spend some alone time as a newly engaged couple.  CONGRATULATIONS APRIL AND TIM!
But what about Trish? How is she doing? Thankfully we get a 30 minute After the Final Rose. Trish is there, and while it saddens her to have to watch all the moments over again, she says she's doing good. Why do they torture the poor girls? Isn't it bad enough they had to live the experience, now you make them sit and watch it? Trish tells us that she learned a lot about her herself during this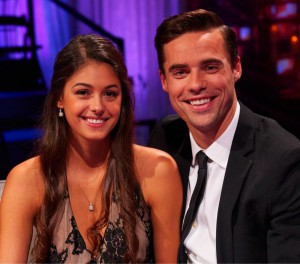 process. That is was easy for her to put the drama (and there was lots of it) aside and focus on Tim. She knew it was serious in Italy and her favorite moment was there when they accordion player played for them. She is also all class and while it still hurts to see how can she be mad because Tim and April are so adorable together.  She admits that watching the season back the chemistry between them was undeniable and she gets it. Then Tyler brings out Tim. It's awkward to be sitting next to a guy you loved so much and who hurt you so badly. Tyler asks him what was missing and he answered with nothing, it wasn't a  point of something being missing, it was just something overshadowed it. He's great at talking in circles. Trish's only question is when did you know. Tim evades this question too but I think I can answer it. I think it was the morning before on the beach when April didn't leave. Trish doesn't harp on it. Finally we get to see April and Tim together. He runs to meet her and walk her to the couches and all Tim wants to do is kiss her. They are adorable together and they look really happy. They also reveal that there are wedding plans in the works. This always gives me hope. The long engagements never work so I am happy to hear they are planning their future nuptials sooner rather than later!
I know when he originally picked April I was pretty upset because I have been a Trish fan and my tweets voiced that, but I have also liked April as well so I wish the two of them well and  I really hope that this relationship can last where so many have failed.  Do you think Tim picked the right girl? While in the end I was pulling for Trish I did call April Brockman being an early favorite right from when the bio's were released. I wasn't too right on my other favorites. How did your predictions go. My favorite part is going back to see what I called and how close I came! I put together a little something of my favorite April and Tim moments. Enjoy!