What a great summer it has been watching The Amazing Race Canada Season 2. I have enjoyed every leg of this race and have loved the cast of this show more than any other I have watched.  I watched with excitement because I couldn't wait to see who won and sadness because I am actually going to miss watching these teams in action. Everyone is flying from New Brunswick to our nation's capital Ottawa. Once they land they have to search the airport for the Air Canada Maple Leaf Lounge for their next clue. All the teams are right on each other but Ryan and Rob manage to take the lead. A spot they aren't in
very often. Everyone needs to head over to the Fleet Street Pumping Station grab a raft and go rafting down the river. Poor Ryan and Rob can go from luckiest guys on the race to the unluckiest in a heart beat. Their cab gets lost and they lose their lead. Natalie and Meaghan and Mickey and Pete are neck and neck going down to the river. The girls have a bit of a hard time getting down the rocks and the boys take this opportunity to take at the lead. Mickey and Pete are just charging down this river and we learn that Pete was a rafting guide in Ottawa for a while, so this is just a typical afternoon for him. The girls on the other hand are struggling to steer. We know that Meaghan hurt her hand before the Olympics and it never really healed quite right. They have been strategic the whole race as to what challenges she would do to not aggravate the injury but there is no avoiding this and her hand is seizing up and swelling up, slowing them down just a bit. How much of an impact do you think this will have on the rest of their race?  Ryan and Rob also arrive and make up some time with the girls struggling but they are still behind. Once they get to the marked dock they need to sprint up t0 Parliament Hill's Centennial Flame to get their next clue. Do you think Ryan and Rob can make up the time they lost with the bad cabby?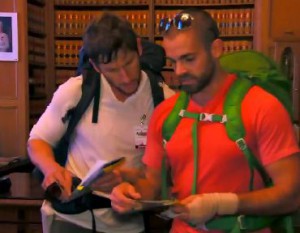 Now that rafting is over with everyone must locate Speaker of the House Andrew Scheer's office which holds the transcripts to all the debates that happened in the House of Commons. There they will find envelopes with significant historical dates in them. They must locate the date in these books and find the significant historical debate, then run to the Library of Parliament and tell the librarian. If correct they will get their clue. Many debates happened on each day so they need to figure out which is the most significant of them all. Mickey and Pete grab their envelope and end up with March 25, 1986. The go searching and the girls arrive. They don't even see the box of envelopes and start searching everywhere, they end up in the library and go back to the room where they finally see the box sitting right beside Mickey and Pete. Of course Mickey and Pete aren't going to tell the girls the box was there. It's the last leg of the race and these girls are such beasts they don't need help. They will find a way to catch up on their own. They grab March 30, 1949. Ryan and Rob do make up some time rafting but are still behind and pick the date December 15, 1964.  Mickey and Pete run into the library and there answer was the introduction of the Loonie. Correct, they get their next clue. Oh the Loonie, the day all our wallets and pockets got heavier! I'd like the 1 dollar bill back please!  Not too far behind are Natalie and Meaghan giving their answer of  The introduction of our National Anthem in both English and French.  Still in last place is Ryan and Rob first the find their book but it's in french so they have to find the English one. Too bad the twins or Alain and Audrey weren't here. They'd take the french book no problem! The guys find it and present the librarian with their answer of The introduction of the Canadian Commonwealth Flag.  I'll remember this date from now on, only because it's my son's birthday and the boys are about 15 minutes behind I really do love how this race, not just this leg, has incorporated Canadian history into almost every episode. It's been great to see Canadian history presented to us this way, I know I have learned a thing or two along the way. What have you learned from watching this season?
Mickey and Pete are out of their first and grab their cabby Tony. One major part of the race is finding a great cabby. It can make or leg. Mickey and Pete unlike Ryan and Rob found a great cab driver in Tony. The guy speeds through the streets getting the guys to the Diefenbunker quick. It's the first of two roadblocks this leg of the race. Teams need to choose Who's Da Bomb? One person has to search this 100 000 sqft  bomb shelter turned museum for three military miniature toys. Natalie and Meaghan aren't so lucky. Their cab starts sputtering and is on its way to dying. Their driver manages to get them there but barely and while Natalie is inside searching for toys Meaghan is getting a new cab. Do you think it was a smart decision having Natalie do a non-physical challenge? They should have thought ahead to what my happen later in the race. This decision could cost them.  The two teams are racing around checking everywhere. Natalie finds her first toy quickly while Pete is having a harder time. Pete then starts to find his while Natalie is just getting frustrated. Ryan and Rob arrive and they start thinking they are in this. Pete is first out leaving Natalie and Rob in the Diefenbunker. Rob is making quick work of finding his toys. Natalie does find hers and out she goes to their new cab, Rob is out just a few minutes behind her. Rob and Ryan have proved that they can be the come back kids. Do you think they can comeback from this and take the whole race?
Roadblock number 2 would kill me, these TAR Canada challenges are no joke. Mickey, Ryan and Meaghan travel to the Canadian Museum of Nature and have to rope climb up the atrium, grab their clue and traverse the ceiling. When they are done they can continue racing. This task is going to require a lot of lower body strength but you also need a good grip on the rope, especially for the traversing part. Mickey takes a minute to get the hang of it, but starts on his way, he has a hard time grabbing the clue but manages. Those boys are like monkeys they climb and jump and go wherever all with a smile on their face. Meaghan starts up and right away is sure she can't. Her hand is already messed up from the rafting and she can't grip. At this point I'm sure they are wondering if they made a mistake getting Natalie to the last challenge BUT she played Olympic hockey with a broken hand, she'll find a way to power through. Once she realized that her legs will get her up she starts to fly, you can see the pain gets to her while trying to make it across the atrium ceiling. I'll give her credit, she did it, she looked like she was in agony the whole time but she got it done. That is girl power for you, and these two are THE strongest all girl team to run the Amazing Race. Ryan manages to make some more time for them.I know I'd still be doing it. Since we know that TAR Canada doesn't let you off once all the racers are checked in I know Jon would still be on the mat waiting for me. Could you have done this crazy physical challenge?
On the way to the National Gallery of Canada police have blocked the road. The irony of being in a road block coming from a road block is not lost on our long-haired friends. Thankfully it doesn't keep them help up too long. Once at the art gallery the mother of all challenges awaits them. It's the memory challenge. They need to create an art exhibit based on the race. They need to arrange painting in the order, each leg has four paintings. Good luck I'm out. Both Natalie and Meaghan and Ryan and Rob took notes and studied. Mickey and Pete seem to be going off memory and are doing really well. The girls do catch up and just power through. Ryan and Rob show up last and do have some time to make up. Judging between Micky and Pete and Natalie and Meaghan is intense. It really comes down to who can figure out their mistakes the fastest. Mickey and Pete are out first and I almost leaped out of my seat. I had to tell myself don't get to excited there is still a drive ahead of them. Natalie and Meaghan are right on their tails. ANYTHING CAN HAPPEN.  These two teams are racing to Rideau Hall to find Jon, and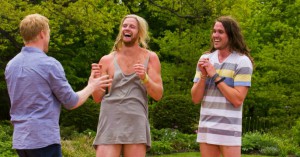 the rest of the racers waiting for them. Tony the cab driver from heaven is speeding down the road. Who is going to make it to the mat first? OMG all you see is hair running to the mat. MICKEY AND PETE WIN THE AMAZING RACE CANADA 2! These boys won no legs but managed to win the only leg that really mattered. Pete gets there first and hugs Jon. Where is Mickey? He's taking off his pants and ends the race in only his underwear and tank top. Pete then follows suit. Only these two guys would want to end the race pantless. Natalie and Meaghan are right behind them. These girls ran one hell of a race. They crushed both the physical and mental challenges and proved to the world you don't mess with a Canadian girl. Ryan and Rob come in third. These guys just refused to die on this race. They fought the odds and always came back swinging. I am so proud of the top three. Can I just say I called Mickey and Pete as my top three! Get Mickey and Pete's full reaction to their win here. Everyone else discounted the long hair don't care attitude of these guys but I thought that their laid back attitude would work in their favor. While other teams stressed, bickered and lost their minds these guys just powered through, had fun and enjoyed just spending time with each other.
This was an amazing season. We learned on After the Race that there will be an Amazing Race Canada 3 and I am so excited. Casting is going on now so don't wait another second, grab your race partner and head over to www.ctv.ca/amazingracecanada and apply today! CTV and Insight productions really out did themselves this year. It was great interacting with the cast and some of the crew on twitter. Let's keep the discussion about this season going. What was your favorite leg of the race? I really enjoyed Paris and the Yukon! I think we all know I am ecstatic about the winner of this season, but how do you feel? Do you think Mickey and Pete were deserving winners?  Keep the conversation going below and don't forget The Amazing Race 25 starts next week. Hanne introduces you to the cast with her cast preview blog and will be recapping the whole season for you here. So check that out and follow her on twitter, she LOVES to talk about all thing Amazing Race!