WELCOME TO OUR NEW ``PATREON`` PAGE
HELP SUPPORT US WITH A MONTHLY DONATION
You get great incentives with your monthly donation!  Plus access to content and shows we don't post anywhere else.  But most importantly it keeps our site up and running.  See all the details below and how you can help for just $1.00.
CURRENT TOTAL
& GOALS BELOW
100
PATREONS
$515
MONTHLY
5 SHOWS A WEEK
Now that PayPal is controlling the payments and it's updated in real time… I can tell you we aren't at $800 a month… but we are doing 5 shows a week.  Help us get back to this goal!
COOKING SHOWS
Since you all seem to love them… and I love doing them… I would REALLY LOVE to make this milestone happen!  Cooking shows are so much fun to do, but they cost way more to create obviously since they aren't just me talking.  If you wan't to help make them happen more often, lets CRUSH this goal!
NEW EQUIPMENT FOR LIVE SHOWS
Hate our audio and video issues?  We do too!  But it cost a fortune for new equipment and software.  If we reach this goal, not only will we be able to up our production value but we will also be able make even more content for you!  It will also allow to pay some of those greedy reality stars that wont talk to us (and in turn you) unless we pay them!
HELP US HELP YOU
We do a lot around here.  Aside from money YRR takes A LOT of time.  Between posting to every social network, the website, iTunes, YouTube, graphics, coding, editing, promoting etc.  We need help!  If we reach this goal we could actually hire people to help us.  BONUS:  It would save our marriages.
STUDIO SPACE, APPS, LIVE EVENTS AND MORE!
If we can reach this goal we can rent a space to make full produced live shows.   It will also give us the ability to hire people to help with the editing and turn around time too.  It will also us to create and app, and attended more reality events that we can stream to you live!
COMPLETED GOALS
Thanks To You We Have Already Achieved The Goals Below!
KEEP US ALIVE
This is what it cost us to maintain our website monthly.  We can't thank you enough for helping us reach this goal so quickly!  You all are thee best!
CLICK THE PLAY BUTTON ABOVE TO HEAR MY PLEA!  Or you can read here as I thank you for taking a few minutes to consider supporting us.  For the past 8 years we have brought you exclusive content from your favorite reality tv shows for free in the form of blogs, video recaps, comedic mashups, reality star interviews, podcasts and daily vlogs! We have prize giveaways, chat live with you during the tv broadcasts of shows, and interact with you social media!  Recently we brought you inside the Big Brother Canada house, were at the Reality TV awards, streamed the Reality Rally for you,  and are currently creating Big Brother recaps, 24/7 lives feeds updates, bravo recap shows and podcasts reading you the housewives blogs!  We love our Your Reality Recaps community and that's why we always make you all part of the shows!   But now we need your help!
As you can imagine covering these events, live streaming, hosting, creating new content daily, putting out blogs, shows, podcasts and more costs a lot of money.  It also takes a lot of time and we (Myself, Jon, Dana and the bloggers) are a small team of people who do this in addition to our real jobs.   Unfortunately we don't have the time and financial ability to do it for free anymore.  Which I wish I could make into some sort of a joke… but it breaks my heart to have to go down this road.
So here is the deal… if you like all the content we produce daily and want us to keep doing it, consider making a monthly donation even $1.00 a month would help.  THAT IS LITERALLY PENNIES A DAY!   Or donate more if you want to help us create even more audio and video content plus bring you access to your favorite reality tv stars and shows, live events, meet and greets and more!  Oh and if you want to ACTUALLY SEE the type of stuff we do… take a look at our last Patreon video HERE… but just keep in mind this info is totally last year!
YOU ALSO GET STUFF FOR SUPPORTING US!  We are offering some pretty amazing rewards below … I know you are gonna love em!  Just scroll down to see each reward level and what we are offering as a thank you.  Depending on what you are willing to pay per month, we are literally talking pennies per show!  We are worth pennies to you right?  Please tell me we are… my heart couldn't handle hearing otherwise.
*FOR THOSE ASKING ABOUT WHAT WE DO FOR CHARITY… See the bottom of this page.
PICK YOUR MONTHLY DONATION LEVEL BELOW
Each Offers Different Incentives & Rewards
Welcome to the club… or group!  This is where things really start getting good!  Our $5.00 a month Patreons will gain access to our private Facebook group exclusively for our "patreons"!  We are all about community here at YRR and I'm REALLY excited to meet all of you in a more personal setting.
YOU GET:  Access to the private Facebook group!  And because of that we are going to give you our sincere thanks so much quicker then we did those "1 dollar people"!  We are kidding of course!  Your contribution means everything to us and we cant thank you enough!
We'll Show Our Privates!  Once we reach 40 people at this reward level.
YOU GET:  A private show live streamed to our private Facebook group.  Oh, yea… you are now part of that too!  These shows are cool because you're not competing with the YouNow crowd.  We will talk about what you want us to talk about.  Nothing is off limits and these shows wont be available to the public… they are just for those of you who donate $10.00 (or more) per show!  So you want spoilers, reality star gossip and more that we cant share publicly… well this your way to get it!  And no… get your minds out of the gutters… I said, "TALK ABOUT" we're not making an adult film for you!
$20.00?!  Are YOU for real NOW?! 
YOU GET:  Nothing special!  Well besides access to the private facebook group and monthly show.  I mean, clearly if you have $20.00 to burn on us, then you must be able to afford anything else I could temp you with.  I will however remember who you are during our YouNow shows… and I'll be sure to show you a little bit of extra love and attention.  Oh, and just so just know, your $20.00 is REALLY HELPFUL TO US!  So much more helpful than the "$1.00" crowd…  P.s. You do get I'm joking and really do love and appreciate all donations right? I just love the $20.00 a month ones a little more. :o)
$25.00 FOR A BRAND NEW CAR… I MEAN PEN!
YOU GET:  Everything for the tiers above plus… we will follow you on social media for those 1 on 1 moments via DM!  But that's not all!  After you are a Patreon for 3 months we will send you some YRR SWAG (pen, shirt, etc)!  And since I'm gonna need your address to send you your swag… maybe I can pop over for dinner one night too? Ok scratch that, I guess that's not really a reward for you is it?  Well fine, but one last thing and you didn't hear it from me… You for-really-real are getting our thanks and appreciation a split second before the 1, 5, and 10 dollar people. So let that soak in… you earned it!
WE CAN'T EVEN JOKE ABOUT $50… BUT WE'LL TRY
YOU GET:  You get everything from the tiers above plus… we'll also ask your questions to a reality star live on a show, send you some swag (right away), plus thank you personally on our shows and social media.  And while I cant promise it (cause those reality stars can be finicky biatches) if one that you really love is available (and they are willing) I will have them give you a special shout out too during a show or get you their autograph (one time)!  And if they don't do it, we will publicly shame the hell out of them.. We're gay, and good at it. Trust us. Unless us being gay makes you not want to donate… then we are super straight and will straightly shame them!
$100 IS LIFE CHANGING!
YOU GET:  You get everything listed in the tiers above plus… we will also make a show around what ever you want us to talk about!  That'r right!  It's your turn to be in control!  Since basically everything we do is based off this monthly donation we feel its only right for you to run the show!  Want us to talk antique china… you got it.  Footballs vs. baseballs?  Done!  Just let us know how we can serve you our new leader!
Finally, now that you are among the elite group of our top supporters we need to tell you something… we have been outsourcing our thanks and appreciation that we give to all the other donation levels. We knew we needed to save it all for you!  So play it cool and don't tell them ok?
$250 SPONSORSHIP
YOU GET:  You are purchasing us talking about your brand, product, twitter account, event etc.  Think of it as a commercial during one of our shows.  And lets face it… nobody is going to do a better commercial then us!   Factor in that we get about 6,000 watching our shows live and another 15,000 during playbacks and downloads… and you're really getting an amazing deal!  Wan't more, like an add on the website or custom show?  Then shoot me an email to discuss.
For $1.00 a month you will get our sincere thanks and allow us to keep bringing you all this content!   While one dollar a month may not make a big difference to you… if everyone that watched our shows donated it, we would be able to keep bringing you everything we are bringing you now, plus more live events, better audio and video, iTunes and Droid apps and even cover new shows.
HELP US SPREAD THE WORD!  SHARE THIS PAGE ON SOCIAL MEDIA TO LET EVERYONE KNOW YOU DONATED… OR TO HELP US REACH SOMEBODY WHO ELSE WHO MIGHT. 
We Give Back:  I have debated posting this here as I never want it to be seen as something we are "using".  Yet, many of you have asked us too and we are so grateful for the financial support you give us…  That I don't want it to be ignored either.
Charity work has been close to my hearts of all of us at YRR.  My secondary goal for YRR is to make it a place that can inspire change and other
s to do good for their community.  It's why we always give a percent of what we receive to charity during the year.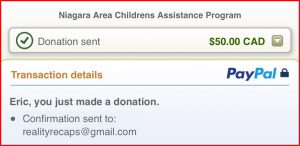 So far in 2016 we have donated to Niagara Area Children's Assistance Program, the Arthritis Foundation and the victims of the Pulse Orlando shooting on behalf of you all, as it was only possible thanks to your donations and support.
Yet what we are most proud of is the fact that we have personally donated over $11,000.00 (yup you read that right) to Michele's places in conjugation with Reality Rally from 2014 – 2015.  We don't deserve any praise for this and it shouldn't be something you use to determine if you want to become a patreon or not.  We just want you to know where a portion of your donation goes some months and what we did with our own money before we needed Patreons.  We hope it inspires you to get more involved with local charity work as well.  If we can do it, so can you.  And if you are debating between us and charity.  PLEASE pick charity EVERY TIME!