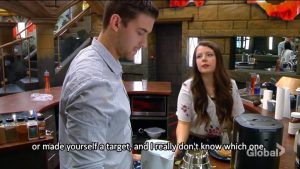 After the explosive POV ceremony when Jesse called out Hamza as being untrustworthy in front of the whole house by talking about him promising on his fiancé, Hamza is ready to punch his one-way ticket out of the house. Maddie tells Jesse that calling Hamza out like that probably wasn't the smartest game move.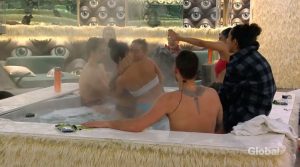 The houseguests get wild on Veronica's birthday throwing her a surprise party. They get booze and things get crazy in the hot tub with a game of Truth or Dare. Veronica ends up making out with Will and Kaela. As per usual, Veronica enjoys being the center of attention twerking while doing a handstand. (The houseguests are getting tired of the "Veronica Show" on the feeds.)
Meanwhile, Olivia is telling Jesse that she is very attracted to him, but she has pulled back from him because she is here to play the game. She says how bad it sucks that they are on the block together. She says there are so many times that she wanted to reach out to touch him but pulled herself back. He tells her that he likes blond girly-girls, which Olivia is. She is wearing a bathing suit and he is eyeing her big boobs. Jesse and Olivia hug as he is clearly flattered by her opening up to him when she is usually closed off. Just as these two are sharing this moment, Jesse's secret showmance Paras walks into the bathroom. Whoopsi! Busted!
After the wild night, Kaela tells Veronica that she was her first girl kiss, and Veronica says that she is flattered to be the one. She tells Kaela that she is a good kisser, much better than Will. She makes fun of how he kisses. Erica says that women are better kissers than men. Period.
Merron announces that the houseguests have a task. They must clean the house and dance every time BB plays music while they clean. It's funny to see the houseguests and how each of them dances. There are quite a few bad dancers, but not as bad as Sindy last season. 😉 When time is up, the houseguests are rewarded with a meal from Skip the Dishes. They order burritos and the Have Nots are excited to eat something besides slop.
Olivia and Ali are talking about the need for her to campaign to all the houseguests. Liv says she is trying to be as emotionless as possible. She says campaigning makes her uncomfortable, but she needs to talk to Maddy and Ryan. They say that talking to Ryan is annoying.
Jesse tells Hamza and Veronica that he won't come after them, that he's been playing for the wrong team and that he'll target the showmance. Veronica says that's the smartest thing he's said. He has both Veronica and Hamza reconsidering voting him out this week.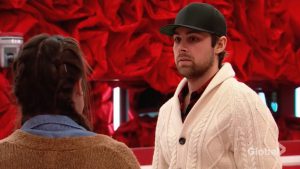 Kaela tells Derek that he can't campaign too hard for Jesse to stay. He says that Jesse is staying. She responds that it's 50/50, and he may go this week. She says that she is looking out for him and her. She says that this is a game, and they can't shoot themselves in the feet with Olivia if she stays this week.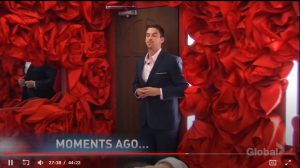 Shortly before the live show began, Jesse is told that he is being voted out. He goes into the red room with Derek, Kaela, Paras, Maddie, Erica and Johnny. He's pissed, shuts the door in Veronica's face and tells the red room that this is the team, that he was just told he's being voted out and that he wants to cut Hamza. Everyone is looking at him like he's nuts. He even tells Derek and Kaela that he went so far as to say he would target them in his campaigning, doing anything he could to stay this week. He says he is so woke now. LOL.
When it's time for the live vote and eviction, Olivia gives a generic speech. Jesse says that he is just speaking to certain people and that we have a plan for moving forward. If they vote to keep him, they'll be able to enact the plan moving forward. WTF? I'll give it to Jesse for his campaigning up until the moments before voting, but alas, it didn't. The only votes to save him came from Derek and Veronica. (She threw in a hinky vote to blame on others like Paras and Kaela; more on that in my upcoming Week 4 spoiler blog.)
Jesse asks Kaela if she voted to save him, and she tells him it wasn't her. He hugs a few people and heads out; looking surprised that his campaigning didn't save him. He is still in shock as Arisa is interviewing him, and he has a hard time answering her questions. She directs him to view his goodbye messages. Both Derek and Paras say that they are in a house full of liars and they don't know who to trust moving forward.
For the HOH competition, the houseguests visit the BBCAN museum, where there are 3 exhibits featuring Kevin, Ika and Sabrina. The houseguests freak the fuck out seeing these BBCAN legends in the backyard. The girls are flirting with Kevin saying he's even better looking in the flesh. He's trying not to laugh. Ika is posed with a shredder and letters. Sabrina is posed in her Adirondack chair, with a button the houseguests press to hear her say, "You want good fucking TV?" Kevin is posed on the ground beside a miniature ball pit, where he won the POV to keep from being sent home in the BBCAN5 triple eviction. The houseguests then realize that this is for the upcoming HOH comp and begin to study. For some, they freaked out a little too much and didn't get enough study time in. Erica gets testy with Merron when he keeps trying to talk to her while she is studying the displays.
Arisa begins asking them a series of questions for the Night at the Museum HOH competition that revolve around the information they learned when the BBCAN legends were in the backyard. They answer the questions either A or B. We see the first 3 questions, and Arisa says that we'll see the completion of the competition on Monday as well as nominations.
Plus, get ready for it; there's a double eviction next Thursday.
Before you go, please comment below. What do you think of the season so far? 
Enjoy Eric's nightly comedic shows on YouNow with BBCAN6 tea served piping hot. Former Big Brother houseguests will join him during the season. Make sure to FAN him on YouNow. Follow him on Twitter @RealityRecaps. You can follow me @rebeccakayj. If you ever have any complaints or issues, contact @YRR_Cust_Svc.
There is going to be SO MUCH to keep up with this season!  So make sure you follow us on TWITTER and check our BBCAN page daily for updates!
AND DON'T FORGET… we are doing YouNow shows all season when the feeds go down so make sure you BECOME A FAN there!  We will of course be doing recap shows and interviews too!  Whenever something goes down on the feeds we will get on social media via YouNow or Twitter to discuss LIVE with you!  We will have recap blogs after every episode and live tweeting during them!   Still want more? Then become a Patreon for EXCLUSIVE content, giveaways, access to reality stars and become a member of the private Patreon group! 
So in order to help support us in our coverage of Big Brother this season please consider: Getting the live feeds from us here or becoming a Patreon, making a pay pal donation.  Of course we get it, money can be tight… so if you'd like to help us for free then be sure to subscribe to our shows in YouTube, iTunes, YouNow, and thumbs up and give us a nice review (we want to win a podcast award this year). Also following us on your favorite social media site (by clicking the icons in the side bar) and then sharing our content there is also a great way to help as well! We can't thank you enough for enjoying our shows these last 8 years,hopefully with your support we can continue to do them for the rest of the year.  You could also see what specific help we need by checking out our HELP US page HERE!  We can't thank you enough for all your support!  We love you all!