EPISODE RECAP:
The houseguests come down to see 4 place settings, and they know they're getting a guest. It's Jeff Schroder! Tyler is super excited to see the BB legend in person; he fangirls in the DR but kept his cool in front of JC and Kaycee because they don't know he's a superfan.
Jeff leads the final 3 in recapping the season. We are privy to a fight between JC and Sam over him throwing the tree comp. Plus, we relive the drama between Bailey and Tyler after Haleigh's admission that she is the hacker, not Bayleigh. She screams at Tyler as previously shown with blood literally coming out of her mouth when Tyler tells her he wants her out because she has a Power App. We see Brett and Rockstar's epic fight after he called her out for coming to him to pitch a Final 2, saying that the vote would be 6 to 5 in Brett's favor.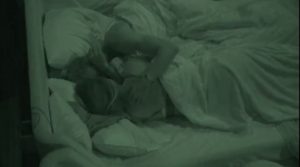 The houseguests discuss showmances. Swaggy and Bailey or as I refer to them #Baggy were one. Fessy and Hailey—JC thinks it was one-sided on Fessy's part and don't know they were an official showmance, although Tyler thinks they were. Each of the showmances get a shout out. JC claims that he and Tyler are a secret showmance, but Angela tried to steal him. Oh, she did steal him!That leads to a discussion of Kaitlyn having a boyfriend but of being jealous constantly. We see Kaitlyn do a meditation with weird chanting.
Jeff says that they need to take a hiatus or yatus. Revisiting that hilarious scene made me laugh.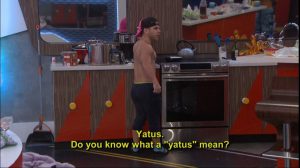 The next clips are funny because it's a montage of houseguests crying and acting a fool in the DR, many previously unaired. Brett is the antithesis to all the emotional players, saying he's going to win the mental warfare with Rockstar crying every time until the end of her game. "On my daughter's birthday…" LMAO. Love Brett!  JC swears he never cried in the DR. LIAR! Kaycee says they refer to crying as 'peanut allergies.' Everyone (except Brett) had "peanut allergies" at some point this season.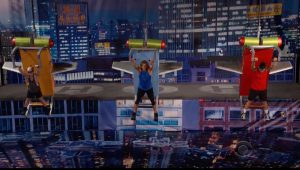 With that out of the way, we get to see the beginning of Part 1 of the Final HOH. This is the coolest endurance comp in BB history. The F3 are riding Jet Packs that spin, shoot smoke at each other and go completely horizontal. We'll see the conclusion tonight during the finale or if you're curious, keep reading below for spoilers…
———————————————————————————————————————————————————
Last chance…
Kaycee talked to Tyler before Part 1 of the HOH about signaling each other if they felt like the other one could win part 2. Kaycee was unsure if she could, thinking Tyler had a better grasp of days and events, so Kaycee was hoping he would throw part 1 to her. Nonetheless, Tyler won Part 1 of the final HOH. He explained to Kaycee afterwards that he was waiting for the competition to lean forward again so he could make it look good to JC because Tyler was facing him. BS—no one throws shit at this point in the game. The feeds are boring at this point, but POP TV has been sending them daily baskets to keep them busy during After Dark. Otherwise, they're in bed by 10 p.m. The houseguests are wishing that the finale is sooner than Wednesday. Too bad.
For Part 2 of the HOH, they had to determine which houseguests competed or retreated in comps by climbing Mount Evictus. Kaycee won part 2 because she ran up the mountain. JC walked. She said she made a lot of mistakes, but ultimately JC's time was :40 short of winning. Kaycee and Tyler gave each other a Final 2 knowing look when JC left the room and had a mini-celebration. He's not leaving them alone at all, even sleeping with the wall between the two bedrooms wide open. They'll have to chat when he's in the DR.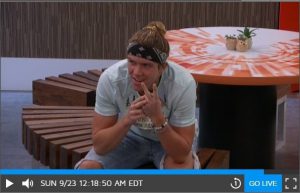 JC told Tyler that Angela was playing him and will drop him as soon as the show is over. He went into the geometry room with a panic attack in the middle of the night, trying to shake off whether she was playing him and saying that he is totally in love with her. He says that she is so accomplished as a business owner and fitness model, and he is a lowly lifeguard. Bless his heart. I really hope #Tangela works out in the real world. According to Dr. Will in a recent Inquisitr article, Angela and Tyler have some issues to work out after the show from what he picked up at the 'contentious' jury roundtable.
Kaycee and Tyler are going to tell JC they are taking each other to F2 after the live feeds are off for the season.  He thinks he gets to participate in the jury roundtable. He's going to lose his shit on Tyler in particular. He thinks he's the mastermind of Tyler's game. I expect he'll vote against Tyler out of spite, but he may be the bigger person. Doubtful. #MinionFucker
Who do you think should win verses who will win? Please comment below.
Enjoy Eric's nightly comedic shows on YouNow with BB20 tea served piping hot. Former Big Brother houseguests will join him during the season. Make sure to FAN him on YouNow. Follow him on Twitter @RealityRecaps. You can follow me @rebeccakayj. If you ever have any complaints or issues, contact @YRR_Cust_Svc.
There is going to be SO MUCH to keep up with this season!  So make sure you follow us on TWITTER and check our BB20 page daily for updates!
AND DON'T FORGET… we are doing YouNow shows all season when the feeds go down so make sure you BECOME A FAN there!  We will of course do recap shows and interviews too!  Whenever something goes down on the feeds we will get on social media via YouNow or Twitter to discuss LIVE with you!  We will have recap blogs after every episode, spoilers blogs, feeds updates 24/7 on Twitter  and live tweeting during them!   Still want more? Then become a Patreon for EXCLUSIVE content, giveaways, access to reality stars and become a member of the private Patreon group! 
So in order to help support us in our coverage of Big Brother this season please consider: Getting the live feeds from us here, a Patreon, making a pay pal donation.  Of course we get it, money can be tight… so if you'd like to help us for free, please subscribe to our shows on YouTube, iTunes and YouNow, then thumbs up and give us a nice review. (We want to win a podcast award this year.) Also, follow us on your favorite social media site (by clicking the icons in the side bar) and share our content. It's a great way to help! We can't thank you enough for enjoying our shows these last 8 years. Hopefully, with your support, we can continue to do them for the rest of the year.  You could also see what specific help we need by checking out our HELP US page HERE!  Thank you for all your support!  We love you all!