Here we go again! Another episode of Hell's Kitchen season 14 is in the books and we still have 8 chefs remaining in the competition after Chef Ramsay did a little switcheroo with the teams last week. (For a complete recap of last week's episode, click here) To find out who's dream of winning went down in flames this week, keep reading!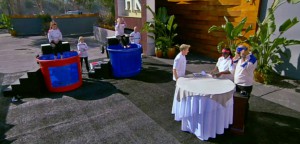 The chefs are greeted by a phone call telling them that Chef Ramsay wants them outside in front of Hell's Kitchen immediately. He asks them how many of them are confident in their palates. Of course, we all know this is going to be the part where their palates are put to the test in the blind taste test challenge. He then unveils the two dunk tanks that are part of the challenge! One member of each team will be sitting on the dunk tank. Another member from each team will be blindfolded and given a taste of 4 different ingredients used in cooking. If they answer at least 2 correctly, their team member gets to stay dry. If they miss more than 2, it's into the water they go!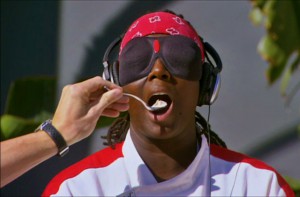 Michelle and Meghan are the first members from their teams to head to the dunk tanks. Milly and T are the first from their teams to put on the blindfolds and be spoonfed by Chef Ramsay. Sounds sexy, right? Yeah, I didn't think so either. T thinks that chicken tastes like turkey (OMG really?) and thinks that apple tastes like pear. She gets the next two ingredients correct, and Milly got ALL of them correct, meaning Michelle and Meghan get to stay dry. Alison and Randy are next to go to the dunk tanks. The bromance-turned-rivals Josh and Nick put on the blindfolds and test their palates next. Josh scored 3 more points for his new team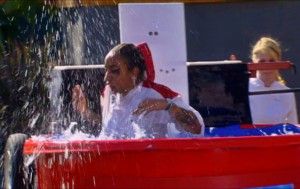 and Randy got soaked as Nick incorrectly guessed all but one ingredient. T and Milly take their seats next on the dunk tanks and Michelle and Meghan don the blindfolds. T and Milly manage to not get dunked as Michelle gets two items correct and Meghan apparently has a palate as perfect as her skills in the kitchen. Michelle also gets the award for funniest line in the episode: "I'm tasting, tasting, tasting… and all I can taste is f@#&ing nuts in my mouth!" Josh and Nick are on the dunk tanks now and Alison and Randy are the last duo to face off in the blind taste test. Alison gets two items correct (How does someone not know what a damn onion tastes like? UGH!)
and "Uncle" Randy misses three, sending Nick plunging into the icy depths of the dunk tank. With this, the teams go into a sudden death tiebreaker! Josh and Milly step up to do another blind taste test. Josh incorrectly guesses zucchini as a rutabaga and gets Alison dunked! Milly gets it wrong as well, getting Meghan wet too! The final ingredient is avocado and Josh gets it correct while Milly gets it wrong! (Potato? POTATO?!! How are those even similar?) With this, the red team wins the challenge 10-9! The red team gets to go on a shopping spree and eat some caviar. Personally, I'll take the shopping spree but keep that caviar the hell away from me. Gross. The blue team, on the other hand, will be staying behind in Hell's Kitchen to get it ready for the dinner service and peeling and chopping fruits to make sangria.
Hell's Kitchen opens once again for a special dinner service. The teams will be cooking a special five-course meal for two different charities: "Step Up Women's Network" and Fran Drescher's "Cancer Schmancer" movement. Of all the dinner services, this is one they definitely do NOT want to screw up on! Randy apparently cannot count as he puts sixteen plates of risotto up on the pass (they only needed 12). Meanwhile, Alison's risotto is making its way to the guests. On to the next course: Josh burns the tuna niçoise SEVERAL times! In the blue kitchen, Nick is caught wiping plates with a dirty rag. Disgusting. Josh actually has to go over to the blue kitchen to get some of their tuna because he burned all of the red kitchen's tuna, but plates finally start making it out. T and Michelle get into an argument in the kitchen because T is tired of Michelle's mouth in the kitchen. Meanwhile, Randy is pissed off that he thinks his team sabotaged him during dinner service. I think he's just going off the deep end. He obviously cannot count to twelve properly and now he thinks his team is out to get him. Although both charities left happy, Chef Ramsay said that the winning team is the blue team!
As the losing team, the red team must come up with two people for nomination. After some arguing and bickering among the team as to who deserves to go up, they come up with two nominees. The first nominee is Josh for his absolutely awful performance with the tuna. The second nominee is Michelle because her team feels that she doesn't listen as well as she should. After both Josh and Michelle argue their reasons as to why they should stay, Chef Ramsay sends them back into line and back with their team. Rules be damned! Even though the blue team won tonight's challenge, Ramsay calls Randy forward and sends him home because he doesn't feel that he is ready to be his next head chef. 
What did you think of this episode? Do you agree with Chef Ramsay's decision to send Randy, a member of the winning team, home? Let me know in the comments below or on Twitter!
Follow Your Reality Recaps for coverage of all sorts of reality shows! We are currently covering Big Brother Canada, Survivor, The Amazing Race, Hell's Kitchen and RuPaul's Drag Race! New content happens daily, so check it out! If you love us as much as we love you, consider helping us out by doing your Amazon shopping through our site, make a donation via Paypal or become a Patreon. All of the links are over on the right sidebar!