Ok, once again, it's been a while since I've updated Hell's Kitchen for y'all! So we have a lot of ground to cover before tonight's all-new episode! Let's not waste any time, shall we?
Episode 7 begins after the elimination of Eddie. The chefs are relaxing with a few drinks to relieve the stress of the dinner service. Ariel has had a bit too much of the sauce and is drunkenly running to the bathroom to have a pee when she falls and hurts her ankle. LOL! Aren't drunks fun? She is seen by the medic and he tells her she likely pulled a tendon and should really stay off of her foot for six weeks. However, for Ariel, that is not an option so she just has to tough it out.
The chefs meet Ramsay in the dining room to discover that it has totally been transformed for a wedding reception. Ashley hopes that it's a big fabulous gay wedding for Neil Patrick Harris even though he is already married. She's such a bright one, ain't she? Chef Ramsay tells them that the wedding reception must be perfect because the bride and groom are very near and dear to him. Who is it? It's none other than Brice and Andi! Who are they? You might remember Andi was Chef Ramsay's sous chef for the red team for many years before leaving to get married before this season. Their next challenge is for each team to come up with six dishes for the reception: two seafood apps, two chicken entrees and two beef entrees. He tells them upfront that they are competing for a high roller day and night in Vegas in the hopes of motivating their asses to try their hardest for this challenge. They have 45 minutes to create their dishes for Andi and Brice.
The time runs out and it is time for the dishes to be judged. The blue team has already fucked up by putting up three beef dishes instead of two. Ariel's lobster-stuffed grilled squid looks more like bison dick and is totally unappealing. Kristin's shrimp tempura is more of a hit. However, Chad earns the first point for the blue team because his dish is a little heavier which was what Andi and Brice wanted. Dannie earns the point for the red team for her filet. Now it all comes down to the chicken entrees and the score is tied 1-1. Joe's dish wins the point for the blue team and the men + Manda will be enjoying a fun trip to Vegas! The red team, as punishment, will be working with the wedding planner to get the restaurant in pristine-shape for the wedding reception.
Ariel has to leave Hell's Kitchen to go to urgent care for an x-ray. If she needs surgery or to be put in a cast she will be forced to leave the competition. She returns later and announces that she has only broken her fifth metatarsal and will be on crutches, but she will remain in Hell's Kitchen.
Hell's Kitchen is closed to the public in order to host Andi's private wedding reception. The pressure is on for all the chefs to perform at 110%. The red team gets off to a rocky start because Jackie doesn't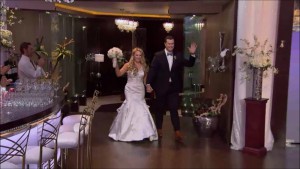 understand portion sizes on the risotto. I've seriously had about enough of her ass and she should've been gone like three weeks ago. The blue team isn't doing much better with overcooked food. Dannie ends up screwing up a batch of scallops by not using a nonstick pan and they are all stuck to the pan like flies on shit. The last of the appetizers finally make their way to the guests. It's time for the entrees to be sent out and both kitchens must coordinate to make sure they serve the head table at the same time. Hassan is running around like a chicken with its head cut off (not unlike the chicken that he should be cooking). Jared and Hassan both try to serve raw chicken to the pass. SERIOUSLY? How hard is it to make sure that the damn chicken is not bleeding? Meanwhile, the head table only gets half of the food sent out and the mother of the bride is ready to start gnawing on someone's leg so they all start sharing their food with her. This is turning into a shit show and fast.
They finally make it to the end of dinner service but Chef Ramsay is furious. He was so embarrassed by their performance that he could not even look his right hand woman Andi in the eyes. There will be no winning team, so they must come up with nominees for elimination. The red team nominates Dannie and Hassan and the blue team nominates Chad and Jared. In the end, Hassan is eliminated for his piss poor performance. I had high hopes for Hassan to go the distance and win this season, but his shitty performance and embarrassment of Ramsay is inexcusable
Now, on to episode 8. The red team is breathing a sigh of relief as they made it through another dinner service and Dannie is glad she survived the chopping block. However, they need to learn to work together in order to finally start winning again. Manda is entertaining the blue team with her stories of her days on the stripper pole and even gives them a little taste of what she used to do. She's so weird. Ha!
They are greeted in the kitchen the next morning by rock guitarist Steve Vai. After they are treated to a little performance, Chef Ramsay announces their next challenge. Each team must produce five dishes with a limited number of ingredients: one with seven, one with six, one with five, one with four and one with only three ingredients. They are given 40 minutes to get their dishes ready for judging. After time runs out, it is time for judging. Manda earns the first point the blue team with her five-ingredient sea bass dish. The next point goes to the red team with Ariel's hanger steak. The red team also earns the third point because JOE ATE THE LOBSTER INSTEAD OF COOKING WITH IT. So Jackie won the point by default. I think I have officially seen it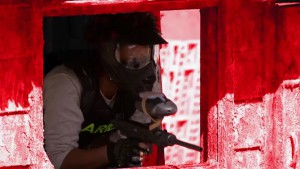 all on this show now. Wow. The red team also earns another point because Chad ruined his ahi with too much black garlic. It literally looks like he backed his ass up to the plate and pushed out a huge shit. The red team wins this challenge finally! The blue team will be in for a grueling day as it is delivery day at Hell's Kitchen while the red team will be playing paintball with Marino.
It is time for dinner service in Hell's Kitchen and Chef Ramsay feels that this will be a turnaround for both kitchens. He makes them raise their hands and take an oath: "I will not suck!" Somehow I can't believe they can make it through service without sucking. Stranger shit has happened though, right? Jared gets things off to a bad start when he ruins a batch of scallops by getting them stuck to the pan. Meanwhile, Dannie is afraid to work with the pizza because she's not confident she can handle it. I think she honestly should just quit the competition if she can't handle any station at this point. It's too far in the game to be sucking at anything at this point. Manda is moving slow in the kitchen because she has hurt her back during deliveries and is trying to power through it. I gotta hand it to her for being so tough but she really is in pain and it shows. Meanwhile, Frank is still being a chauvinist asshole calling Manda weak and being a jerk. I'd be more inclined to cut him some slack if he didn't perform like total shit in the kitchen. He sucks during challenges and he has no room to be cocky about anything. Chad and Jared are pulled over to the table and sat down by Ramsay for their failure to communicate. So now they have to have a nice chit chat while the rest of the kitchen carries on without them. They finally get it back together and start communicating better in the kitchen and pushing out entrees. Meanwhile, Manda is struggling to get her chicken cooked quickly enough and is threatened by Ramsay to get her shit together in 10 minutes or she will be thrown out of the competition during service. The threat seems to work as she starts communicating better and starts pushing out entrees.
Both teams manage to successfully complete dinner service with a few bumps along the way. However, the winning team is the red team for their better communication throughout the evening. The blue team must come up with two people for elimination. They nominate Manda and Jared for their poor performances in communication during service. Chef Ramsay decides to send Chad to the red team and moves Dannie to the blue team. He sends Jared and Manda back to the blue team and tells them all to get out. Luckily, no one was eliminated tonight but there are several people with only one life left in the game.
What are your thoughts on the competition so far? Is your favorite still in the running? Have any of the eliminations shocked you? Let me know in the comments below or on Twitter! We are also covering lots of other great shows for you at Your Reality Recaps. I'm pulling double duty once again as I am also doing weekly recap blogs on RuPaul's Drag Race. Eric (@RealityRecaps) and @MizDonDraper are doing live weekly Drag Race Rucap YouNow shows each Tuesday at 7pm eastern! All of the Drag Race content can be found here. Don't forget that Dana is covering Big Brother Canada 4 and The Bachelor for us as well! And Melissa is covering Survivor: Brains vs. Brawn vs. Beauty here! There's something for everyone, so be sure and check it out!