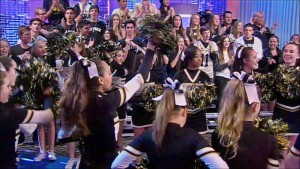 We begin episode 10 of Hell's Kitchen with the chefs who have woken up early to get a start on the day. But Chef Ramsay was up earlier and has something in store for them. He calls up to the dorm and tells them to come downstairs immediately. They all go downstairs to find a huge mob of people… a band, cheerleaders, screams and cheers. It's the Calabasas High School Coyotes and they are going to be having their homecoming dinner and dance—yep, you guessed it—in Hell's Kitchen. Their challenge right now is to prepare a tasting menu for the upcoming dinner. Three of the students from the homecoming committee will be judging the dishes which will have a Mardi Gras influence. The chefs have 35 minutes to prepare a seafood appetizer, a chicken entree and a beef entree.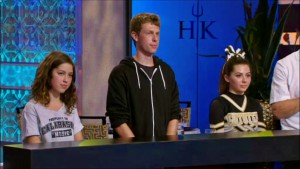 It is now time for the homecoming committee to judge the dishes from each team. Of course, the appetizers are first. These kids are TOUGH! They find T's grits to be a little watery and too salty. Milly's stuffed shrimp doesn't wow them either. They end up choosing the blue team's dish for the seafood appetizer. Up next, Randy and Meghan are up with the chicken entrees. Meghan made fresh pasta for her dish, while Randy went the lazy route and used what was on hand. So, the red team's dish wins this round. Finally, we have the beef entrees. The blue team's chicken fried filet mignon was good, but Max didn't like it because the sauce made it lose its crispness. He says that the red team's okra is overseasoned. I think Max needs to chill a little bit. He's judging dishes for a high school homecoming dinner, not a dinner party for foreign dignitaries. Slow your roll! They go with the blue team's dish because of the okra, even though the red team's dish was better presented. For the fifth straight week in a row, the blue team wins the challenge. The blue team will be enjoying a little fun and relaxation while the red team will have to set up the dining room for the homecoming dinner, while that demanding little punk Max barks orders and makes their lives hell.
Hell's Kitchen open its doors for a special dinner service. It's time for the Calabasas High School homecoming dinner and dance! Things get off to a sizzling start in the red kitchen as T sets the flat top on fire. Meanwhile, Josh doesn't cook the wine off in the risotto and pisses off Chef Ramsay. I guess Josh doesn't think it's a party without 200 drunken teenagers. Meghan and Michelle are butting heads in the kitchen after Meghan kicks Michelle off the meat station and acts like a condescending bitch. Randy seems to be coming unglued at this service and doesn't seem capable of performing even the most basic tasks in the kitchen. Despite these setbacks, both teams have managed to complete dinner service. Even though both teams were able to complete dinner service without being kicked out of the kitchen, one team had the edge: the red team is the winner of this dinner service.
As the losers, the blue team have to come up with two nominees for elimination. Things get a little heated between Nick and Josh as Nick feels that Josh should leave the kitchen. Josh goes on the defensive and says that Nick doesn't have the heart or the balls to be a chef. They come downstairs and present their nominees to Chef Ramsay. The first nominee is Randy, who failed on the appetizer station. The second nominee is Josh for getting the team off to a slow start. Chef Ramsay's decision is for Randy to step back in line and for Josh to take off his jacket. But he's not out! He now becomes part of the red team. Meghan is moved over to the blue team. No one is eliminated from tonight's episode.
What do you think of this episode? Should someone have left tonight? Let me know in the comments below or on Twitter!
Keep up with Your Reality Recaps for coverage of all your favorite reality shows! We are currently covering Big Brother Canada with Dana's awesome blog recaps and she and Jon have a weekly recap show as well! We are also covering Survivor, The Amazing Race, Hell's Kitchen, RuPaul's Drag Race and all of the Bravo shows. New content is happening every day, so check it out! If you'd like to help us out (WE WOULD LOVE YOU FOREVER) you can do your Amazon shopping through our site or consider donating to us via Paypal or becoming a Patreon. All the links are over on the right hand side!