Previously on RuPaul's Drag Race: The queens get blown by the Pit Crew and then they take to the skies as they perform in a musical safety video promoting an airline run by drag queens! Sasha Belle sashayed away and Ginger Minj slayed and stayed! That's the quick and dirty version of last week. For a more in-depth synopsis, well you should probably get caught up here before reading this week's recap!
We begin as the girls come back to the werk room immediately following Sasha Belle's elimination. It appears she left a rather interesting lipstick message on the mirror: "Ging for the win." So it seems as if Ginger Minj has her an admirer! Now the other girls all maaaddddddd. Hell naw!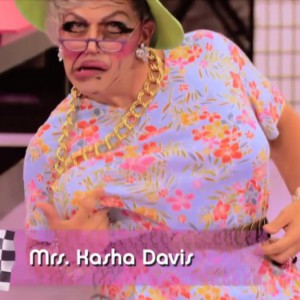 Ooooh, gurl! You got she-mail! I mean, SHE DONE ALREADY DONE HAD HERS'S! Ru comes up on the screen speaking in a Shakespeare-esque tongue which is a hint of what is to come for the queens in the main challenge. Usually at this point, Ru enters through the door and gives them their instructions on the mini-challenge for the week. Not this time! RuPaul comes rolling in on a Hoveround wheelchair and tells them it's time to release their inner Golden Girl. The mini-challenge this week is "Sissy That Walker": they have fifteen minutes to get into old woman drag and the two "grooviest grannies" will win the challenge! They were all pretty funny to watch but the winners of this mini-challenge are Max and Kennedy Davenport!
RuPaul now informs the queens of the main challenge this week. They will be acting in comedic versions of Shakespeare's Romeo and Juliet and Macbeth, "Romy and Juliet" and "MacBitch." The queens split into two teams; Max and Kennedy are the leaders since they won the mini-challenge. Max's team includes Ginger Minj, Trixie Mattel, Mrs. Kasha Davis, Jaidynn Diore Fierce, and Miss Fame and they will be working on "Romy and Juliet." Kennedy's team consists of Jasmine Masters, Katya, Pearl, Kandy Ho, and Violet Chachki and they are doing "MacBitch." Kennedy is clearly not happy that their team got stuck with Violet and seems to be going out of his way to be a real bitch toward Violet.
Team Max is up first and are rehearsing in front of directors RuPaul and Michelle Visage. They run into a bit of a roadblock when Jaidynn begins to have a breakdown from the stress of the competition. *Major eyeroll* Gurl, you aren't the only one that wants to win this really bad. Suck it up or sashay your ass on outta here! Up next is Team Kennedy and they are just TERRIBLE. They keep flubbing lines left and right and Ru even goes so far as to say that this is the biggest car crash in seven seasons of Drag Race.
Ginger, Mrs. Kasha, Jasmine and Kennedy have formed the "Bitter Old Lady Brigade," and they sit around and judge the younger, less experienced drag queens (especially Violet). "We don't mean any harm, girl. Except when we do!" I must say that the Bitter Old Lady Brigade gives me LIFE! I love that they sit around and bitch about the others. It reminds me of well…ME! Except I'm not a drag queen. Really, I'm not! I don't even own one pair of heels. Ginger tells a rather sweet story of a woman who was dying and wanted to see a drag show. One day, her and her drag friends found out the woman had been taken to hopsice so they went to her and performed one last show for her. If this didn't hit you right in the feels, nothing will.
Once again, we head back to the main stage of Drag Race. This week on the runway, the queens showcase their best bearded looks! Because nothing screams androgyny eleganza like a bearded drag queen! Katya steals the show, at least in my opinion, when she comes out as the drag version of Abraham Lincoln. After they are done on the runway, it's time to see the finished plays! Both teams do pretty well although I did notice that Jasmine still flubbed her "head cheerleader" line. Team Max's production is the winner of the challenge, and Max is also the winner of the week's challenge! Team Kennedy Davenport is all up for elimination. Everyone was apparently so terrible that they have to answer to the judges. They all throw out excuses as to why they sucked, saying they had a rough week. Mama Ru gets pissed! She "don't wanna hear any goddamn excuses. Be prepared! Make it work!"
The bottom two this week are Kennedy Davenport and Jasmine Masters. It's now time for them to lip sync for their lives! The two lip sync to Kylie Minogue's "I Was Gonna Cancel" and in the end, Jasmine is the one to sashay away.
What are your thoughts on tonight's episode? Are you happy with who was asked to sashay away? Let me know your thoughts in the comments below! Follow me on Twitter for all my TV tweets and any other shenanigans I decide to get into. Follow our Drag Race page for all the blogs and videos from this season and season six!
Your Reality Recaps is covering all sorts of reality shows, so I'm sure you'll find something for you here! Melissa is covering Survivor: Worlds Apart, Hanne is blogging The Amazing Race, and I am blogging Hell's Kitchen as well! And it's finally Big Brother season! Big Brother Canada 3 is starting next week and YRR has soooo much in store for this season! Read all about the Big Brother Canada plans here, and keep up with all of the #BBCAN3 blogs and video recaps by Dana and Jon on the Big Brother Canada page! Don't forget to shop at Amazon using the link on the sidebar –> and consider donating to our Patreon account so we can keep bringing you all this wonderful coverage!! Love y'all! 🙂