-Listen the show right here, or download it from iTunes or Sticher from our PODCAST page-
YOU CAN ALSO SEE ALL OUR DRAG RACE SHOWS & BLOGS HERE.  AND IF YOU WANT TO SEE US DO THESE SHOWS LIVE BECOME A FAN ON YOUNOW TUESDAY AT 7PM EST!
Hey Kitty Girls! RuPaul's Drag Race is back for it's 8th season and we are doing weekly video recaps for it for the very first time! I am so excited to be here with Miz Don Draper dishing tea on a weekly basis. No need for sunglasses because there will be tons of shade thrown as well! Watch us live every Tuesday at 7 on YouNow and come with your questions and comments because we want to here from you! Can't watch live no problem all our shows will be on our Drag Race page to watch at your leisure. Even if you can't watch live you can still be part of the show just tweet Me or Miz Don Draper with #YRRLive and we will be sure to get to your questions.  SHARE THIS SHOW!  TWEET THE QUEENS!  AND IF YOU SEE ME TWEET DURING DRAG RACE THEN FAV OR RT!  ITS A GREAT WAY TO SUPPORT FOR FREE.
NEED A WAY TO WATCH IT?  The shows are on AMAZON PRIME HERE.  And if you join and watch it's a great way to support our show!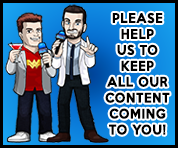 Did you like all our content?  Then PLEASE help us keep doing it!  The best way to do that is to become a Patreon!  Our patreons are what keep our site up and running.  You simply pick a month amount you want to donate (even $1.00 help) and that's it!   Plus Patreons get access to a SPECIAL PATREON ONLY FACEBOOK GROUP & PATREON ONLY SHOWS!  If you'd rather just do a one time donation you can use PAYPAL instead.  We appreciate ANY financial support you can give.  Like online shopping?  The use our Amazon link in the sidebar to start your shopping with them (you don't pay any more and we get a little back).  Or if you are interested in any of the ads in the side bar to the right check those out too.  The best FREE WAY to support our shows is to follow us on social media, and share our content!  Get your family and friends hooked!