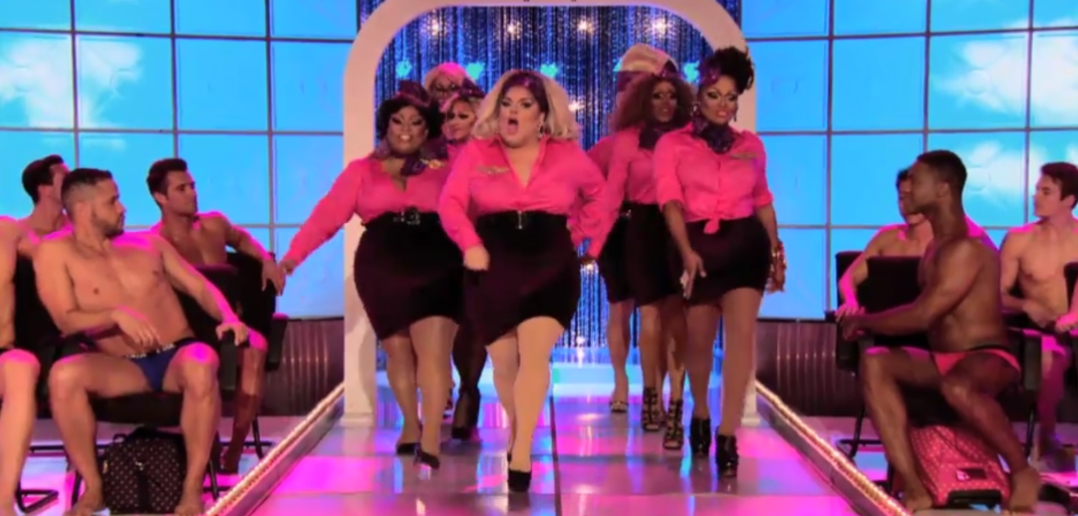 Oh gurl! RuPaul's Drag Race is back for another sickening episode and this week the thirteen remaining queens join the mile high club! Well, in a manner of speaking anyway. Last week, Tempest DuJour became the first queen to sashay away and lose her chance at $100,000. I guess RuPaul just wasn't in the mood for that hot tuna casserole! Read on to find out what happens in the second episode.
We begin with the girls coming back to the werk room after Tempest's departure. The reality of the competition is beginning to set in now that they realize one of them will be leaving each week. Violet Chachki, the winner of last week's main challenge, voices her hatred of judge Michelle Visage for criticizing her boyish look on the runway. "She probably has a bigger man body than I do without her implants!" I'm no expert here, but you may not want to piss off one of the judges. A bit too early to be getting cocky, Chachki! Also, Pearl seems to be a little irritated that Sasha Belle threw him under the bus to the judges during the competition. "I'm pretty and she looks like frickin' John Goodman in a wig."
It's time for another mini-challenge. Ru informs the girls that they will be getting blown by the Pit Crew. Not that kind of blown! Get yer stinkin' mind out the damn gutter! The queens have fifteen minutes to get into drag and then they will be having a photo shoot while the Pit Crew blows them with leaf blowers. This was absolutely hilarious to watch as they tried to strike sexy poses for the camera all the while their faces were flapping around like granny's tittays during gale force winds. The two winners of this mini challenge were Ginger Minj and Trixie Mattel!
Ru now reveals the main challenge for this episode. It's a lip-sync-a-palooza and they will be performing, with a mash-up of spoken word and song, a safety pre-flight video for Glamazonian Airways, the first airline completely staffed by drag queens! This should be a fun challenge. They will be working on two teams, each headed up by the winners of the mini-challenge, Ginger and Trixie. They get to choose their teams as well as assign the roles. Ginger's team consists of Sasha Belle, Jasmine Masters, Mrs. Kasha Davis, Jaidynn Diore Fierce, Kennedy Davenport and Kandy Ho; and Trixie's team has Pearl, Miss Fame, Katya, Max and Violet Chachki. Ru asks what made Ginger choose these people for her team. She says she wanted diversity and talent on her team, while the other team looks like "Aryan Airlines." The teams both get a chance to work on their choreography for this challenge with Jamal Sims. Although a few of the ladies had a hard time at first learning the dance routines, they managed to get it together for the performance.
It's to head to the main stage once again as Mama Ru introduces guest judges Jordin Sparks and Olivia Newton-John! We now get to see the two teams perform! Both teams, in my opinion at least, performed very well, but Ginger's clearly was funnier and more entertaining overall. Once the performances are over, we only get a quick glimpse of the queens' runway looks. This week's theme is jet set eleganza, naturally.
The winner of this week's main challenge is Ginger Minj! Condragulations on overcoming your fear and slaying the competition, you fierce glamour toad! The bottom two this week are Katya and Sasha Belle. They must now lip sync for their LIFE! The girl's lip sync to guest judge Olivia Newton-John's "Twist of Fate." In the end, Sasha Belle becomes the second queen to sashay away.
What did you think of this week's episode? Are any of the drag queens impressing you yet? Do you agree with the elimination? Let me know in the comments below. Follow this season of RuPaul's #DragRace with our Drag Race page! Follow me on Twitter for all my TV tweets and snark. Keep up with all your favorite reality shows here at Your Reality Recaps including Survivor, The Amazing Race, the season finale of The Bachelor, King of the Nerds, Hell's Kitchen, and of course all of the Bravo shows! As always, if you have any shopping to do at Amazon, be a dear and use that link over there on the side. You don't pay any extra, but it helps us out a little bit. Thanks!  🙂