Episode 2 of RuPaul's Drag Race ended with the shocking double elimination of Laila McQueen and Dax ExclamationPoint. Ru decided that a previous queen should be given another shot to compete… Who did Ru choose? Well, read on to find out who comes back and who sashays away in my latest recap!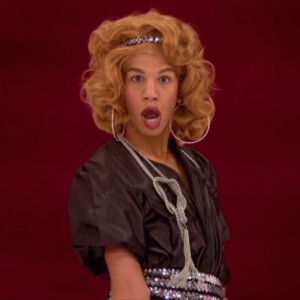 The queens all enter the werk room shocked that there were two queens eliminated and realize they will have to step their pussies up because safety is not guaranteed. They're also wondering (like we are) who is going to be returning. Ru comes on the screen and gives a cryptic message about their next challenge (Cookies? Huh?) But first, their mini-challenge is to drag up their black judge robes… Supreme Court realness! Hey, now that there's an opening on the Court, why not get us a drag
queen up in there? After the time is up, the queens showcase their Judge Judy realness. My favorites were Robbie Turner with the reference to "ex-boyfriend" Donald Trump, Kim Chi because well… it's Kim Chi, and Chi Chi Devayne and her ratchet ass clapping. However, the winner of the mini-challenge is Naomi Smalls! Now, it's time for Ru to reveal who is re-entering the competition. It is none other than Naysha Lopez, the first boot of the season!
Ru announces the main challenge: they will be overacting in the pilot of his new TV series… "RuCo's Empire!" This will obviously be a very entertaining challenge as they will be spoofing the hit series Empire. As winner of the mini-challenge, Naomi Smalls will be one of the team captains and Naysha will be the other captain. On team Naomi, we have Robbie Turner, Bob the Drag Queen, Chi Chi Devayne and Cynthia Lee Fontaine; and on team Naysha we have Derrick Barry, Thorgy Thor, Kim Chi and Acid Betty.
The teams set to work assigning parts and rehearsing lines for the challenge. Bob and Thorgy will be both playing the role of Cookie on their teams. This should be fun! Bob is such a riot and a handful and Thorgy is nervous as hell about being up against him! The teams head to the set for rehearsal in front of Ru and Faith Evans. Kim Chi seems to be out of her element once again as she struggles to be ghetto enough for her role. She also struggles at mouth popping. She should probably get some pointers from Alyssa Edwards. Derrick doesn't seem to be doing much better. On the other team, Bob and Chi Chi both seem to be right at home in this challenge as they turn up the ratchetness and overacting!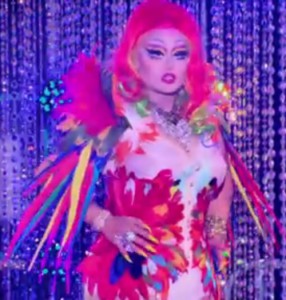 It's elimination day and for the first time EVER, the queens will be on the runway in ROLLER SKATES. Holy shit! They are really not playing around this season! As the queens prepare for the runway, Thorgy tells us the story of how his mother died of cancer and how he didn't get to properly say goodbye because his family didn't let him know what was going on in time. I cannot imagine how painful that must have been for him. The queens hit the runway on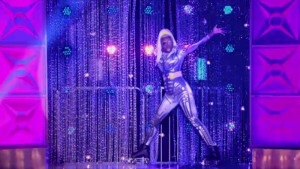 skates and let me just say I was gagging! Even Ru came out on skates! The first one up is Naysha and she is also the first one to fall on her ass! A crew member helps her back up and she glides backstage again. Bob the Drag Queen comes out on roller skates and almost falls a few times but manages to save herself each time. I was DYING at this! The best looks on the runway belonged to Naomi, Kim Chi, Bob and Acid Betty. Cynthia Lee Fontaine looked a little sloppy on the runway I don't get what she was going for. Oh well!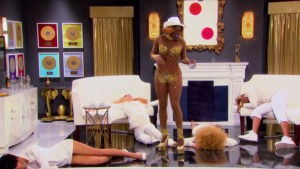 Now it's time to watch each team's scenes in "RuCo's Empire!" This was funny to watch but it was a little awkward watching Kim Chi's attempts at being ratchet. I just was not getting ratchet from her. Also, Acid Betty's acting was a little stiff as well. Team Naomi is next and this team KILLED it! Bob the Drag Queen absolutely slayed as Cookie and I was living for it. Her comedic skills, acting ability and timing were all perfect! I was laughing during every second of her performance.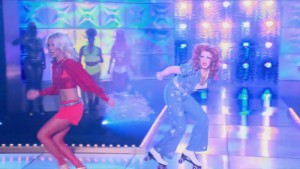 It's time for the queens to face the judges! The winner of the challenge is none other than Bob the Drag Queen and I wouldn't have accepted any other outcome! As for the bottom two… it will be Robbie Turner and Cynthia Lee Fontaine lip syncing for their lives! Ru gives them the option to lip sync in wheels or heels. Cynthia opts to wear heels while Robbie gets ballsy and wants to lip sync in wheels! The two perform to Faith Evans' "Mesmerized." Robbie even ends up breaking a stage light with her skates at one point! Honestly, this lip sync was no contest. Once Robbie decided to keep wearing the skates, it was game over. Robbie lives to see another week while Cynthia Lee "Santially" Fontaine sashays away from the competition.