This week's episode begins where the last one left off… the chefs are told by Ramsay to f*ck off back to the dorms after Brendan got the boot. (For last week's recap, click here) Chef Ramsay pulls Josh aside for a moment and warns him that it is not a sign of weakness to ask for help when he needs it. He also warns him to get it together and get a grip.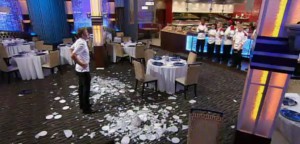 The next morning, the chefs all gather downstairs and Chef Ramsay tells them that one of his favorite places that he traveled to is Greece. Of course, this means that their challenge will involve Greek food. This challenge will test the chefs' creativity. Each member from both teams is assigned a protein that will be the basis of their dish. They now have to smash plates in the dining room to find out what other ingredients they will be allowed to cook with. After they find out which ingredients they will be using, they now have 40 minutes to create a Greek dish and compete with members of the opposite team.
Michelin star chef and restaurant Michael Psilakis will be judging the dishes alongside Chef Ramsay. In the battle of the lamb dishes, Alison's was a little overcooked and earns 6 points for the red team. Josh's dish was swimming in blood because he didn't let his meat rest before plating it and only received 2 points for the men. Next up are the prawn dishes: Bret's dish was cooked beautifully and earned 8 points for the men while Michelle's unusual dish included kiwi and wasn't Greek enough, so she earned a mere 3 points for the women. Meghan's squid dish was praised by both judges and earned a near-perfect 9 points for the red team while Milly's dish just misses the mark and only gets 6 points for the blue team. T's kale-stuffed chicken earns 7 points and Randy's first attempt at Greek cuisine earns the first perfect 10 score of the challenge. Christine's pork-based dish earns 8 points for the red team and Adam's dish impresses the judges and he gets the only other perfect score of 10. With the men in the lead, it is now time for Nick and Sarah to face off with their swordfish entrees. Sarah only manages to earn 7 points for the women and now it is all down to Nick: his dish isn't a total disaster but it's not good either. He manages to pull off a score of 5 which means the blue team finally wins a challenge! For their reward, they get to race each other at a go-kart track and meet Miss California while the women will be cleaning up the kitchen of all the shattered dishes from the challenge and cleaning both kitchens for dinner service.
It's almost time for dinner service once again, but before they begin Chef Ramsay notices something wrong with Milly and pulls him aside. Milly is starting to break down because he feels he is not as experienced and not as good as some of the others. Ramsay tells him that he is a good cook and a fast learner and is concerned that Milly is losing his drive and wants to see him get it back.
Okay, now it's really time for dinner service to begin. The men get off to a very strong start on dinner, while the women are struggling a little as Alison burns the butter. Meghan decides she is going to give the team a little push because they need it. Meanwhile, the blue team has a little hiccup as someone has ruined the mashed potatoes by adding cream and making them runny. No one fesses up to it when Ramsay demands answers. Milly also messes up on his wellingtons by cutting them the wrong way. The men rebound and manage to finish the entire dinner service without any major issues causing them to get booted. Back in the red kitchen, the women are a trainwreck as Sarah cannot manage her station without screwing up and needing supervision by the others. The women get kicked out of the kitchen with several orders still needing to be filled. The men ending up finishing their tickets as well.
As the losing team of the evening, the red team must nominate two more people for elimination. The first one they choose to go up is Sarah for her complete incompetence in the kitchen. The second one they nominate is Christine for her failure on the garnish station. Sarah tells Ramsay she is positive she would perform better if he moved her to the blue team. However, Ramsay doesn't buy it. In the end, Sarah is eliminated by Chef Ramsay because he is not looking for a learner; he's looking for a leader. After she leaves, he warns the others that the next time they have a poor performance like this one, he will be getting rid of more than one person.
It looks like the women lost a little of their momentum in this episode. Do you think they will be a better team without Sarah? Let me know your thoughts in the comments section below and on Twitter!
Your Reality Recaps has all kinds of coverage of all of your favorite reality shows! We are now covering Big Brother Canada, Survivor, The Amazing Race, Hell's Kitchen, RuPaul's Drag Race and of course all of the Bravo shows! Check it all out! Of course all of this wonderful coverage is FREE for you but it does take a little money to bring it to you! We would <3 you forever if you did your Amazon shopping using the link in the sidebar… it doesn't cost you any extra but it really does help us! Or, you can donate with Patreon or Paypal… those links are in the sidebar as well!