Last week, the chefs earned the right to wear the black jackets: an honor reserved for the best of the best each season. Also, we saw the elimination of TWO chefs from the competition! (For a complete recap, you can click here) Which chefs will survive the next elimination and make it to the final 4? Keep reading to find out!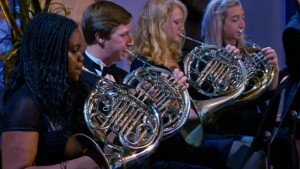 The final five chefs meet downstairs in Hell's Kitchen to an orchestra playing music… yes, an orchestra! Chef Ramsay reveals that Hell's Kitchen is hosting a private concert complete with an exquisite lunch! For their individual challenge, the chefs have 45 minutes to prepare an elegant small dish to serve each guest. Each guest will taste their dishes and vote for the best dish. The chef with the most votes will win the challenge. After they frantically get their food prepared and served to the diners on color-coded dishes, the chefs have the opportunity to go out into the dining room and whore themselves out, I mean… uh… try to "sell" their dishes by sweet-talking the guests! They all get out there and try to win over the guests, but Meghan seems to have a little trouble talking and pushing her plate as the best dish. It is now time for the guests to rank the dishes best to worst. The worst dish which only earned 3% of the guests' votes as favorite belongs to T! I must say I would be embarrassed to only get 3% of the vote when
there are only five chefs remaining! And she thought she had this one in the bag by serving lobster, too! The winner of the challenge with an outstanding 55% of the vote belongs to MILLY! As reward, he will enjoy a private helicopter tour of Los Angeles! He is allowed to choose one chef to bring along with him and he chooses T.
It's almost time to begin another dinner service. As the chefs are preparing ahead of the evening's service, Michelle leaves the flat top unattended as she goes to the restroom. So, of course, it catches on fire! I really think that season 14 is going to be the season that the entire restaurant is reduced to a smoldering pile of embers from the ignorance and negligence of the chefs! Ok, NOW it is time to begin dinner service. Chef Ramsay decides he is going to give sous chefs Andi and James the night off. In fact, instead of working, they will be DINING in Hell's Kitchen. That's right! It's time for each of the remaining chefs to take turns running the pass to showcase their leadership skills… or lack thereof.
Milly is the first sous chef to run the pass. He seems rather quiet to me, but he displays confidence and is successful in his turn at running the show. Next up is Michelle. This girl, I swear, has the most ANNOYING voice I have ever heard! There is a huge difference in leading the kitchen and sounding like a banshee. Right as they are finishing appetizers and about to begin entrees, the wheels start coming off. Michelle didn't tell Milly where anything was on the station that she passed over to him. Michelle manages to catch some undercooked scallops and sends them back to Milly to be refired. The kitchen regains its momentum for the time being. Next, Meghan takes her shot at leading the team. Immediately, she catches Nick's overcooked wellingtons. Milly sends up some scallops completely soaked in oil. The kitchen grinds to a halt and Chef Ramsay pulls them aside and yells at them for performing so poorly. He wants them to get it back together quickly. T is now ready for her turn running the pass, but Nick is performing so poorly on the meat station that he swaps her out for Nick and it is his turn to run the pass. This is a complete disaster. I love Nick, but he performs horribly here. He even has to go out to the dining room and apoligize to a couple of guests for having to wait on their lamb. I think it is safe to say who one of the people up for elimination will be tonight. Somehow, by the grace of God, dinner service is completed for the evening but Chef Ramsay is NOT happy.
They must now come up with two nominees for elimination. The first nominee is clearly Nick for his complete failure
at the pass and on the meat station. The second nominee is Michelle because she is so hard to work with. After a little arguing back and forth over the decision, they go in front of Chef Ramsay for his final word. He calls bullshit on their nomination of Michelle and he decides that Milly should be up for elimination instead, for his poor performance on the fish staton. Chef Ramsay eliminates Nick from the competition and the final four chefs (Meghan, Milly, T and Michelle) are now in place.
Which two chefs do you think will make it to the final? Which chef do you WANT to win the whole thing? Let me know in the comments below or on Twitter (@vince1187).
Your Reality Recaps has all kinds of coverage on your favorite reality shows! Big Brother Canada just wrapped season three and you can find all the season's blogs, video recaps, exit interviews and more HERE. Click HERE to see some of the photos and videos from finale night (more coming soon). I am also covering season 7 of RuPaul's Drag Race and you can find all of my recaps HERE. Finally, I'm excited to be taking over the Big Brother 17 blog recaps this season (which begins on JUNE 24th!) You will be able to find all of our coverage on that HERE once the season begins. Don't forget that if you wanna throw a little $$$ our way, we would LOVE you forever! You can do your Amazon shopping through our site, make a donation via Paypal or become a Patreon. All the links are over there in the sidebar. As always, our content is FREE for you but donations help us to continue bringing this to you!