After the fall out of the fight and Lisa doling out her punishments James and Kristin think it's BS he was fired and she was suspended because Sandoval started the fight. James decided to write Lisa a letter to apologize and maybe get his job back. Meanwhile Stassi is having lunch with her dad and tells him that it's so weird being back in LA and she feels that she was so healthy and zen in New York but being around Sheana is ruining all that for her. Jax is at his therapist telling her about Carmen and Tiffany. He tells her Stassi is back in town and he wishes her well but it ends in the realization that there is probably still feelings there for Stassi even though he won't admit it!
James and Kristen are out discussing how screwed they are now that they have no money coming in and decided that Kristin needs to get the rest of her stuff from Tom nad make it so he's paying his own cable bill. The Tom's are working out and we get to hear how Shwartz and Katie are having NO sex while Sandoval and Ariana are going at it like rabbits. (Personally I've never heard a straight man tell another that he is glowing. These two make me wonder….)
That night Pump is having it's grand opening. Back at Sur, fired James shows up for work and Peter has to send him home. Kristina tells Jax that Stassi stopped by and he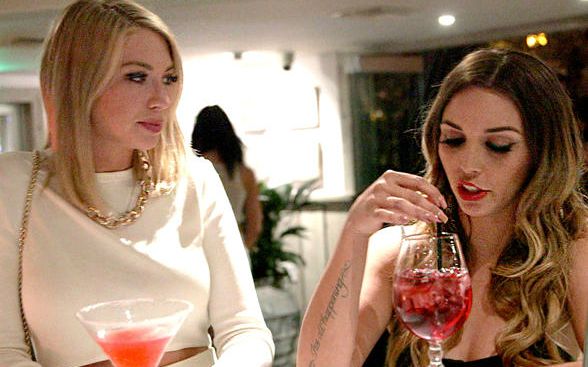 was upset that she didn't say hi. Kristina takes this moment to really just put it all in perspective to Jax. He's not close with her or her family, Stassi is fine, it's time to move on. Over at Pump Sheana and Stassi talk. Sheana can't understand why Stassi want's nothing to do with her. When Stassi confronts her on the fact that she is slamming her all over twitter, Sheana's response was I only retweet that bad stuff. (Yeah Sheana because that makes it better! Grab a clue!) This season I am actually finding  Stassi the voice of reason.
The next day James shows up at Sur with his tail between his legs asking to speak with Lisa. He's written her a letter and she gives him a few minutes and tells him she will think about possibly giving him his job back. Meanwhile Ariana is telling Tom he HAS to get Krisin out of his life. Cable box, clothes, insurance it all has to go or she'll never go away. Kristin shows up that day, dressed to kill and is sucker punched to see Ariana sitting there. Tom doesn't want to give up the cable box because he has shows on it he doesn't want to give up. He relunctantly packs it along with all her clothes in one sad Ikea bag and after some awkward crying exits Tom's apartment for one last time.
Is this finally the closure that Kristin needs to move on? Comment below and let us know what you think. Don't forget to check out yourrealityrecaps.com/bravo for Jon's audio blogs on not only Vanderpump Rules but RHOA and RHOBH. You will also find written blogs for those shows as well!