We start by catching up with Kyle prepping for her annual White Party. She has over her party planner and LadySitter (whatever that may be) Justin to discuss decor and guest list. Mauricio's business has taken off so much he has had to move offices and is #1 in California. Which means the Whit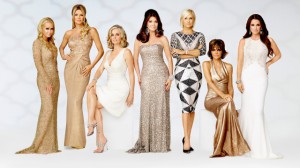 e Party is even bigger now and the is the hardest party to get into in Beverly Hills (In Kyle's mind that is).
Brandi and Yolanda meet at her house to go for a hike, but before they can do that we have to have our annual David plays piano moment of the season!  Brandi expresses to Yolanda that she is over the drama and wants to have fun. Brandi is also between homes staying in a condo before she moves into her new rented house and has a new book deal.
Lisa is still waiting for her phone calls of apologies from last season. Lisa and Kyle meet for lunch to try to move past their issues. Like normal Lisa can never say sorry and couldn't even muster out words to say I missed you. While they agree to move forward (see how long this last this time!!) we get a flash back to Yolanda at lunch with Lisa agreeing as well to move forward.
 Next we meet up with one of our new Housewives, Lisa Rinna who is married to Harry Hamlin. She has two daughters Amelia 13 and Delilah 16.
Kyle's White Party starts and enters the ghost of Housewives past with Camille first. Camille is in recovery from having had cancer. Next we have Taylor (Duck lips) with her NEW husband John. Last but not least Adrienne shows up with her son…oops mean boyfriend Jacob Busch (they card at these parties for drinks?). Was nice seeing the OG's back and all the girls standing together laughing, looked amazing. Then Brandi arrives and she is as lost as when she first arrived on the scene. She gives her air kisses and soft hugs before grabbing Adrienne for a side chat. Brandi apologies to Adrienne and wants to move forward by asking her to lunch to talk. Adrienne looked uninterested but agreed to a lunch. And Kim showed up late.
 What did you think of the premier? Will Kyle and Lisa stay friendly? Don't forget to check out all our Bravo content at YourRealityRecaps.com/Bravo. Tyler is recapping Vanderpump Rules and RHOA and Jon is doing audio blogs for all three shows. We have just the stuff to scratch your Bravo itch!