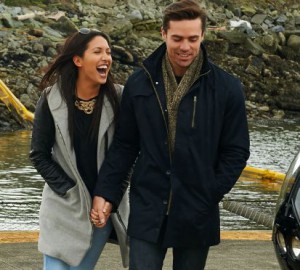 Sorry everyone for this being late! Crazy work schedule this week! I will do better I promise! We are finally getting dates this week! I can't wait to see who gets the first date card. Normally the girl who gets the first dates gets all clingy and crazy so we have a great bunch of a crazy to choose from with this cast. I won't waste any time! This show is only an hour-long unlike the American version so we really don't get much filler which is fantastic!  The date care mysteriously appears in the front hall of the mansion and Tim is asking the lucky girl to "Come get high with me!" We are in Vancouver people, this could mean literal high as in mountains or chemically high – But I am sure its high as in up in the air and KAYLYNN gets the first date. I was totally expecting that. I knew it would be a toss-up between her and April Borgnetta. Tim and Kaylynn had an instant chemistry right out of the limo, of course he wants to explore that further. The other girls are not exactly thrilled at this prospect. I get it. Kaylynn is a roller coaster of emotions and will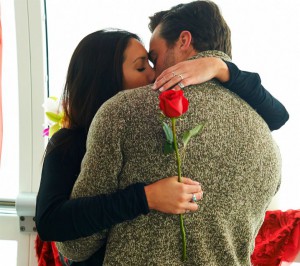 most likely be the center of drama this whole entire season! Tim takes her on a helicopter ride, a first for both of them and Kaylynn is leery of the heights but the chemistry between these two is undeniable. Hands on legs and sitting close together seemed to have calmed her down long enough to make it to the top of Grouse Mountain and their romantic lunch waiting for them. What I really enjoy about these two is yes the physical chemistry is there but so is the conversation. Kaylynn tells him all about her days at ballet school and the bullying she experienced. He couldn't hear enough about whatever she wanted to say. I think we got more in-depth conversation on this one date than all of Juan Pablo and Andi's season combined. We learn that Kaylynn has had a pretty tough time of it, sent away to school at 9 and bullied all through school her mother basically raised her over the phone.  Kaylynn is so engaging and gorgeous I can't help but love her and neither can Tim! He gives her the rose. Like I said Kaylynn will definitely be in the middle of the drama this season. While confident alone with Tim when she is in the group she turns into a totally different girl. Do you think Tim will be able deal with all the emotional craziness that Kaylynn will throw at him this season.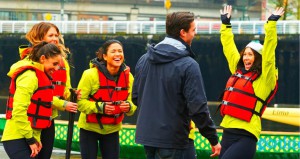 We quickly move into the group date and the card reads "Lets see who can make waves!" The list is of girls is divided into two teams. Alison, Dominique, Lisa, Renee and Sachelle are on one team and April Borgnetta, Jenny, Martha, Rileigh and Trisha are on the second team. You know what this means right? Some kind of competition where losers get set home and the winners get to continue the date. The girls are Dragon Boat Racing and the winners will get to spend the evening with our hunky bachelor. The weather is crazy! Vancouver normally tropical in temperature with some rain went cold and torrential but that didn't stop our ladies. Team one got an early lead but something happened to them and team two overtook them and held on to their lead. TEAM TWO WINS THE AFTER PARTY and team one is sent
home defeated. At least with only 5 girls to deal with Tim can have actual conversations and he starts out with April Borgnetta. I really don't know what to think of the Vagician. She talks to Tim and reveals that her parents were basically hippies and that her burlesque name is Suicide Stacey. I can't figure out if she is naturally so dramatic or if it's an act she puts on for attention but when she talks she always sounds like she is on stage putting on a play. I know this intrigues Tim and he wants to get to the bottom of this. I see her getting a one on one next week! Trisha talks to Tim about her pageants. Rileigh sits and watches Tim and decided that he is putting on a show she cuts in on Trisha's time with him. Her first words are "Cut the Shit, I don't want Show Tim." This girl seemed pretty normal night one and now she's gone all crazy over night. Tim appreciates her analytical side but is not loving the negativity. Shocking…….he's not digging the girl who told him to cut the shit! For someone vying for a rose and safety she screwed that one up. I was shocked to see Trisha recieve the nights rose.  The conversation felt boring and forced to me, but I guess listening to pageant talk is something he likes.
While the girls were at their after party the ones at the house received the last date card "Lets Add a little Flare to the week"  it reads.In the US version this is a second one on one but Tim has decided on a Four on One date with April Brockman, Sonia, Natalie and Christine. The next morning all the girls are just hanging in the kitchen getting breakfast ready and to their horror he shows up. None are wearing make up, half of them don't even have bras on they are all mortified. He tells them not to worry they'll get made up later.  Tim reveals that the reason these four girls were chosen was because they caught his attention right away.  The date is actually a
photo shoot for Canadian fashion magazine Flare using Rimmel London cosmetics. Lingerie model Sonia is ecstatic. This is her date to lose being a model and all. Christine is first up for her scene and it's outside where the bad weather still continues but she is a trooper through it all impressing Tim. April is next and she looks amazing! Their shoot was on a motorcycle and you could tell
Tim was loving what he was seeing.  He was very hands on to say the least and the connection was visible to all the girls. Natalie is looking sexy and Tim is way into her and they actually kiss while taking their pictures. Tim please……..girls don't like watching you kiss other girls. NOT COOL! I think having to watch him connect with the others shook Sonia and her confidence. She looks stunning but they two of them fought to find and chemistry. It was awkward and tense and just not what you expect from a model. They both feel the awkwardness and after the pictures were taken he pulls her aside.  They both agree there is no point in wasting time trying to force a connection that isn't there and
Sonia is sent home mid date! Tim is not playing around. Rileigh better watch herself because one more cut the shit and she might find herself on a plane ride home as well. Tim has to choose who he wants to continue on a one on one with and he had the most questions for April so he chose her. After another Bachelor style cheesy one on one concert with Drew Allen (WHO???)  they sit and talk. These two are ADORABLE together. Wrapped in blanket he tells her he wants to get to know her better, pulls up the blanket to hide from the cameras and they have a little smooch. No shock April Brockman gets a rose. I think Tim has a thing for girls with hard lives. April in her intro last week also stated she had a rough upbringing but she seems much more stable than Kaylynn.
This episode went FAST and we are quickly into the cocktail party, the best part of the evening when the crazy comes out full force. Kaylynn, who has a rose, goes in wanting to play it cool. Lets see how long that lasts. Martha is stepping up her game. She goes to interrupt a conversation and gets denied. EEEK  confidence killer right there! As Kaylynn watches Tim work the room and talk to girls even she knows her insecurities are getting the better of her. She talks to April Brockman about them when Tim comes up to the pair of them and asks to speak to April. OH HELL! Here we go. Those two go off
and Kaylynn runs through the house crying. Everyone is sitting there wondering WTF just happened.The girl has a rose she isn't going home tonight why is she so upset? Trisha isn't sure if she's for real losing her shit or if this is attention seeking behaviour. Then Martha goes to talk to her. Buckle up everyone. We have an assertive Latina talking to an emotion wreck. I think Martha's heart was in the right place in telling her she doesn't need to worry she has a rose. Don't feel like this, you're gorgeous he likes you. Be confident. Well Kaylynn went back to her ballet school days and took it as bullying and that Martha was telling her how to feel. Kaylynn downfall will be her confidence. I get she is dealing with bullying issues, probably some abandonment issues from being dropped of at school at the age of 9 and some daddy issues not being around him during her formative years but pull yourself together girl. This amazing man obviously likes you! She manages to pull herself together for a hot second to get through a rose ceremony where Alison and Renee were sent packing along with Sonia who is already gone. Martha getting a rose sends Kaylynn back into a hot mess and calls out Martha for telling her how to feel and Martha is not taking any shit from Kaylynn. These two will fight as long as they are both on the show. Tim takes her aside and she apologizes for being so emotional and she is afraid that she is going to scare him away. This is how much Tim likes her. He's not scared. Where everyone other man is already running he knows it's emotional and wants to help her through it. KAYLYNN PULL YOURSELF TOGETHER! She will be a hot mess every rose ceremony rose or not rose!
I am thinking the front runners this week are Kaylynn, April Brockman and Natalie. I think is really into Rileigh but she needs to check herself a bit. I really do wonder how long it's going to take for her over emotional demeanor stops being cute to Tim. For her sake I really hope she learns how to keep that in check. As the numbers dwindle it's only going to get harder and Tim has proved he isn't here to waste time. Who do you want Tim to keep around and who would you like to see exit stage right?  See you next week in Cabo! The Bachelor Canada goes International!