Let's get SICKENING! RuPaul's Drag Race is back for season 8 and this year marks two major milestones for the hit reality drag competition: the season premiere is the 100th EPISODE of the show to air, and one of the newest queens will be the 100th QUEEN to compete on the show! If you weren't already aware, you can find out this year's competing queens here.
We begin the episode with a brief look back at some of the biggest episodes of the show leading up to this hundredth episode. Remember "Drag on a Dime" from the very first episode? How about the return of Shangela Laquifa Wadley in the 23rd episode? HALLELOO! And of course, we can't forget when reigning queen Violet Chachki was crowned America's Next Drag Superstar in episode 99! What were your favorite #DragRace moments of all time? Let me know below or on Twitter!
The first queen to enter the werk room this season is Naomi Smalls and she is serving LEGS FOR DAYS!! This one seems to have a huge personality and I see her being a shady bitch with an attitude going forward. Next is Cynthia Lee Fontaine. I don't know what to think of her yet except she already annoys me and that accent is pretty thick. Next, we have Dax ExclamationPoint (I'll call her Dax from here
on) and she is the queen of all nerds who loves cosplaying. Next is Naysha Lopez and she seems to think she is stunning and gorgeous. Personally, I am underwhelmed and unconvinced. I mean, she's pretty but to quote the great Michelle Visage… "Meh." In comes the most dramatic entrance yet… Acid Betty. This one already has my attention, from the name, to the look, to spraying the hairspray when she came in (is that what that was?)…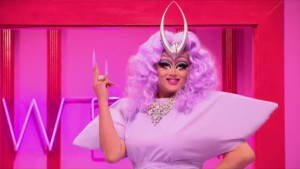 everything. She claims to be a bitch that even Bianca Del Rio won't wanna fuck with. God, I hope so! Next is Robbie Turner, "the kindest queen you'll ever meet," and I am immediately getting Jinkx Monsoon vibes from her. C'mon girl, get your own look. Next comes one of the queens I have been impatiently waiting for: Kim Chi! Last year, we were left without an Asian queen and this more than makes up for it.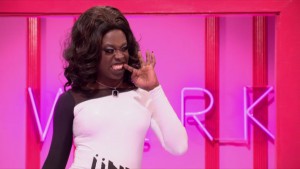 Kim Chi is a comedy queen and I am totally here for it. She is known for "crazy, over-the-top, pure anime fantasy" and not to mention, she looks really cute out of drag (my opinion, which happens to be correct). Next is Thorgy Thor… with a look as colorful and flashy as her name. There seems to be a bit of rivalry between her and Betty. We will see how that turns out! In comes my absolute favorite pre-season pick. BOB THE DRAG QUEEN. Words cannot express how damn
excited I am for Bob. Although, I'll try: I'm so excited I could pee myself! She is absolutely hilarious and is always gonna be the center of attention and the life of the party and I AM LIVING FOR IT. Yes ma'am! Next enters Laila McQueen looking like a drag Beetlejuice… wearing flats. No, bitch. No. Next is Chi Chi Devayne and she don't get ready, she stays ready. Mmmkay bitch. Finally, we have Derrick Barry, the 100th queen and a Britney impersonator. That's all cute and everything but that's gonna get old really fast. I hope she has something else up her sleeve. Then again, Chad Michaels is a Cher impersonator and she went on to win All-Stars season 1.
Ru enters the werk room for the first time this season and informs them that this is a momentous occasion for the show. It is episode 100 and Derrick is the 100th queen to enter the competition. He then informs them of their first mini-challenge featuring some extra special guests! The usual first episode photo shoot will have each of the queens taking turns being photographed with the champions of RuPaul's Drag Race: Bebe Zahara Benet (season 1), Tyra Sanchez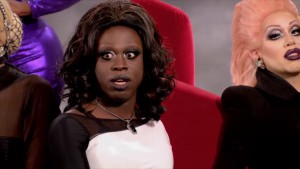 season 2), Raja (season 3), Sharon Needles (season 4), Chad Michaels (All-Stars season 1), Jinkx Monsoon (season 5), Violet Chachki (season 7) and… Bianca Del Rio? No, that's just a clown. Never mind. Bianca couldn't be here for this episode for whatever reason. That shady bitch. Each queen must do her best to try and give face for the camera without being upstaged by the Drag Race royalty. My personal favs were Acid Betty (this bitch thinks all the winners are "wannabe ass drag queens"), Derrick (who knows how to use the entire set) and Bob the Drag Queen (Oh. My. God. Bob is hilarious.) The others were varying degrees of okay or meh.
It's time for the main challenge! They meet Ru on the stage to find out that they will be recreating drag looks from previous challenges throughout the seasons! That's right, we have a sewing challenge and this will show us which queens have real talent and which ones buy their clothes or have them made for them. It's also cool to relive some of the most memorable challenges! By a "random" draw, Robbie Turner will be the one assigning the challenges to all the queens including himself. Robbie assigns "Drag on a Dime" from season 1 to Naysha. Naomi gets "Pride Floats" from season 4 and Acid Betty gets "Money Ball" from season 3. Cynthia is assigned the "Sugar Ball" challenge from season 5, Chi Chi gets the "Glitter Ball" from season 6 and Laila gets "Post-Apocalyptic Couture" from season 4. Thorgy Thor gets the "Cake Couture" challenge from season 3, Kim Chi gets the "Hair Ball" from season 3 while Dax gets Hello Kitty from season 7. Finally, Bob gets "Gone with the Window" from season 2, Derrick gets the "Queen Who Mopped Christmas" challenge from season 3 and Robbie sticks himself with the "Bitch Ball" challenge from season 4. It's hilarious that Robbie forgot to assign a theme to herself until the end and now she is stuck with something she hates.
It's time for the main stage as the girls make their debuts with looks inspired by previous challenges. Up first is Acid Betty making it rain with her "Money Ball" outfit. Up next is Bob the Drag Queen looking pretty in pink wearing hideous curtain fabrics. Dax is next with her Hello Kitty couture and I'm just not feeling it. It looks too basic compared to the Hello Kitty looks from last season. Oh, well. This is only episode one, right? Naysha is next with her "Drag on a Dime"
interpretation and I am not impressed. She looks frumpy and the look appears to be hastily thrown together about 20 minutes prior to the runway. Next! Kim Chi is up with her "Hair Ball" look. Let me just say, Kim Chi looks like the Cowardly Lion in a super-gay adaptation of The Wizard of Oz. Next is Cynthia with her "Sugar Ball" design and it's not terrible. Not the best, but it's okay. And we have the first ASS ALERT of the season as she shows off some of her candy on the runway. Naomi is next with her pride float look and it just comes off as very awkward and unwieldy. Not impressed at all. But this one was a challenge to pull off. Chi Chi is next looking like a disco ball. I love shiny shit so she gets a pass. Thorgy is next with her red velvet cake couture. Robbie is next with her bitchy look. See what I did there? Heh. Derrick Barry is next with her Britney-esque Christmas look complete with a holiday bush! Someone needs to fire the gardener! Laila is next with her Rupocalypse look and it's not the best ever.
The judges deliberate while the queens are backstage an Ru has come up with her decision. The winner of the first challenge is none other than Kim Chi! The bottom two are Laila McQueen and Naysha Lopez. The two must now lip sync for their lives in order to avoid being the first eliminated. They perform to Lady Gaga's "Applause" and let me just say that Laila turned it out during this lip sync! Meanwhile, Naysha was very low energy and seemed to have thrown in
the towel already. It's no surprise that Naysha is the first queen to sashay away, while Laila lives to see another week!
What are your thoughts on the season 8 premiere? Were you GAGGING? Did the right queen sashay away? Who is your early favorite to win the title of America's Next Drag Superstar? Let me know in the comments below or on Twitter @vince1187. Also be sure to check out Eric (@RealityRecaps) and @MizDonDraper on their weekly Drag Race RuCap YouNow shows each Tuesday! All of our Drag Race content can be found here on the Drag Race page. Don't forget that Dana is back recapping Big Brother Canada 4 for us as well! And of course, we have Survivor coverage from Melissa as well.