The grueling race to become America's Next Drag Superstar is getting real up in here! Naysha Lopez became the first queen of the season to sashay away and now everyone else realizes they are gonna have to step their pussies up in order to stay in the race! Who will be sent home with crushed dreams this week? Read on to find out!
The queens head back to the werk room after Naysha's elimination and Laila realizes that she is no longer the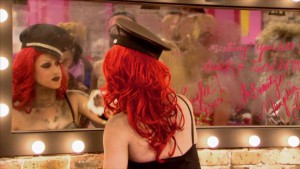 big fish in a small pond and needs to really up her game in order to stand out. However, in the same breath, she still is in denial and thinks that she definitely didn't deserve to be in the bottom two as opposed to some of the other queens. I'm gonna step up on my soapbox here for a moment and give a helpful message to all current and future Drag Race queens: when you are in the bottom two or are offered constructive criticism from Ru or one of the other judges, DON'T get all defensive and and try to place blame on others in order to bring them down. Take the criticism you are given and make yourself RISE ABOVE the others! That's what this competition is all about. You need to focus all of your effort on making yourself the best that you can possibly be instead of trying to drag others down to make yourself stand out. RuPaul can see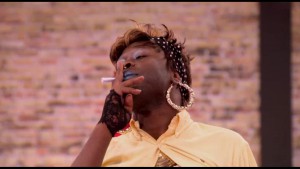 through all of that bullshit and will not accept it and neither should you.
It's time for this week's mini-challenge! The queens will be having a Latin-style dance-off. These are always fun to watch to see which queens have the best moves. The queens quickly get dragged up and hit the "dance floor" to lip synch and dance to Ru's "Cha Cha Bitch." My faves were
Cynthia Lee Fontaine, Bob the Drag Queen, Thorgy Thor and Chi Chi Devayne. The winners of this mini-challenge are Chi Chi and Cynthia! As the winners of the mini-challenge, they will both be team captains in today's main challenge!
This week's main challenge is a lip-synching, dancing extravaganza! The two teams will be performing to the dragapella movie "Bitch Perfect," which is obviously a Drag Race homage to Pitch Perfect! First things first, Chi Chi and Santially (Cynthia Lee) will have to choose their teams. Team Lady Bitches (Santially's team) will consist of Bob the Drag Queen, Derrick Barry, Laila McQueen, Robbie Turner and Kim Chi; while Team Shady Bitches (Chi Chi's team) consists of Acid Betty, Thorgy Thor, Dax ExclamationPoint and Naomi Smalls. Poor Kim Chi is a horrible dancer and the Lady Bitches aren't too thrilled to have her. I feel so bad for Kim. She's so adorable and i hate to see her picked last!! :'(
The teams set to work figuring out their choreography for their performances and already Acid Betty is locking horns with Chi Chi. Acid Betty is one of my faves this season but this bitch is already grating on my last nerve with her Pepper-from-American Horror Story-lookin' ass. Anyway, Chi Chi really has her work cut out for her in this challenge with having to deal with Acid Betty's bitchiness and the fact that Dax pretty much cannot figure out the simplest of dance moves. Meanwhile, team Lady Bitches is also up for a challenge with Kim Chi never having seen Pitch Perfect and struggling to overcome her insecurities and Laila strugging to break out from the pack. Is anyone else reminded of Sasha Belle from last season when Laila speaks? She's such a Debbie Downer. *wah wahhhhhhhh*
Both teams join choreographer Jamal Sims on the runway to rehearse their moves for the challenge. Santially's team is a hot mess and their choreography is horrible. Laila and Kim Chi both have two left feet and Kim Chi even falls on her ass while trying to dance. The Shady Bitches are a little better but have a lot of work to do.
This year, RuPaul's Drag Race is taking an element from the Big Brother franchise by adding its own version of the diary room: The Shade Tree, where queens will be
able to privately vent to the audience whenever they feel pissed or overwhelmed or upset or whatever. Kim Chi visits the Shade Tree where she is worried she will let her group down because she feels she won't be able to live up to the expectations.
It's time for the debut of "Bitch Perfect." The teams hit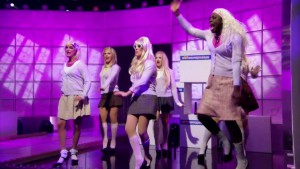 the runway and for the most part, they kill it! The groups lip synch and dance to various Ru hits like "Jealous of My Boogie," "Cover Girl," "Geronimo" and "Can I Get an Amen." It was a very entertaining show! The ladies definitely turned it up this season. After the judges deliberate, it is Chi Chi Devayne that is the winner of this week's challenge! The bottom two queens are Laila McQueen and Dax
ExclamationPoint. They must both lip synch for their lives to Gloria Gaynor's "I Will Survive," one of the most iconic signs a queen could lip synch to. In the words of RuPaul, "Good luck and DON'T FUCK IT UP." But, alas, the queens both fucked it up! They both gave a very lackluster, boring performance. Ru decides that neither Laila nor Dax deserves to be there so he asks them both to sashay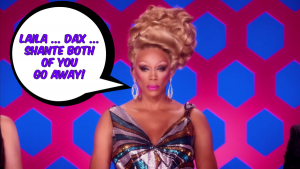 away! This is a huge moment because a double elimination has only happened one other time, when Honey Mahogany and Vivienne Pinay sashayed away in season five. He hints at the end of the episode that a queen will be returning in episode 3. Who will it be? Naysha from this season or will it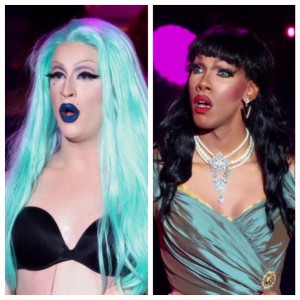 be someone from a past season? TO BE CONTINUED…
So… what were YOUR thoughts on the episode? Did Ru make the right decision to send them both away? Who do you want to return to compete? Let me know in the comments below or on Twitter @vince1187. Be sure to sissy that walk on over to our RuPaul's Drag Race page where you will find all of my recap blogs and the weekly recap shows featuring Eric and Miz Don Draper!