Dallas decided against the big moves he was wanting to make and left Loveita's nominations the
same. All talk no action from the big guy! Tensions in the house are at an all time high with the three divides of the house all plotting against each other. Tim and Nikki decided that the house needs some fun and pull some pranks. Vaseline on the toilet seat, BBQ sauce in the shampoo and dish soap in the mouthwash. Poor Cassandra was victim to the vaseline and BBQ sauce. She's just not having the greatest of week! Mitch is busy trying to manage the middle alliance. Keeping Phil and his emotions under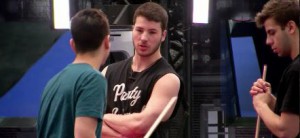 control is proving quite the challenge. Christine finally gets out of bed and decided to try campaigning. She approaches Loveita and suggests a secret alliance. Loveita likes the idea but tells her its a sensitive time in the house and needs to think about it. The Third Wheel discuss going against Loveita's wishes and keep Cassandra over Christine.
Cassandra and Tim are becoming closer and closer. They are becoing really good friends and Miss Nikki isn't happy about it. It wouldn't be a week of Big Brother Canada if Nikki didn't have a meltdown. This one was in one word AMAZING. Sitting in bed stewing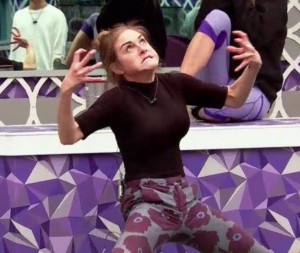 about how Tim has snubbed her for Cassandra she gets up and finds and audience to go insane. She's so hurt by Tim, he's supposed to be her friend and now he's ignoring her. This girl is  gold. The body movements and facial expressions are so amazing. This girl knows how to make good TV. Tim hears about her meltdown and goes to
check in on her. She tells him she's fine (mental note boys, a girl saying I'm fine does not mean she' fine) and he walks away. Then Tim makes a joke about having a party not inviting Nikki. This sets off a fight between them. He says he was joking and that is what he does. She can't be around people like that she says and decided they shouldn't hang out around each other. Tim is looking somewhat shell shocked as to what just happened.
Cassandra is working the house hard. She's rallying the votes to stay, locking in The Third Wheel. She brings Phil onto her side, but Dallas is in the HOH with Nick, Joel, and Mitch trying to swing them to evict Cassandra. Nikki brings Phil in on the action and he basically tells Nick no way. Dallas is trying to reason with them that Cassandra is a number on the wrong side for them. This vote is going to be a close one. The sure numbers are even for both it's just matter of where the middle lies at the time of the live show.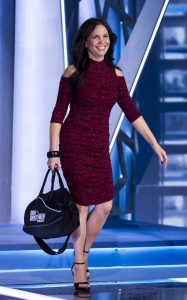 Arisa has some fun with everyone before she crushes a dream. She shows them some funny video of themselves playing pranks and being silly. A nice little bit of fun before we get to the business of ending someones Big Brother life. Dallas is up first and votes Cass. Things seem to go as we expected until Mitch. I was fully expecting him to Vote to evict Cassandra and he voted to evict Christine. Last was Tim, with Cassandra alreayd having the votes to stay, and I suspect Tim knew that already, he voted to evict Cassandra to stir up some drama. With a 6-5 vote Christine is evicted from the BBCAN Grand.
It's time to find a new HOH. Everyone is dressed like they just came off the set of Grease. Divided into pairs they need to work together to bring 50 balls from their diner table to "Make Out Point". The trick no hands. The funniest pairing by far was Jared and Dallas. Mitch and Joel are paired together and pull out an early lead. Phil is paired with Nikki and he looks like he's going to have a sore back because of the height difference. Cassandra looks like she's about to eat the ball. We are unfortunately left on a cliff hanger and have to wait til next week to find out who won HOH.
If you want to know now, check out our BBCAN page for spoilers and to watch our fabulous recap show we did with Sharry. She is fantastic! You will love her and her take on everything that happened in the game so far I PROMISE!
OTHER IMPORTANT BBCAN4 INFO 
Get The Scoop On The Latest Big Twist HERE
See How To Watch From Anywhere RIGHT HERE!
Our Live Recap Show & Interviews Will Be Fridays At 7PM On YouNow