We begin this episode of Hell's Kitchen with the chefs gathering downstairs for the next challenge. They are greeted with the terrifying sight of snakes, tarantulas, rats and scorpions. Chef Ramsay explains that these are actually considered delicacies in various countries. He then scares the crap out of the chefs when fake snakes fall from the ceiling. Now that the fun and games are over, he announces the next challenge. The chefs will have to face off with their dishes using exotic proteins such as alligator, ostrich, wild boar and elk. The team that scores the highest will win this challenges.
The chefs have 40 minutes to prepare their plates to present to Chef Ramsay and the two guest judges Jon Shook and Vinny Dotolo. Facing off first with the elk dishes are Alison and Nick. Nick's dish is really bland and earns only 6 points for the blue team. Alison's dish looks amateur but she pulls the red team ahead with 8 points. Next, we have Meghan and Josh going head to head with their wild boar plates. Meghan's dish is considered too "safe" and earns another 8 points for the women. Josh's dish was undercooked and muddled with cauliflower and only earns 7 points for the men. T and Milly are up next with the battle of the alligator dishes. Milly's plate was undersalted and earned 9 points for the men. T's fried alligator tacos impress the judges and earn 11 points for the red team. Finally, Randy and Christine are up with the ostrich dishes. Christine's dish was too "safe" and her ostrich meat was bland, so she scores 6 points for the red team. Randy's ostrich burgers (He really needs to try something other than burgers for a change, by the way) are visually unappealing and look like "crap" but tastes great and he earns 12 points for the blue team, meaning that the men win this challenge by 1 point! Chef Ramsay calls Michelle forward so that he can taste her dish as well. (Her alligator dish was not used in the competition and T's was used instead.) She easily scores a perfect 15 and really impresses the judges. Had she insisted her dish was used instead of T's, they would have won this challenge. For their punishment, the women will be deep cleaning Hell's Kitchen and they will be forced to drink disgusting "milkshakes" consisting of some of the proteins that were used in this challenge. We, the viewers, have to endure the gagging and puking of the women as they try to choke down their punishment shakes. The men, on the other hand, are treated to a relaxing day at the spa getting facials.
Things are a little different for this episode. Instead of Hell's Kitchen opening for another dinner service, Chef Ramsay calls each chef individually to his office to discuss their performance so far and what they need to do in order to remain in the competition. The chefs are also given the opportunity to rank their teammates from lowest to highest. Chef Ramsay announces that the lowest scoring chef from each team will face off and have to cook a three-course meal to present to him for judging. The chef with the worst performance of the two will have to leave the competition. The lowest scoring person from the red team is Christine, while Randy is the weakest link on the men's team. They each now have 30 minutes to prepare a lobster risotto, halibut and bread pudding.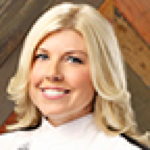 Christine's lobster risotto lacked the tomato confit that is required for the dish. Her halibut was cooked beautifully. Her bread pudding was a little dry, and she didn't use the base that Chef Ramsay prepared for them to use, using hers instead. Randy's risotto was cooked beautifully while his halibut was not properly presented. His bread pudding was good but lacking a little something. Chef Ramsay decides that the next person leaving Hell's Kitchen is Christine.
What did you think of this episode? Who is your pick to win the competition at this point? Let me know in the comments below or on Twitter!
Big Brother Canada fans! Dana is busy recapping this entire season for you (and doing a FABULOUS JOB, might I add) so be sure to check her recaps out on our BBCAN page. Also, Dana and Jon are bringing you LIVE weekly recap shows each Thursday as well! I hear there may be a special guest on next Thursday's show, so be sure to follow @RealityRecaps on Twitter! Don't forget that YRR is also bringing weekly blog recaps on The Amazing Race, Survivor, Hell's Kitchen and RuPaul's Drag Race as well!