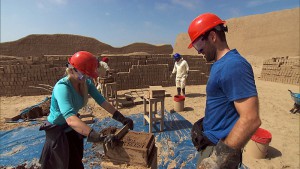 This leg of the race teams are heading to South America's largest mosaic, which is located in Trujillo, Peru. They will be given a magnifying glass from a clown, then use it to search the mosaic for their next clue. In the taxi, Blair and Hayley joke about how Hayley's biggest strength is her indoor voice. I have to say, although these two annoyed me in the beginning, I appreciate that they've found a way to excel even though they aren't the best of friends, unlike Kurt who basically just gave up. Blair finds the clue extremely quickly, which they trade in to the clown for their next clue, a detour. In Shake Your Hips, teams must learn the steps, flair , and rhythm of a colorful dance a man uses to court a woman. Make Some Sticks requires teams to make 12 bricks and then transport 12 dry bricks to a work site. Hayley & 
Blair are having trouble making bricks, while the lawyers choose Shake Your Hips. Typically, the judges for traditional dances are very critical, so I think that side of the detour might be harder. Mike & Rochelle are having taxi problems, as it seems that the breaks on their cab are smoking. Laura & Tyler pass Mike & Rochelle, who are standing on the side of the road next to their car. After making 12 bricks, only 3 pass inspection for Hayley & Blair. They watch the demonstration again and do much better afterwards. Jenny & Jelani seem to be having more fun dancing, but they don't dance to the judge's satisfaction. Mike & Rochelle finally get a new taxi, and they're on their way to the mural. Laura & Tyler leave the mural as Mike & Rochelle randomly wander around nearby, unable to find the correct clown.
Hayley & Blair finish the detour and are off to Huanchaco to find their next clue. Jelani is still struggling to get the dance correct, and Mike & Rochelle finally find the clue at the mural. Hayley & Blair reach the roadblock, Don't Rock The Boat, where teams must carry a bamboo boat down to the water, then one team member has to row to a buoy, get their clue, then row back to shore. Mike & Rochelle are kind of bumbling around a lot this leg, making ridiculous – and laughable – mistakes. Mike & Rochelle decide to switch detours after attempting one pathetic-looking brick. As people, I really like Mike & Rochelle, but they're just not great racers. Jelani & Jenny complete the detour on their 3rd try, and Blair reveals that he lives on a boat, which is pretty cool. Unfortunately, he can't seem to stay in the bamboo boat. Mike & Rochelle reach the other detour and complain that it seems very difficult – duh! This is a race to make it to the final three after all, not the first episode! Laura & Tyler get 8 bricks approved on the first try, which they are disappointed by, but is actually much better than Blair & Hayley initially did. Blair gets a hang of the boat eventually, and gets the clue. Although Hayley & Blair had to wheelbarrow the bricks 6 at a time (while switching off who was pushing), Tyler wheels all 12 at once. Mike & Rochelle don't complete the dance correctly on the first try, which they are annoyed by.
Blair finishes the roadblock,so he and Hayley are now on their way to the pit stop at Virgen Del Socorro.
 Laura drops a brick while delivering it, so they have to go back and get another brick. Unlike Mike & Rochelle, Laura & Tyler don't complain at all – in fact, they run the brick back. While Mike & Rochelle get a no from the judge on their 4th try, Jelani is getting pounded by the waves, until he develops his own strategy of reclining instead of sitting up. Blair & Hayley come in 1st place and win a trip to India! Laura & Tyler arrive at the roadblock and learn that Laura and Rochelle must perform it, because Mike and Tyler have already done 5 roadblocks each. Jelani & Jenny get 2nd place. Mike & Rochelle finish the F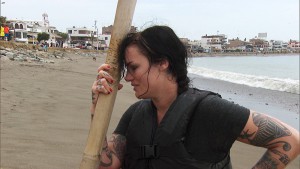 detour, but they arrive at the roadblock after Laura & Tyler leave. Unless this is a non-elimination leg, this looks like the end of the race for Mike & Rochelle. Laura & Tyler come in 3rd place, while Rochelle says that she can't do the roadblock, before eventually completing it. Mike & Rochelle come in last place, but they aren't eliminated… just like last season, one team will be eliminated during the last leg, before the pit stop. I didn't mind this so much last season, because the scientists really tried their hardest, but I just don't think that Mike & Rochelle deserve to be in the final leg. Who do you think will be eliminated next episode? Who are you rooting for to win The Amazing Race? I would be happy with either Tyler & Laura or Hayley & Blair winning.