For those that didn't watch the rest of the Courtside Seats HOH competition on live feeds, the wall leans forward and they have to hold onto to handles on the sides of their seats. Popcorn, players' sweat, T-shirts and basketballs are shot at the houseguests. Metta is too tall for the competition. Marissa is too short. Here's the order in which the houseguests fell:
Metta: 32 minutes
Ross: 39 minutes
Mark: 1:04 (complains his balls are being crushed. It's making him "testi.")
Marissa 1:06
Brandi 1:28
James 1:31
Omarosa New HOH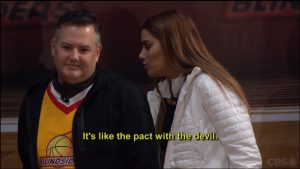 James made a deal with Omarosa for no front door or back door "on the Word of God." Omarosa tells him that she has targets that are in front of him. Omarosa is the new HOH, which is the houseguest no one wanted to win. James felt like he had to make a deal because he was about to fall. The first 3 to fall are put on slop for 48 hours. Omarosa says as the new HOH, she wants to shake the game up, which means going after the two pairs. James that he has no real friends left in this house and he should probably align with Omarosa.
Brandi told Ari on the way out to the backyard for the HOH that she was the one that gave Shannon a vote. Ari is very upset by it, feeling that Brandi was disloyal to her. This whole episode centers on it, at nauseum. Ari tells the members of her alliance as they fall that Brandi told her she voted for Mark. They're all disappointed. Most of the episode is the rest of the alliance talking in mind-numbing circles about Brandi's vote. I want to get off the merry-go-round of because Ross, Marissa and Ari are so shitty to Brandi.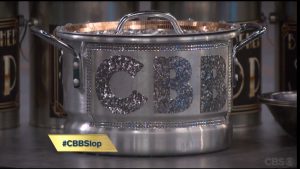 Metta, Ross and Mark are put on slop for 48 hours. Ross says that he wanted to try slop for the full Big Brother experience and is not worried about it. He is worried about Omarosa being HOH. On the feeds, he made the best slop recipes I've ever seen on any season of BB. Omarosa was asking for his slop dishes.
After the comp, Brandi goes to the alliance and Metta and says that she didn't want Shannon to go out feeling bad. She felt sorry for her and thought about how she would feel if everyone wanted her out. She didn't think it would be a big deal since everyone was voting her out. She says she had a human moment, and she's sorry. Metta says that he's actually glad that Shannon didn't go out unanimously, but he wish she had told them all first. She says she didn't know she was doing it until she sat down to vote.
Ross, Marissa and Ari say they can't trust Brandi any more with Ross and Marissa saying that she did it to get Shannon's jury vote. Brandi comes into the room and tells them to talk to her. Ari says that they're supposed to be a team. Brandi says that she had a moment of weakness feeling sorry for Shannon and gives a sincere apology. After Ari and Ross tell her that trust is the most important thing in this house, Brandi is stunned, her eyes fill up with tears and she leaves the room. She is shocked that they are having such a huge reaction. US TOO.
Those three then decide that they must keep Brandi as a number right now because she will team up with Omarosa. They go to a crying Brandi, who tells them that she doesn't want to be in the alliance anymore. Ross says they just came to tell her that they love her and can have a reaction to her decision. In DR, Ross says that they need numbers so they must keep the 4 of them together right now no matter what. This episode makes Marissa, Ross and Ari look sleazy. Ross and Brandi are friends outside of the house, so he knows that she is an impulsive person. She really did this to keep fragile Shannon from feeling bad. In DR, Ross doesn't know for sure why she did it, but it's not good gameplay. Brandi says in DR that she may not always play by the rules, but sometimes it's best to be kind. Ari says that Brandi's vote damaged the alliance because they don't know if they can trust her. Marissa says that she wanted to give Shannon a vote but didn't because they were voting as a group. James asks Ari and Marissa who voted against Mark and they say they don't know. He thinks it was Brandi. Can I get off this merry-go-round yet? NOPE. In DR, Marissa says that Brandi has lost trust within the alliance, and she doesn't want to go home before Brandi. With Omarosa as HOH, she says that Brandi might have to go. Yet they just said to Brandi's face that it was behind them and things would go back to normal. I don't like Marissa anymore. She is SO loud on feeds, never stops talking, snores like a buzzsaw and feeds are cut constantly from her singing. I had high hopes for her going into the season, but everyone on feed's chat and Twitter are ready to see her leave.
Omarosa has decided that Ross is her target and is asking Ari who voted for Mark. Brandi comes into the HOH and tells her that she is the one that did it. It was last minute and she's sure that people are pissed at her about it, but she felt bad for Shannon. Omarosa says in DR that when the house has a target, you don't vote against the house. For fuck sake, have none of these houseguests heard of a sympathy vote? They happen every season. Same song on repeat. Can I get off the merry-go-round yet? NOPE. This isn't Omarosa's fight, but she picks up the baton to run with it because she's made a career out of jumping in the middle of drama on every reality show she's done. Omarosa says in DR that she is going to find a way to spin this to her advantage. Of course you are, you evil bitch. See you next Tuesday!
Omarosa calls everyone to the living room. Metta is getting dressed and looks in the mirror in his underwear. He says I'm in good shape, so he goes to the meeting in his underwear, making most houseguests laugh. Omarosa gives him a death stare of judgement because she's so offended. Yet, she worked for a man who is accused of sexual assault on more than a dozen victims, admitted sexual assault on Inside Edition and is a racist. Where was your women's power and disgust then, you hypocrite? Omarosa reads the card that America is voting to twist up the game and they'll find out how before Monday's veto competition. How will the power change? Ross says that maybe this twist will help him survive this week.
Mark goes to talk to Omarosa. She says she needs new allies to move forward. Mark says she wins HOH, and everyone is scared. She tells Mark that Ross is her target this week, but doesn't know how this veto twist is going to affect her ability to get him out. Omarosa says that her target has been Ross since she got here, and she's been straight-forward on that. (Except that you were in an alliance with him.) Mark says that he purposely didn't get in alliances and drama because that's not best for his game (floater who wins nothing strategy). She tells Mark that Ross moves between the men and women. She asks him for a 1-week deal of keeping her off the block should he win the next HOH. (He's unlikely to try.) Omarosa now wants a final 4 with her, Mark, Metta and James.
Omarosa tells Ross that she thinks that Hillary would've made an excellent President. She says that she was part of Ready for Hillary, where she actively campaigned in a salaried position. She says it was a bit of a scam because when it was time to become Hillary for America, many of the salaried employees were let go, including her. So, Omarosa was fired by HRC and Trump?!? LMAO.
As Omarosa is asking Marissa and Ari how to get Ross to go out this week, they both throw Brandi straight under the bus without hesitation for voting for Mark. Omarosa comments in DR that those two throwing Brandi UTB so quickly makes her feel like there are plenty of options for the second nominee (or backdoor replacement.) Getting queasy from this merry-go-round!
Omorosa starts wheezing as she starts her nomination ceremony. She puts on a performance saying that Ross has challenged her integrity throughout the house and that Brandi can't be trusted because she voted against her closest ally, Ari. Omarosa winks at Marissa at the end of the speech, as if to say that Marissa had some bearing on her noms. Ross says at the end of the speech, "Now, that's how you let someone finish. Much classier." On the feeds, houseguests referenced Omarosa saying it's much "funner" this way and Brandi corrected her, that "funner" isn't a word. Why'd CBS edit that out?
Brandi says that Omarosa is a liar, and this lights a fire under her. She wants to beat the bitch. She's going to fight her hardest to win veto and pray. Ross says that Omarosa thinks that he has the power to challenge her integrity, but she's done that for the last 15 years on reality TV (and working for Trump).
Omarosa wants to see the alliance crumble. She says she exposed 2 people's games. But did she?
Before you go, please comment below. What do you think of the celebrity's game play this season?
Enjoy Eric's nightly comedic shows on YouNow with Celebrity Big Brother tea served piping hot. Former Big Brother houseguests will join him during the season. Next week, there are 3 guests lined up that you won't want to miss. Make sure to FAN him on YouNow. Follow him on Twitter @RealityRecaps. You can follow me @rebeccakayj.
There is going to be SO MUCH to keep up with this season at a much faster pace!  So make sure you follow us on TWITTER and check our Celebrity Big Brother page daily for updates!  Of course if you wanna watch the action and drama play out live then GET THE FEEDS FROM US.  It's a great way to support us!  Just CLICK HERE to get them now!
AND DON'T FORGET… we are doing YouNow shows all season when the feeds go down so make sure you BECOME A FAN there!  We will of course be doing recap shows and interviews too!  Whenever something goes down on the feeds we will get on social media via YouNow or Twitter to discuss LIVE with you!  We will also have recap blogs after every episode and speaking of episodes we will also be live on YowNow live tweeting during them!   Still want more?  Then become a Patreon for EXCLUSIVE content, giveaways, access to reality stars and become a member of the private Patreon group! 
So in order to help support us in our coverage of Big Brother this season please consider: Getting the live feeds from us here or becoming a Patreon, making a pay pal donation.  Of course we get it, money can be tight… so if you'd like to help us for free then be sure to subscribe to our shows in YouTube, iTunes, YouNow, and thumbs up and give us a nice review (we want to win a podcast award this year). Also following us on your favorite social media site (by clicking the icons in the side bar) and then sharing our content there is also a great way to help as well! We can't thank you enough for enjoying our shows these last 8 years,hopefully with your support we can continue to do them for the rest of the year.  You could also see what specific help we need by checking out our HELP US page HERE!  We can't thank you enough for all your support!  We love you all!