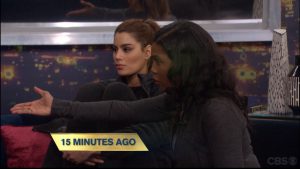 Marissa says that she survived 2 evictions in 1 night, even though Omarosa blew up her game. She argues openly in front of all 6 of the remaining houseguests that she doesn't think that anyone can win in the end against Marissa. She asks Ross if he has a final 2 with James, to which they both reply they don't. Omarosa says in DR that this was just for show to paint targets to keep from being the house's next target. She says that she was the one to take James out, and on feeds, she said that whoever takes James out wins the game. Mark says that he now has to win some competitions and that he has some skills that he's been hiding underneath his flannel shirts.
Ross tells Mark that the truth is that it needs to be 2 guys in final 2 because they will lose next to a girl. He tells Mark he won't take Marissa to final 2. He also tells Mark that no one considers him a threat to win, so he's in a good position. Meanwhile Ross has similar talks with Ari and Marissa about taking him to final 2 if they win the final HOH. Brandi was right; there is no loyalty in Ross. Marissa tells Ross that if he, Mark or she win the final HOH, he is golden.
After the double eviction, Ari says that the only person she really trusts in the house is Omarosa. She tells Omarosa that she got out the biggest target in the house. Omarosa tells Ari that she needs to win the next HOH to keep them both safe. Ari says she will try her hardest.
Time for a recap of the season with the final 5 drinking champagne and talking about the happenings in the house. The houseguests talk about their worst jobs. Ross worked as a salesperson in a plus sized women's store. He got fired for shoplifting a pair of what he considered unisex looking sparkly gray pajama bottoms. He jokes in the DR about women coming out of the dressing room and him telling them that they look like they left 50 pounds in there. Chi-Ching. Marissa worked in a gentleman's club in NYC, which surprises everyone. She explains that she was a bathroom attendant that handed out mints to the strippers. She made so much money that she considered dropping out of college. She waited until her first Broadway show to do that, but she still didn't make as much money as at the gentleman's club.
Brandi is in the HOH room with the other women asking Omarosa what she was huddled up with Chuck about and we finally see receipts that Omarosa has been lying about her and Keisha making an alliance with Chuck outside of the women's alliance. Omarosa gets super defensive with Brandi, telling her not to question her integrity. Brandi says she will question whatever the fuck she wants to question. She hasn't made alliances outside of their group. Omarosa acts all indignant and keeps calling Brandi "shady boots," the hypocrite. How's all the lying you did on BB going to look to your church and Pastor John?
Ari and Ross became great friends in the house. We see them do sort of a tango in the bathroom. He says that Ari is his very own Columbian super-model doll. Ari is his BB wife. He says that if they were in a relationship outside the house, they'd be very happy "except for…you know." Brandi doesn't enjoy Ross and Ari together because it seems like both are cheating on her. By the fire, when Ross gives Ari a rose, Brandi shreds it. LOL. I love Brandi on this show.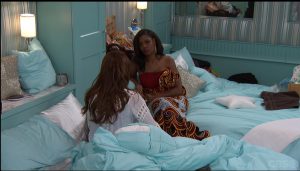 Omarosa brings up having a final 2 with Shannon that she blew up within a matter of hours. We see an extended version of the Shannon and Omarosa argument after Shannon flipped the vote to save James and send Chuck home. Now we know why it struck such a nerve with Omarosa. She accuses Shannon of being "against the two brown girls," essentially calling Shannon a racist.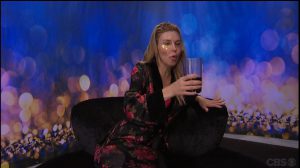 There's a montage of the celebs making requests and bloopers in the DR. James asks for beard trimmers repeatedly. Brandi asks for alcohol. Shannon asks for vegan cheese followed by Omarosa saying "everyone ain't vegan in here." James finally gets the beard trimmer and complains that it's dirty and he wants a clean one. Chuck is shown repeatedly forgetting what he wants to request. (Too many blows to the head?)
Brandi says that with alcohol, she becomes a more heightened version of herself. Other houseguests comment that she consumed the most alcohol. Brandi is shown drunk saying that Chuck and James came to Shannon to put her on the block. The women are shown putting Brandi to bed. Omarosa says that her drinking caused Jekyll and Hyde behavior.
Metta and Ross have a great relationship. They have mutual respect. They're shown showering "together." Ross tells him that he has never been to a Laker's game. Metta says he will take him. Metta tells Ross that he enjoys boxing. Ross tells him that he owns a George Foreman grill. Metta says in DR that he used to be homophobic, but then he made some gay friends. He says he's really good friends with Ross.
No one thought that Mark would be the neat freak of the cast. He is shown obsessively cleaning: doing dishes, laundry, cleaning the bathroom and vacuuming. He says that he may just clean his way to the finale. Yeah, right. What's your argument going to be to the jury? I washed all of the towels all season.
Marissa talks so much. She says "like" so much and twists and turns in her sentences. We see her in the kitchen talking, with a "like" counter at the bottom of the screen to show how many times she says like to get through 1 coherent sentence. 35 times for 1 sentence. Imagine our disdain for her watching live feeds. Most annoying houseguest ever.
The Brandi/James feud is discussed. She didn't like him immediately. He says he does a lot of independent films, which she says is code for not working. She says he needs to get off his high horse and stop pretending he's perfect at everything. During their initial introduction, Brandi says that she is an Emmy-award winning actress, then says she's joking; she's paid to be an asshole on TV. James says in DR that he hasn't watched in Real Housewives or Fake Housewives shows. (Not even Atlanta? He's missing out!) We see the expanded version of what got those two off on the wrong foot. Brandi is asking Mark what a vocal coach teaches you. James steps on Mark's answer for the first time. Next, Brandi says she'd like to get Mark's take on it since he's been in the game longer. As he's answering, James' ego won't allow him to finish. He steps on Mark's answer again to talk about his own vocals with his old band. James is shown encouraging people to mean tweet Brandi (i.e. cyberbully her) because she makes passive aggressive insults. Brandi calls James a 'dick' to his face when he takes a glass of 'her' wine.
Now here comes what BB was probably contractually required to air for Omarosa. She is asked what is crazier, the BB house or the White House? Of course, the answer is the White House. She says to Keisha and Chuck that she is going to write a tell-all about Trump after being loyal and defending him. She's going to tell her truth that that the President is a special breed of fucked up. She says that she's been watching stuff, putting it on a shelf. Omarosa says she feels like she just got freed from a plantation and emancipated.
Next, she is talking to Shannon, a vegan about the fact that legislation was signed to bring trophies back from other countries, but it was controversial so he said he'd revisit it later. She says that what Trump does with his orders is distracts and spins with tweets to keep people from knowing the truth. She says that he'll push through mandates while everyone is distracted. Brandi says to Omarosa that she can't believe he's allowed to still tweet. Omarosa explains that there is dedicated Twitter person and Facebook person at the White House. She says that all the bad tweets happen between 4 a.m. and 6 a.m. when no one is monitoring him. Nobody is up there except Melania, and she isn't going to stop him. She says Melania's ring is enormous, so she's not saying anything.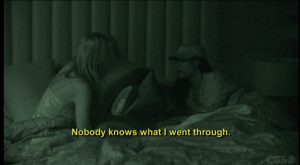 Shannon asks Omarosa why she left. Omarosa admits that she was the only African American woman on Senior Staff. She says that no one knows what she went through or the horrors she experienced. She says she had the whole black thing and the woman thing against her with people not talking to her in meetings or excluding her from meetings. She'd be like, "Why didn't you tell me about the welfare reform meeting?" when she's the only one who grew up on welfare. She says that she was consumed by everything in the White House and didn't really get a chance to keep up with what was going on outside of it.
The Final 5 cheers to whoever wins the first ever Celebrity Big Brother. Then, they step outside to a winter wonderland to play the HOH Rocky Mountain Glide. We'll see the conclusion of the competition on the Season Finale.
Before you go, please comment below. What do you think of the celebrity's game play this season? Who do you want to see in Final 2?
Enjoy Eric's nightly comedic shows on YouNow with Celebrity Big Brother tea served piping hot. Former Big Brother houseguests will join him during the season. Next week, there are 3 guests lined up that you won't want to miss. Make sure to FAN him on YouNow. Follow him on Twitter @RealityRecaps. You can follow me @rebeccakayj.
There is going to be SO MUCH to keep up with this season at a much faster pace!  So make sure you follow us on TWITTER and check our Celebrity Big Brother page daily for updates!  Of course if you wanna watch the action and drama play out live then GET THE FEEDS FROM US.  It's a great way to support us!  Just CLICK HERE to get them now!
AND DON'T FORGET… we are doing YouNow shows all season when the feeds go down so make sure you BECOME A FAN there!  We will of course be doing recap shows and interviews too!  Whenever something goes down on the feeds we will get on social media via YouNow or Twitter to discuss LIVE with you!  We will also have recap blogs after every episode and speaking of episodes we will also be live on YowNow live tweeting during them!   Still want more?  Then become a Patreon for EXCLUSIVE content, giveaways, access to reality stars and become a member of the private Patreon group! 
So in order to help support us in our coverage of Big Brother this season please consider: Getting the live feeds from us here or becoming a Patreon, making a pay pal donation.  Of course we get it, money can be tight… so if you'd like to help us for free then be sure to subscribe to our shows in YouTube, iTunes, YouNow, and thumbs up and give us a nice review (we want to win a podcast award this year). Also following us on your favorite social media site (by clicking the icons in the side bar) and then sharing our content there is also a great way to help as well! We can't thank you enough for enjoying our shows these last 8 years,hopefully with your support we can continue to do them for the rest of the year.  You could also see what specific help we need by checking out our HELP US page HERE!  We can't thank you enough for all your support!  We love you all!