With 5 houseguests left, 3 competitions and 3 evictions, this is an action-packed finale which will crown the winner of the inaugural season of Celebrity Big Brother.
For the conclusion of the Rocky Mountain Glide HOH competition. Marissa falls first, then Ari falls leaving only Mark and Ross.  Ross tells Mark that he really wants a letter from home (his mother has cancer). Mark tells him that he is solid. Omarosa tries to break up their deal, saying that none of them can hear the terms. Ross promises Mark that he won't put him up or backdoor him. Mark agrees to fall, giving Ross the HOH and the first definite member of the final 4. Omarosa says that Ross got another HOH thrown to him. Ross gets emotional thinking about winning Big Brother after growing up the fat gay kid.
Ross tells Ari that he is putting her on the block but Omarosa is the target. Why didn't you put up Marissa, Ross? Everyone agreed that they couldn't win sitting next to her when Omorosa blew up her game during the double eviction. Even though he is nominating her, Ross asks Ari who she would take to Final 2. She promises on her family that she'll take him with her. Ross nominates Ari and Omarosa.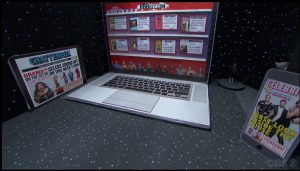 For the final veto, Get Your Story Straight, BB has the celebs in harnesses, climbing a gigantic wall that looks like a laptop. The player that gets the most correct days in the shortest amount of time wins POV. Marissa falls repeatedly, but she gets all the days correct. Mark isn't 100% sure of the days but locks in his time. Ari appears to move the fastest but gets several days wrong. Ross says that he goes through the days every night before he goes to sleep and is 100% sure of the days; he just hopes he gets the fastest time. Omarosa is struggling with asthma but is just glad to put a tile on each of the questions, right or wrong. Ross and Marissa are the only 2 to get all the answers correct, but Ross wins with a time of only 5:42.
At the POV Ceremony, Ari and Omarosa say that they won't campaign against the each other. Omarosa tells Ari that it's been an honor to share a room with another believer. She goes on to tell her destiny delayed isn't destiny denied, and she envisions that Ari will be in the final 4 when no one can take her crown away. Ross keeps his nominations the same.
At the first eviction, both women keep their speeches classy, but Omarosa's takes on a decidedly political tone about uniting the country and getting people on ballots and to the polls to vote. Sounds like a run for office is forth coming and she's switching back to Democrat. Omarosa is evicted unanimously. Julie asks Omarosa how she lasted so long with her reputation as a reality show villain. Omarosa says that she's surprised she lasted so long. She says this was the first time she was her authentic self and let her hair down. She hopes that came through on the show. Julie asks her about being haunted by Trump tweets and telling Ross that we're not going to be okay. She replies that we can be okay with more than 2 political parties. She tells Julie that she's been a BB super fan since season 1, and she thanks Julie, Les, Julie's co-hosts on The Talk, buttering them up for her appearance the following day.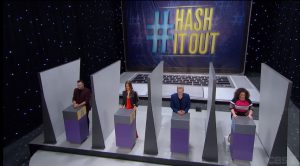 The Final HOH competition is called Hash It Out and features evicted houseguests tweeting each other with hash tags in all caps. The houseguests must select which houseguest states an incorrect fact. Ari falls behind and Mark, Ross and Marissa finish in a 3-way tie. Their tie-breaker question is how long the Rocky Mountain Glide competition lasted in seconds. Marissa wins the final HOH. She must immediately evict 2 houseguests. She evicts Mark and Ari, taking Ross with her to final 2. Mark says to Julie that BB is much harder than he expected. Ari says that BB was much better than the Miss Universe pageant and she loved it. She says that Ross and Marissa earned their way to the end of the game.
True BB fans looking at the stats these 2 bring to the table would say that the winner is clear. Ross has 2 HOHs and 3 Vetoes, whereas Marissa has 1 HOH and 1 Veto. However, Shannon is a bitter-assed bi-otch that actively campaigned against both, specifically Ross. She is a hypocridiot. She claimed he played dirty, which is exactly what she did and why she was a threat. Ross played all sides, but with a little more humor and charm. She also actively campaigned to win AFP. This is why juries should be sequestered!! Shannon played the dirtiest outside of the house, and now the jury has been poisoned by her before even knowing who the Final 2 are.
Brandi asks each of them what they regret about their gameplay. Marissa says that she had to make deals to protect her and Ross, although she tried to protect the original alliance. Ross says that he shouldn't have made a deal with her on Day 2 that he couldn't follow through with on Day 22. She says, "Good." James asks if it was important to stay true to your word in the game or to do anything to win. Ross says that you have to remain true to your character, but you also have to pivot to an opportunity or away from a closed door. As power shifts in the game, you have to make choices and that's what he did. Marissa says that every time she said something she meant it (at the time!). She says when she went left, she was really left and when she went right, she was really right. (WTF?) Next up is Shannon, who asks why they deserve to win over the other. Marissa says that Ross presented ideas to her and she would go along with them, even though she tried to remain true to her girls. (BS!) You can tell she is lying because she starts rambling and Julie has to cut her off. She finishes by saying that they both played great games, came away with great friends, tried to win some things and have a good time. (That's why you DESERVE to win over Ross?!?) Ross says that it is about having relationships, being able to pivot and winning when your butt is on the line. Omarosa asks how their strategies changed over the course of the game and the biggest lies they both told. Both say that they never changed strategies. Marissa admits lying to Chuck the morning of the first eviction when she knew the vote flipped. Ross says his lie was not being true to word with Brandi and that he never outright lied; he just omitted some info when necessary.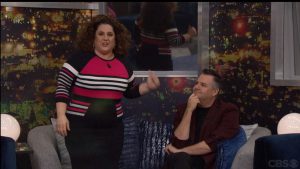 For her speech, Marissa says that she didn't expect to be sitting in final 2 unless she won this HOH. She wasn't practicing her speech the way others were thin morning. (Read between the lines: she is saying that Ross wouldn't have been true to her the way she was to him.) She says she still brought Ross because she was true to her word and friendship with him. She says that even if she lost, she would still win. She thanks the jury for playing with her. She didn't say like even once–progress!
Ross says that he loves this game and has been a fan since Season 1, Episode 1 and was in the finale audience of Season 1. He says if he could tell that kid he would be standing here now, he would be like, "Duh. Of course you are because you love this so much." He says that he played hard winning 2 HOHs and 3 POVs. He proved that he is a champion, and that he is proud to have played this amazing game with all of them.
Julie makes a big deal out of making sure that Metta knows he is inserting the key of the person he wants to win. James is up first and says the speeches changed his vote. Many of the jurist say they are voting for the person who played the cleanest game. (They are voting based on what Shannon said to them since she and Omarosa are the only 2 super fans in the jury.) After the votes are in, the jury gets to ask additional questions or make statements. Shannon says that Ross and Marissa stabbed her in the back with the backdoor plan. Keisha asks if Ross was true to any of his alliances. He says that he was true to Marissa, true to Ari and Brandi until he and Brandi were on the block and true to Mark. Metta says he was shocked at how bad he was at this game and how good Ross was.
Here are the jury votes:
Mark—Ross
Ari—Marissa
Omarosa—Marissa
James—Marissa (Turns out he was pissed that Ross took credit for the HOH Shannon convinced him to throw to Ross.)
Brandi—Ross
Metta—Ross
Shannon—Marissa
Keisha—Marissa
Chuck—Marissa
Marissa wins 6 to 3, but Chuck's vote wasn't even shown until Marissa walked out to confetti. It's like he didn't need to sign up for Celebrity Big Brother.
After Ross and Marissa are out of the house, it's time to crown America's Favorite Player. The 3 top vote contenders are Shannon, James and Ross. Ross wins America's Favorite Player. Suck it, Shannon. Stop being so bitter. You cried more than anyone else and still thought your campaigning would win AFP. LMAO. So glad it was Ross, the DR star. Ross may have won if Shannon hadn't poisoned the jury, and he should have; he played the superior game.
Before you go, please comment below. What do you think of the celebrity's game play this season?
Enjoy Eric's nightly comedic shows on YouNow with Celebrity Big Brother tea served piping hot. Former Big Brother houseguests will join him during the season. Make sure to FAN him on YouNow. Follow him on Twitter @RealityRecaps. You can follow me @rebeccakayj.
There is going to be SO MUCH to keep up with this season at a much faster pace!  So make sure you follow us on TWITTER and check our Celebrity Big Brother page daily for updates!  Of course if you wanna watch the action and drama play out live then GET THE FEEDS FROM US.  It's a great way to support us!  Just CLICK HERE to get them now!
AND DON'T FORGET… we are doing YouNow shows all season when the feeds go down so make sure you BECOME A FAN there!  We will of course be doing recap shows and interviews too!  Whenever something goes down on the feeds we will get on social media via YouNow or Twitter to discuss LIVE with you!  We will also have recap blogs after every episode and speaking of episodes we will also be live on YowNow live tweeting during them!   Still want more?  Then become a Patreon for EXCLUSIVE content, giveaways, access to reality stars and become a member of the private Patreon group! 
So in order to help support us in our coverage of Big Brother this season please consider: Getting the live feeds from us here or becoming a Patreon, making a pay pal donation.  Of course we get it, money can be tight… so if you'd like to help us for free then be sure to subscribe to our shows in YouTube, iTunes, YouNow, and thumbs up and give us a nice review (we want to win a podcast award this year). Also following us on your favorite social media site (by clicking the icons in the side bar) and then sharing our content there is also a great way to help as well! We can't thank you enough for enjoying our shows these last 8 years,hopefully with your support we can continue to do them for the rest of the year.  You could also see what specific help we need by checking out our HELP US page HERE!  We can't thank you enough for all your support!  We love you all!