It's Double Eviction night on Celebrity Big Brother, which means that allies may turn on each other.
After Ross won the live veto, James chides him for using it on himself, saying they could've voted Brandi out last week. Ross says that 1. You never leave yourself on the block. 2. You never feel safe on the block even when you know you have the votes and 3. Metta really wanted to go home. James is such a douche, only thinking of himself and personal reasons for wanting Brandi out. If you win the veto, you pull yourself off the block. Not that James would know that from watching only BB16 that BB gave all the celebs to watch to prepare them for CBBUS. James tells Ross that Omarosa may not be the next target.
After the nomination ceremony, Brandi hugs Ari and tells her that it's her fault Ari is nominated. They're both going to fight hard to win the veto. Ari and Brandi are talking in the bathroom with Ari speculating that Marissa and Ross knew they were going to be nominated and didn't tell them. Brandi has a weird feeling that Ross knew. Brandi says in DR that there's no loyalty in him and he'll go to whoever is in power. She realizes that Mark made a deal with Omarosa when she was HOH. Because Ari saw Ross talking game with Mark, she thinks that he is with Mark and James. Ari is very intuitive and has called several alliances and deals correctly from her observations. I would love to see her win and not have the crown taken away. She has grown on me as the season has progressed; she's very smart, but also very kind. She has played the cleanest game. I was all in on Ross until this week and still wouldn't mind if he wins, but I don't like his disloyalty to his original alliance.
Ross says that he can't vote for Brandi to leave because of their friendship outside of the house. He feels guilty (as he should) as Marissa is all upbeat about not being put on the block, saying they can trust the boys. Ross isn't his usual bubbly self because he knows that he just broke his word to Brandi—on feeds we see that Ross and Brandi have a final 2, and he promised to never put her up, vote her out and to tell her if he knew she was ever going on the block. Don't count on her to vote for you in the end, Ross!
James goes to Ari and tells her that she isn't the target, that it's Brandi for making an enemy out of everyone in the house. (NOPE—just you, James because she's called you out for being cocky, which you are. Go sell some more Maslow merch since you think the world revolves around you.) Ari tells James that if Brandi wins the veto, she is screwed. James says that Omarosa will be the backdoor option, so she is fine this week.
Omarosa is asked what it was like to walk into the Oval Office for the first time. She says for which administration? Marissa says that she didn't realize that she worked for more than just Trump. She says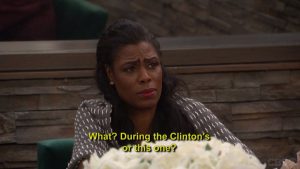 that the press always edits her bio to "Omarosa from The Apprentice" when was Director of Communications because her Bachelor's, Master's and Doctoral studies were all in Communications. Brandi innocently asks if Communications is the easiest one to get? Mark says it used to be that way when he was in school. Omarosa continues, saying that she studied Telecommunications Law. She thinks that journalists don't give her credit, saying true journalism has faded away. Um, Kelly Ann Conway, much? Omarosa expects all of her background to be included in news stories when she met Trump doing The Apprentice 15 years ago? That's how she's best known, but it is interesting to know that she has such a distinguished education and served in the Clinton and Trump adminstrations.
During the veto draw, Mark doesn't want to draw Omarosa, whose chip he pulls. Brandi doesn't want to pull James because he's stupid (LOL!), and she pulls his chip. Marissa is the final chip pulled by Ari. Ross is cagey when Ari asks if she can have his vote, so she knows that she must win the veto.
Brandi is a little lit up from drinking wine and dares the houseguests to say something bad about Julie. She didn't say anything bad herself, but Omarosa, Ross and Marissa head inside to avoid this suggestion. She then tells Mark that she doesn't know where he heard that she's been after him for weeks, like he said in his nomination speech. She says she's been after James, and if she'd won HOH, James and Omarosa are who she would have nominated. Brandi says that she saved James twice. He says she could've saved him a lot more than that. He tells her that she's been rude to him repeatedly. She says she likes him ½ the time when he's not being super-cocky. He says he can't wait to send her home. She replies that he is showing his cocky side.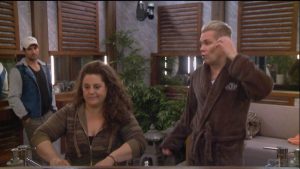 Afterwards, James is in the bathroom going on and on about Brandi with Mark and Marissa. Brandi overhears Marissa agreeing with James. Brandi's very hurt and confronts Marissa about what she overheard. Marissa tells everyone that she got yelled at, which is an over-exaggeration. Marissa says in DR that she hoped to win veto, pull Ari down and send Omarosa home, but now there's no saving Brandi.
At the Celebrity Action Figures Veto competition, there's been a mix up on the faces of the action figures. (It's the face-morph competition.) Omarosa throws the veto, thinking she doesn't want to win it. Her time is 38:52. Ari goes second with a time of 9:10 seconds. Each competitor joins Ross in the HOH room when they're finished. While Omarosa and Ross are alone waiting to watch the next competitor, she talks to him about taking her to final 2 because he won't beat Marissa or Ari in the end. He must make some hard, gut-wrenching decisions. Ari joins the HOH room viewing party and is given the veto. Everyone else times out, so Ari wins the POV.
Mark and James say that Omarosa can't go on the block because she'll be voted out, so they are going to put Marissa up as the replacement nominee. Brandi says that she has her mouth, so she will try to rally the votes to stay. At the veto ceremony, Ari and Brandi have a tearful moment saying that they love each other, and Brandi says that she wants Ari to win the whole thing. Ari uses the veto on herself, and Marissa is named the replacement nominee. On the feeds, Marissa apparently interrupted this tender moment between Ari and Brandi, freaking out about not wearing her animal head hat. Omarosa thought it was very disrespectful when those two were having a genuine moment. Omarosa will throw anyone under the bus for any reason.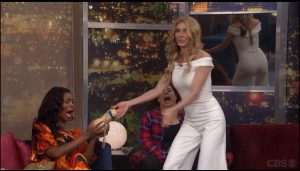 At the live eviction, Brandi keeps her speech classy, saying she loves most of the houseguests and she gives "Peter" her showmance (a painted phallic looking squash) to Omarosa. Brandi is evicted by a vote of 3 to 1, with Ari giving her a sympathy vote.
When she speaks with Julie, Brandi says that Ross betrayed her, and that James arrogance annoyed her. Brandi says that she learned she is softer than the tough exterior that she portrays. She admits that her mouth got her evicted. Finally, Julie dares Brandi to say something bad about her. (Good one, Julie!)
The houseguests are in separate bedrooms for the BB Auction HOH competition, which revolves around art work that they were given to study earlier in the day. It's a True or False competition with everyone getting points for each correct answer to 7 questions. It comes down to a tie-breaker between James and Omarosa, and Omarosa wins HOH. Without hesitation, Ross and Marissa are nominated by Omarosa.
For the Art-rageous POV competition, the houseguests go outside to podiums and are told to find the piece of art that isn't an exact match to the 6 pieces of art hanging by the memory wall. The pieces of art are scattered throughout the house. Ross is fastest to correctly place the number of the mismatched art at his podium, and he wins the POV.
Ross removes himself from the block, telling Marissa that she knows how much he loves her. Omarosa backdoors James. Omarosa and Ari are whispering with each other about who to vote out, and Marissa is clearly uncomfortable. For the speeches, James says that while he doesn't want to disparage Marissa, everyone knows they can't beat her in the end. Marissa says that she may not be in the final 2, but she will help the others get there. For the vote, Mark is the sole vote to save James, and he is evicted. Thank Grodner!
James was so sure he was going to win the whole thing, so him leaving right after Brandi is perfect karma. He wants to put on a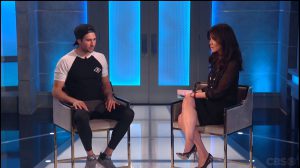 jacket to walk out on stage, but his room is locked. LMAO! The arrogant prick had to do his interview with Julie in a ball cap and Maslow jersey. (Merch promotion for him at least. Egotistical fucker.) He tells Julie that he was the biggest threat to win the game (in his own mind) and says that Brandi was rude to him. He thinks she has a 3rd grade crush on him. So fucking arrogrant. Bye, douchebag.
Omarosa tells Ross and Marissa that getting James out through a backdoor was her best option, but we apparently missed some drama during commercial breaks. She says she recognized Ross, Marissa, James and Mark were in an alliance and knew that one of them would come off the block if anyone except James won the POV. She tells the other houseguests that she had to take out so the biggest threat in the game so now they have a level playing field. (She's said on feeds that whoever takes James out wins the game.)
Julie comes back on with the houseguests to congratulate the top 5 for making it to the finale, and she explains how the rest of the game will be played. Everyone except for Omarosa plays in the next HOH. That HOH will nominate 2 houseguests. All the houseguests play in the POV. Then, they will evict 1 of the two nominees, leaving the final 4. The final 4 compete in the live final HOH and will immediately evict 2 houseguests, choosing who they'll sit next to in front of the jury. It's a jam packed weekend with a show on Saturday featuring the start of the HOH competition. Plus, Julie teases that Omarosa spills more information about her time in the White House. On Sunday, the live finale will air, and the first winner of Celebrity Big Brother will be crowned.
Don't forget to vote for America's Favorite Houseguest via CBS.com and Facebook Messenger using BigBroBot! If you vote for James, you're trolling Big Brother fans! Please don't make us hate AFP, BB. You know what an asshole James is. Cody was bad enough in BB19. Please don't make it 2 assholes in a row!
Before you go, please comment below. What do you think of the celebrity's game play this season? Who do you want to see in Final 2?
Enjoy Eric's nightly comedic shows on YouNow with Celebrity Big Brother tea served piping hot. Former Big Brother houseguests will join him during the season. Next week, there are 3 guests lined up that you won't want to miss. Make sure to FAN him on YouNow. Follow him on Twitter @RealityRecaps. You can follow me @rebeccakayj.
There is going to be SO MUCH to keep up with this season at a much faster pace!  So make sure you follow us on TWITTER and check our Celebrity Big Brother page daily for updates!  Of course if you wanna watch the action and drama play out live then GET THE FEEDS FROM US.  It's a great way to support us!  Just CLICK HERE to get them now!
AND DON'T FORGET… we are doing YouNow shows all season when the feeds go down so make sure you BECOME A FAN there!  We will of course be doing recap shows and interviews too!  Whenever something goes down on the feeds we will get on social media via YouNow or Twitter to discuss LIVE with you!  We will also have recap blogs after every episode and speaking of episodes we will also be live on YowNow live tweeting during them!   Still want more?  Then become a Patreon for EXCLUSIVE content, giveaways, access to reality stars and become a member of the private Patreon group! 
So in order to help support us in our coverage of Big Brother this season please consider: Getting the live feeds from us here or becoming a Patreon, making a pay pal donation.  Of course we get it, money can be tight… so if you'd like to help us for free then be sure to subscribe to our shows in YouTube, iTunes, YouNow, and thumbs up and give us a nice review (we want to win a podcast award this year). Also following us on your favorite social media site (by clicking the icons in the side bar) and then sharing our content there is also a great way to help as well! We can't thank you enough for enjoying our shows these last 8 years,hopefully with your support we can continue to do them for the rest of the year.  You could also see what specific help we need by checking out our HELP US page HERE!  We can't thank you enough for all your support!  We love you all!