I have no idea where to start, so much happened last night. Wednesday we left the episode knowing Zach was going to leave the house on Thursday. As Big Brother fans we should realize that 24 is a long time and never count anything out. It was a crazy night on the feeds that wasn't even close to being captured on the show last night. Frankie is suspicious of a three person alliance that doesn't include him. When Frankie comes across Derrick and Cody they stop talking. This puts Frankie on high alert. Derrick does some damage control. He manages to get Frankie to see the light as to why they should get rid of Zach. All week everyone was keeping Caleb in the dark as to how the vote would go. Caleb is too loyal to The Bomb Squad to let Zach go without a fight. So Wednesday night they decided to tell him. Caleb tells Derrick he'll vote they way they want him to but even though they can't trust Zach, he is a vote for all of them. Zach may be a snake, but he's Caleb's snake. This little nugget of information was all that Derrick needed to flip the whole house upside down. The Detonators did a total 180 flip on their view of Zach. Who knew that Caleb of all people would be the voice of reason, the savior of Zach?   For this blog and this blog only I will refrain from calling him Bitch Mode Crybaby. He helped save my precious Zach and for that Caleb you have earned my respect. Derrick and Cody get to work flipping everyone they flipped before keeping Nicole and Hayden in the dark. Derrick is a people whisperer. He has the ability to turn anyone against their best friend. It irritates the hell out of me but I know if this guy makes it into the final 2 he is walking away with the cash. He has definitely earned it. The guy actually has had to sit and converse with Victoria about game, he deserves the money! This is going to be a great blind side and I can't wait to watch the fall out!
Julie gives us a bit of a tutorial on how this night is going to go. She teases us with telling us the 2 HOH twist is over. I almost jump for joy until she says for this episode only! SHIT! I hate this twist and I have been ready for it to go weeks ago. At this point pretty much everyone in the house is on the block, what's the point? We also learn that the first evicted tonight also become the first jury member. Good thing for them is they aren't alone for very long. We go right into the live vote and it's no surprise to us that only Hayden and Donny went along with the original plan to vote out Zach. Jocasta was evicted in only the 2nd non-unanimous vote of 6-2. Nicole is shocked and PISSED off. This girl is livid and she starts battling with Zach and Frankie. I think we all know that I am ecstatic about Zach being saved, but how about you? Was this a good decision on The Detonators part?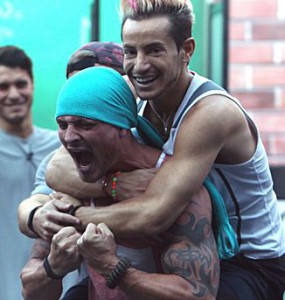 Everyone needs to simmer down and simmer down fast. It's time to play Mathcathalon. Julie asks a series of math questions about events during the summer. They have to answer less, more or exactly to these questions. Adrenalin is running and people aren't thinking because 5 of the  8 playing are knocked out in the first round. Only Christine, Zach and Caleb are left.  Zach is out on the next question and Caleb is left to battle Christine. In a shocking turn of events CALEB IS THE FIRST HOH OF THE NIGHT! He has the commercial break to decide who he will nominate. Do Nicole and Hayden go talk to him?  Nope. They plop their butts on the couch and have themselves a pity party.  Before going to commercial we are given our Team America mission choices. We can either A- Get them to work together convince someone to be a pawn then evict them or  B- Create a fake alliance name it with someone  the trust the least. I would have loved to see Donny "working" with Christine. I am all for mission A! What mission would want to see being carried out? Caleb quickly nominates Hayden and Donny for eviction.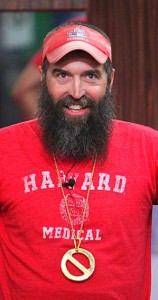 We are quickly ushered into the POV Competition. It's the classic double eviction competition. They need to dig through their ball pit to find 3 rubber ducks. Bring them back one at a time run back, grab the Veto necklace run back and hit their buzzer. Along with Caleb, Donny and Hayden, Christine, Zach and Victoria are playing in this competition. This is the competition that made Jeff have a breakdown after he threw his shoe outside his pit by mistake. This year they put up partitions so that won't happen. Donny and Caleb and Hayden are battling this out, no one is really close to them. Victoria only found one duck the whole time. Does she know she's here to play a game? Sometimes I wonder. She was probably still in shock she wasn't nominated. In a close race DONNY WINS HIS THIRD POWER OF VETO! The veto king of the season pulls off the most important one he's won to date! He collapses to the ground. You have to give this 42-year-old guy some respect. He's in that house competing with the likes of Caleb, Hayden and Cody and he's winning! He can't breathe right now and he's helped into the house by Derrick but he won!
Donny has no time to catch his breath and with difficulty says he's using it on himself! DUH! Caleb tells Nicole to go have a seat next to her boyfriend.  OUCH! Nicole was not impressed with that comment. It's time to vote. Now I don't normally talk about their save me speech because it's all a bunch of contrived BS that doesn't matter but not this time. Hayden calls out Christine and Frankie right then and there, and Nicole has a few choice words of her own about the two of them. Cody was the first to vote and he voted Nicole. That had me thinking we'd finally be saying good-bye to that annoying voice. No such luck. In a vote of 5-2 Hayden was evicted from the Big Brother house and becomes the second member of the jury.
What did you think of this years double eviction? We also gets hints that someone may be returning to the game. Who would you want it to be? The fallout from this episode was huge. You have to check out all the action on the feeds or use our spoiler section to fill you in. If you don't have the feeds yet there is still time to buy them through us and we provide you with all the Flash back times. Check out all our spoiler pages that can keep you up to date on everything going on in the house! Just click on any of  the links below and you will instantly be put in the loop.  AND REMEMBER IF YOU LOVE BIG BROTHER & HAVEN'T HEARD EVERYTHING WE ARE DOING THIS SEASON YOU MUST CLICK HERE BECAUSE YOU WONT BELIEVE IT!  YOU CAN ALSO CHECK OUT ALL OUR PRESEASON BB16 CONTENT HERE & IF YOU HAVEN'T GOTTEN YOUR LIVE FEEDS YET PURCHASING THEM THROUGH OUR WEBSITE (CLICK ANY BANNER) WE'D BE GRATEFUL!  YOU CAN ALSO SUPPORT ALL OUR CONTENT FOR VIA PAY PAL, PATREON AND EVEN FOR FREE HERE!

We also have a BRAND NEW TWITTER ACCOUNT which we will be using solely for our Live Feed updates.  It's a great way for you to find out what is going down as it happens 24/7 on the live feeds!  We wanted to keep it separate from our MAIN TWITTER ACCOUNT which covers all our shows because we love you and don't want to fill up your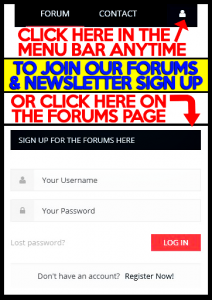 timelines!  Plus we will be posting news, gossip and spoilers there about BB16 exclusively too and we don't like to spoil on our main twitter account.  Now while twitter is a great way to get your 140 character live feed updates sometimes you just need more details!  Which is why we suggest you also join our forums!  This way you can get info like the exact cameras and flashback times for the updates we are giving you, plus interact with other fans!  You can also get special prizes and all the latest info by subscribing to our monthly newsletter (WE WONT SPAM YOU) when you sign up for our forums.  Its easy and free (just two simple steps) by clicking the little man all the way on the right of the menu bar (or in the sidebar on our forums page).  Just make sure you click to subscribe to newsletter when signing up for the forums!  Of course we can do all of this for you because of your generous support.