We have so much for you this season of Big Brother!   THIS SATURDAY WE ARE STARTING OUR "Countdown To Big Brother Shows"!  Every Saturday night we will have on Big Brother Houseguests taking your questions LIVE & revealing a little about you can expect to see this BB16 season!  Plus we are doing our normal weekly recap show, plus Eric is doing comedic video mashups! Then whenever something goes down on the feeds we will instantly got live with our "Live Feeds Breaking News Show"! We will also have recap blogs after every episode and speaking of episodes we will also be chatting live on this page and live tweeting during them! Still want more, then check our our forums! There we will be transcribing the feeds and what happens daily so you don't have to miss a thing! But what we are most excited about is live streaming the Big Brother Premiere Party in NYC to you again this year. And last but not least, we are doing WEEKLY prize giveaways on top of our HUGE iPad giveaway at the end of the summer! Did we mention all this is free, just like all our content on this website about your favorite TV shows…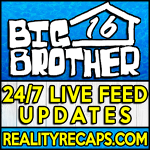 We also have a BRAND NEW TWITTER ACCOUNT which we will be using solely for our Live Feed updates.  Its a great way for you to find out what is going down as it happens 24/7 on the live feeds!  We wanted to keep it separate from our MAIN TWITTER ACCOUNT which covers all our shows because we love you and don't want to fill up your timelines!  Plus we will be posting news, gossip and spoilers there about BB16 exclusively too and we don't like to spoil on our main twitter account.  Now while twitter is a great way to get your 140 character live feed updates sometimes you just need more details!  Which is why we suggest you also join our forums!  This way you can get info like the exact cameras and flashback times for the updates we are giving you, plus interact with other fans!  You can also get special prizes and all the latest info by subscribing to our monthly newsletter (WE WONT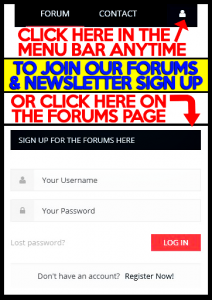 SPAM YOU) when you sign up for our forums.  Its easy and free (just two simple steps) by clicking the little man all the way on the right of the menu bar (or in the sidebar on our forums page).  Just make sure you click to subscribe to newsletter when signing up for the forums!  Of course can do all of this for you because of your generous support.  So if you haven't already get the BB16 LIVE FEEDS from us by click the banner below or in the side bar.  They are currently 20% off and by purchasing through us we can continue to bring you exclusive content you cant get anywhere else!  Plus, you know what FAVORITE part of a forum is right?  FORUM PARTIES!  More specifically forum parties with lots of prize giveaways!  We'll post all the details this week…

But you should also know what we are known for is our comedic blogs, recap shows, live houseguest interviews with fans, podcasts, live streaming of reality events and so much more (we cover all Reality Shows not just Big Brother). So if you like what we do consider buying the live feeds from us by clicking the image in the side bar or below!  Also follow us on twitter, facebook, and google plus so you NEVER miss the latest Big Brother & Reality TV news!  Of course subscribing to us on YouTube is the best cause then you get all our shows and content delivered to you for free instantly!
Now if you got the live feeds already there is still other ways (even free ones) you can support us.  For example become a patreon for exclusive content and prizes plus info like this post BEFORE ANYBODY ELSE, doing your shopping through our Amazon like, or making a donation via pay pal by clicking any of the pictures for them in the sidebar to the right of this post.  You can also help support us for free by likening, sharing, subscribing and interacting with us on social media, just use the links in the sidebar as well.  And just so you know… your support and donations are to help us keep doing what we do for you all for free.  The more you donate the more you are investing in us createing more content for you!  For example we used our commissions from the BB Feeds so far to bring on 15 live feed updaters to cover EVERYTHING that happens for you all season!  We  covered the Reality Rally & will be covering the BB NYC Premiere because of your donations too.  So from the bottoms of our hearts we thank you for your support!
We truly are the number one site for EXCLUSIVE Big Brother content all summer long… and this summer we are ramping up our game! We have so much in store for you this season. So check out the list below of what we will be doing this year and click the links to see how we did it last year.  
YOUR REALITY RECAPS BIG BROTHER 15 COVERAGE
Exit Interviews Each Week (Pre-Jury)
Post Season Interviews With The Cast
Weekly Group Recap Shows With Big Brother Alum
Weekly Comedic Video Recap Mashups
The Return Of Big Brother "SHORTS"
And Finally Our Very Own Big Brother Forum
Live Tweeting & Chats During The East & West Coast Airings
Daily Vlog and Blog Updates Of Whats Happening In The House  
PLUS WE WILL RANDOMLY GIVE AWAY FREE FEED SUBSCRIPTIONS EVERY WEEK!
EVERYONE THAT BUYS THE FEEDS FROM US WILL GET:
1.  Your question featured on our show and asked to the BB16 houseguest of your choice when they come on during the season!
2.  Entry into our iPad giveaway at the end of the season.  CLICK HERE FOR DETAILS
3.  Entry into the drawing to win a signed shirt by tons of your favorite reality stars at the Reality Rally!
4.  Entry into WEEKLY contest for a Reality Recaps Swag Pack!
That's right we are doing GIVEAWAYS EVERY WEEK DURING THE BIG BROTHER 16 SEASON for anybody who buys the live feeds from us!  And remember WE ARE HERE BRINGING YOU CONTENT ALL YEAR LONG… NOT JUST DURING THE BIG BROTHER SEASON!
PLEASE EMAIL US PROOF YOU BOUGHT THE FEEDS THOUGH OUR LINKS BY FORWARDING US A COPY OF YOUR RECEIPT TO: YRRLiveFeedSales@gmail.com So are you excited yet?!  Cause we are bringing you all of this and more, which I can't talk about yet (cough)MEDIA DAY HOUSE TOUR(cough) will be coming to you right here on our brand new website!  Want to see what we did last year for the Premiere Party?  Well then here you go: It's going to be an amazing year here at Your Reality Recaps and we are SO EXCITED to share it all with you.   So let me know what you think about all of this in the comments section below and I'll see ya there!