We are finally in the home stretch! Big Brother 17 is quickly winding down and soon the final three are about to be in place for finale night! Read on to find out which two houseguests join the jury of nine and who will be in the final three on finale night!
We begin Sunday's episode with the houseguests competing in the "Under the Rainbow" HOH competition. The goal here is to be the first to get all 10 eggs moved from one side of the rainbow to their holders on the other side of the rainbow. Someone with really good "finger" skills was destined to win this comp and it could only be one of two people… I'll leave it at that! Eventually, Vanessa secures her spot as the final 5 Head of Household, ensuring she will make it to the final four! Liz manages to score the luxury prize by getting her egg into the luxury slot on the rainbow.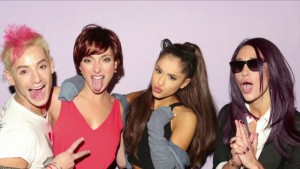 It's time for us and the houseguests to find out what Liz's special luxury prize is! Frankie Grande, from Big Brother 16 and Ariana Grande's older brother, enters the house in a poof of glitter to share the news! Liz will be going with Frankie to an Ariana Grande concert at the Staples Center, and will get to hang out with her backstage! Liz gets to bring another person along with her as a guest and she chooses Vanessa! Liz and Vanessa undergo dramatic makeovers in order to disguise themselves outside of the house since the game is still going on. Vanessa looked just like Vanessa… except with purple hair! Liz, on the other hand, actually looked really good with her makeover! Although I'm not a fan of either of the Grandes AT ALL, I can imagine a trip outside of the house after three months would be a very welcome gift!
It's time for nominations. Vanessa decides to nominate Steve and John for eviction! Now it all comes down to one of them to win the Power of Veto! If Johnny Mac doesn't win veto, chances are great he is the one being re-evicted and joining the jury… except this time it will be permanent. *sad face*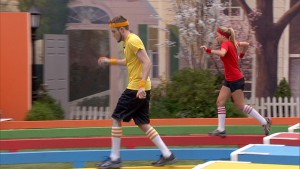 It's time for a special eviction episode! Julie catches the houseguests off guard when she announces that someone is about to be evicted! Before the eviction, the power of veto competition takes place. This is another puzzle comp, based on the upcoming CBS sitcom, Life in Pieces. The houseguests must race across the beam and assemble it without the timer running out and the pieces falling down to the ground! Vanessa throws this comp immediately by letting the timer run out and she is eliminated. John eventually goes on to win this comp.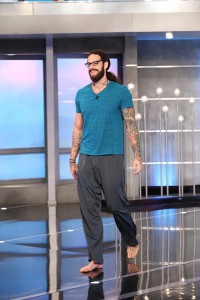 It's time for the veto ceremony and eviction! Vanessa decides to name Austin as the replacement nominee after John saves himself. In one of the most amazing blindsides of all time, Liz votes to evict Steve and John votes to evict Austin. This results in a tie, leaving HOH Vanessa to cast the tie-breaking eviction vote. She evicts Austin and he is completely caught off guard and bitter about it! He tells her he will make SURE she doesn't win the jury votes needed and he ends up leaving the house barefoot! LOL! Later, Judas!
It's time for Wednesday's LIVE eviction episode where someone else will be sent to jury after Austin! Steve is accidentally crowned the next Head of Household after trying to throw the comp. Unfortunately for him, he left a zero off his answer and he is now in the power position! It's actually good for him, but bad for Johnny Mac! Steve goes on to nominate Johnny Mac and Vanessa for eviction. However, at final four, nominations mean absolutely nothing! It all comes down to the final Power of Veto winner! This person will be safe, automatically becoming the sole
vote to evict!
In a POV comp hosted by Beast Mode Cowboy Caleb from last season, it all comes down to Johnny Mac or Vanessa to save themselves and be the deciding vote to evict. This is the comp where they have to remember which day everything happened on. John does pretty well in the comp until the very end when Vanessa pulls ahead of him. Vanessa wins the final Power of Veto, saving
herself and ensuring her entry into the final three. Vanessa later casts the sole vote to evict Johnny Mac, making him the eighth member of the jury of nine! This totally SUCKS! 🙁
There you have it, your final three for BB17 are Vanessa, Steve and Liz! Who do you want to win this season? Who do you want to win America's Favorite Player? Sound off in the comments below or on Twitter @vince1187 and join me at 9:30pm eastern on September 23rd as I live tweet the finale with yous guys! 
AND DON'T FORGET… comment below and let us know what you think! Plus, Eric is doing YouNow videos all season when the feeds go down so make sure you BECOME A FAN! We will of course be doing recap shows and interviews too! Then whenever something goes down on the feeds we will get on social media via YouNow or YouTube to discuss LIVE with you! We will also have recap blogs after every episode and speaking of episodes we will also be chatting live on this page and live tweeting during them! Still want more? Check out our forums! They are a great place for you to meet up with friends. But what were really excited about is our BIG BROTHER SPOILERS PAGE! It's full of "Cheat Sheets" for you to use to stay on top of all the latest alliances and info!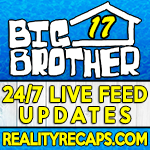 We also have a BRAND NEW TWITTER ACCOUNT which we will be using solely for our Live Feed updates. Its a great way for you to find out what is going down as it happens 24/7 on the live feeds! We wanted to keep it separate from our MAIN TWITTER ACCOUNT which covers all our shows because we love you and don't want to fill up your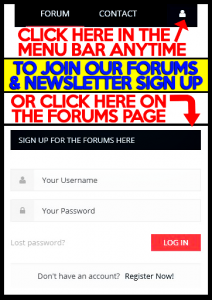 timelines! Plus we will be posting news, gossip and spoilers there about BB17 exclusively too and we don't like to spoil on our main twitter account. Now while twitter is a great way to get your 140 character live feed updates sometimes you just need more details! Which is why we suggest you also join our forums! This way you can get info like the exact cameras and flashback times for the updates we are giving you, plus interact with other fans! You can also get special prizes and all the latest info by subscribing to our monthly newsletter (WE WON'T SPAM YOU) when you sign up for our forums. Its easy and free (just two simple steps) by clicking the little man all the way on the right of the menu bar (or in the sidebar on our forums page). Just make sure you click to subscribe to newsletter when signing up for the forums! Of course can do all of this for you because of your generous support.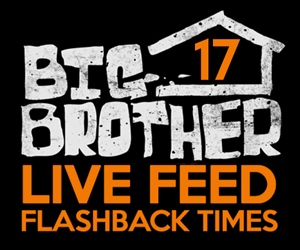 So in order to help support us in our coverage of Big Brother this season please consider: our Patreon campaign, making a pay pal donation, or starting your online shopping by clicking the ads in the side bar to the right. Those are all great ways to financially help us as well. Of course we get it, money can be tight… so if you'd like to help us for free then be sure to subscribe to our shows in YouTube, iTunes, and thumbs up and give us a nice review (we want to win a podcast award this year). Also following us on your favorite social media site (by clicking the icons in the side bar) and then sharing our content there is also a great way to help as well! We cant thank you enough for enjoying our shows these last 4 years, hopefully with your support we can continue to do them for the rest of the year. We can't thank you enough for all your support! We love you all!