Well, folks, here we are! After a record-breaking 98 days of Big Brother, it has all finally come to an end. We've had a record number of houseguests, the return of two twists (Battle of the Block and the Twin Twist), and even made BB history with the first transgender houseguest! It was a huge year for the show. Read on to find out what happens in the conclusion of this season of Big Brother… who wins the final HOH, who wins the half-million dollar grand prize, and who earned the title of America's Favorite Houseguest. I have it all for you here!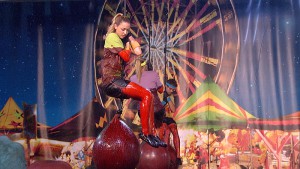 It has all come to this: our final three are Steve, Liz and Vanessa. The battle for the most important Head of Household of the summer is underway, and this person has the huge decision of who to evict and who to bring with them to the final 2 to face the jury. We begin part one of the three part HOH competition and this part has always been an endurance competition. Whoever holds on the longest will automatically advance to the third part, which plays out live! This year we have a carnival-themed endurance comp, complete with candy apples! Each of the final three must hang on to their candy apples for as long as possible while being shot with powdered sugar, being dunked in the sticky "candy" liquid below and slammed into a wall! I personally thought the theme of this comp was pretty cool. It even came complete with sound effects and it was narrated by a creepy clown (I'm guessing it was a clown… lol)! Steve was the first to drop in this comp, followed by Liz. Vanessa is the winner of part 1 of the final HOH and will be advancing to part 3!
Steve and Liz must now face off in part two of the final HOH in order to determine who will face Vanessa in part three. This part of the comp has usually been a timed puzzle comp of sorts that tests the houseguests' knowledge of Big Brother. The heat is on these two to win this part if they want to be able to control their own destiny in the game. Steve is up first and he walks out into the backyard to discover a giant crossword setup with clues referencing different people and aspects of the game. "Colossal Crossword" involves figuring out the clues, grabbing the letters and climbing up the wall in order to put the letter tiles in place. Liz is the second one to play and tries to beat his time! After both finished, Vanessa joins them in the backyard and reveals the times. Steve's time was 28:27 and Liz finished at 31:11. Steve is the winner of part two of the HOH and will be facing off against Vanessa in the final part LIVE!
Before Steve and Vanessa take part in the final part of the final HOH, it is time for the jury roundtable segment! Once again, this is moderated by season 2 winner and All-Star Dr. Will Kirby! The seven jurors await the next member of the jury to join them. They are all surprised to find Johnny Mac walk in to join the party! He fills them in on what happened leading up to his eviction. It is hilarious to see Austin still OH SO BITTER at his eviction blindside and his hatred of Vanessa. Dr. Will calls him out for being a hypocrite that it was wrong for Vanessa to cut him when he would have done the same to her! LOL! Dr. Will ain't here for that Judas buhh-shit! The rest of this segment is pretty interesting as the jury deliberates on the gameplay of the final three. For the most part, everyone is in agreement that Vanessa has fought hard to be there and is still going strong. Meg is not impressed because she believes that all Vanessa has done is win comps, but hasn't been fooling anyone all summer. Uhhh… what? Meg, honey. Pipe down, girl. You're clueless. Becky wasn't thrilled with some of Vanessa's strategy which included swearing on the gay community, etc. Yeah, that's some underhanded stuff but honestly, all of that is fair game in Big Brother! Shelli seems to have a great opinion on Steve's gameplay. She notes that he has been very strategic in which comps he's won throughout the season. If it was unnecessary for him to win and get blood on his hands, he threw it. If he needed to win to save himself, he won. She said his social game was actually brilliant and not at all awkward like he tried to make it appear. I have to agree with Shelli here, to an extent. Steve has pulled it out for himself and won when he needed to! He has also managed to forge relationships with most all of the jury members! I was rather surprised at some of the love Liz was getting from the jury, though. They seemed really impressed that she managed to overcome the Twin Twist making her a huge target and turning that into a way to protect herself. I don't personally chalk that up to her being savvy or strategic at all. I chalk that up the rest of the house for being complete idiots for not getting her out because of her built-in alliance! Point blank and the PERIOD!
It is finally time for part 3 of the final HOH competition. It all comes down to this. Either Steve or Vanessa will become the final Head of Household and cast the sole vote to evict, bringing the other person with them to the final two to face the jury. For the third year in a row, the comp is called "The Scales of Just Us." This is the part where they are faced with statements from the jury members and they will have to choose one of two answers that they think fills in the blank. The houseguest with the most points will become the final Head of Household. Steve immediately takes the lead on the first question when he answers correctly. Steve maintains his one point lead as he and Vanessa answer the same (either correctly or incorrectly) until the next to the last question. Vanessa ties up the score and it comes down to the last question. Steve guesses Johnny Mac's response correctly and he pulls back into the lead. Steve is the winner of the FINAL Head of Household of the summer! He is now guaranteed at least second place and $50,000 and it is his responsibility to decide whom he sits next to to face the jury!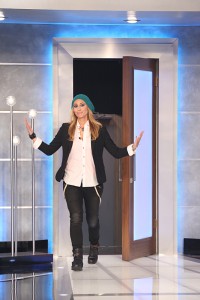 It is time for Head of Household Steve to make his decision. His entire game rides on this! He nervously gets up in front of the two nominees and tells Vanessa that she is one of the strongest females to ever play the game in seventeen seasons. (Jury management!) The poor guy was so nervous and I felt just as nervous as he did! This was a HUGE moment for this season. He decides that he can't take a threat like Vanessa to the final two with him and he decides to evict her. Vanessa is the final evictee of the summer and will be the ninth and final member of the jury that decides whether Steve or Liz will win the season. Vanessa bolts from the house and joins Julie for an interview. She admits that she would NOT have taken Steve with her to the final two, so there is no doubt that he made the best move for his game!
Julie introduces the first eight members of the jury and they take their seats on the stage. She asks them who they think will be the final member of the jury. Vanessa walks out and takes them by surprise! Austin is of course thrilled to see her as he is still pissed that she cut his throat last week. Julie catches them up to speed and reveals that Steve won the final HOH and decided to sit next to Liz. It's now time for each of them to
ask a question to Steve or Liz. Johnny Mac is up first and says that Steve relied heavily on him and Vanessa for his game decisions, and to tell him why he is wrong. After a few audio glitches (live television, folks!), Steve uses this as a chance to justify his game moves with the Scamper Squad and his decision to evict Jackie, who he thought was the biggest threat at the time. Becky asks Liz if she had any strategy of her own that wasn't influenced by Austin. She kinda dodges the question, and says she did her own campaigning. LOL WUT? James is next and accuses Steve of floating (incorrect use of the term floating! He should have used "coasting.") through the game. Steve disagrees and says this is completely incorrect. He says he won two HOHs and built layers of protection around himself in order to further himself in the last half of the game. Julia asks Liz what her biggest individual game move was. Liz says that her biggest move was aligning with big targets in the house (Vanessa and Austin). Jackie asks Steve to prove them wrong and tell them why his game wasn't weak. Austin is next and asks Liz why she deserves to win the money over the "boy" Steve. (Austin is such a DICK!) She says that she came into the house with a huge target on her back because of the Twin Twist and she really wants the money so she should get it instead of Steve, the superfan.
It is now time for the jury to cast their votes for the winner of Big Brother 17. Steve and Liz both have an opportunity to make a final speech to the jury to argue why they think they should win the game. Liz is first and she says that she has grown to love the game so much even though she isn't a die hard fan like Steve. Once
again, she brings up the Twin Twist and how it was amazing that she and Julia survived 85 days together. She also mentions how she fought hard by winning 3 HOHs, 1 POV and 1 BOB. She says that it's been the most incredible summer and she loves Big Brother. Welp. Now it's time for Steve to make his argument. Steve uses this as a chance to throw Liz under the bus, drive it over her, back up, and run her over again. He brings up the Twin Twist and says that while Liz spent half of the first five weeks in a hotel room, he was in the house full time playing the game. He also says that she had someone that she could trust 100% while no one else had that. He also invalidates one of her HOH reigns since she was dethroned. He says he had four full HOH reigns and used them to do his own bidding. He also mentions that HE is the one that got rid of Vanessa. While the whole speech was completely KICK ASS, that line should have been all he needed to say in order to secure his votes. With this, it is time for the jury to cast their votes for the winner. One by one, each member of the jury inserts the key of the person they want to win the grand prize.
With the voting complete, Julie introduces the houseguests that were evicted early in the season: Jace, Da'Vonne, Jeff, Audrey, Jason and Clay! Da'Vonne immediately calls out Austin on his alter ego, asking where his big game moves were at… Judas was just Austin in a hat. Vanessa reveals to everyone that she lied about being a multimillionaire professional poker player. Jason says Vanessa played a great game but drags her for not owning her game play. He said all she did was cry about her decisions. Audrey says that this experience meant a lot to her because her coming out as the first transgender houseguest has gotten lots of positive responses and has helped change lives for people around the country struggling with coming out as trans.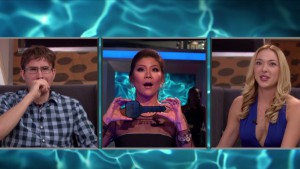 THE BIG MOMENT IS HERE! It is time to reveal the winner of Big Brother 17. Julie pulls the keys in reverse order to reveal the jury votes. Vanessa, bitter no doubt, voted for Liz. Johnny Mac cast his vote for Steve. Austin voted for Liz, as did her twin Julia. The rest of the votes cast went to Steve. There you have it. STEVE MOSES IS THE WINNER OF OF BIG BROTHER! He managed to win by a 6-3 margin! Congratulations, Steve, and thank you for letting us have a finale that wasn't completely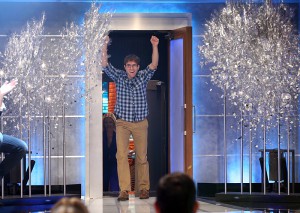 predictable as we were all certain it would be! Before Julie signs off for the year, she reveals the winner of
America's Favorite Houseguest. The top 3 vote-getters were Johnny Mac, James and Jason, to no one's surprise. America's Favorite Houseguest and the winner of $25,000 is James Huling! It was a well-deserved win on his part for keeping us entertained and not being afraid to make ballsy moves! With that, another season of Big Brother is in the books. See you guys next year for #BB18!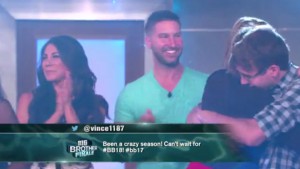 It's been a crazy (and LONG) season! What are your thoughts on the outcome of Big Brother 17? Let me know in the comments section below or on Twitter! Thanks to all of you that have read my recap blogs and supported Your Reality Recaps! I've really enjoyed interacting with you all! Follow me on Twitter @vince1187 if you'd like! I tweet about lots of other shows throughout the year… and may even be doing recaps of some other shows in the future. Love you guys!
AND DON'T FORGET… comment below and let us know what you think! Plus, Eric is doing YouNow videos all season when the feeds go down so make sure you BECOME A FAN! We will of course be doing recap shows and interviews too! Then whenever something goes down on the feeds we will get on social media via YouNow or YouTube to discuss LIVE with you! We will also have recap blogs after every episode and speaking of episodes we will also be chatting live on this page and live tweeting during them! Still want more? Check out our forums! They are a great place for you to meet up with friends. But what were really excited about is our BIG BROTHER SPOILERS PAGE! It's full of "Cheat Sheets" for you to use to stay on top of all the latest alliances and info!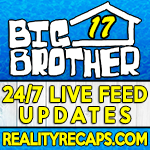 We also have a BRAND NEW TWITTER ACCOUNT which we will be using solely for our Live Feed updates. Its a great way for you to find out what is going down as it happens 24/7 on the live feeds! We wanted to keep it separate from our MAIN TWITTER ACCOUNT which covers all our shows because we love you and don't want to fill up your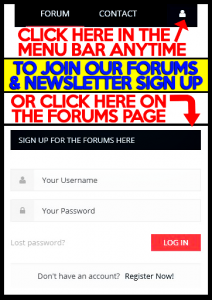 timelines! Plus we will be posting news, gossip and spoilers there about BB17 exclusively too and we don't like to spoil on our main twitter account. Now while twitter is a great way to get your 140 character live feed updates sometimes you just need more details! Which is why we suggest you also join our forums! This way you can get info like the exact cameras and flashback times for the updates we are giving you, plus interact with other fans! You can also get special prizes and all the latest info by subscribing to our monthly newsletter (WE WON'T SPAM YOU) when you sign up for our forums. Its easy and free (just two simple steps) by clicking the little man all the way on the right of the menu bar (or in the sidebar on our forums page). Just make sure you click to subscribe to newsletter when signing up for the forums! Of course can do all of this for you because of your generous support.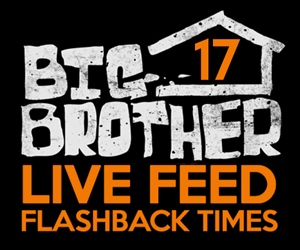 So in order to help support us in our coverage of Big Brother this season please consider: our Patreon campaign, making a pay pal donation, or starting your online shopping by clicking the ads in the side bar to the right. Those are all great ways to financially help us as well. Of course we get it, money can be tight… so if you'd like to help us for free then be sure to subscribe to our shows in YouTube, iTunes, and thumbs up and give us a nice review (we want to win a podcast award this year). Also following us on your favorite social media site (by clicking the icons in the side bar) and then sharing our content there is also a great way to help as well! We cant thank you enough for enjoying our shows these last 4 years, hopefully with your support we can continue to do them for the rest of the year. We can't thank you enough for all your support! We love you all!