It's the second last leg of Amazing Race Canada and I'm getting a little sad. Normally at this point I am thinking let this be over please but I have really enjoyed watching these teams and I don't want any of them to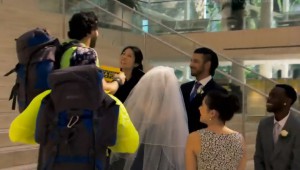 go anywhere but there is only one winner right? The once friendly, lets help each other out teams are now ruthless and going for the jugular this leg. With three hours separating first place Gino and Jesse and last place Simi and Ope they still manage to all meet at the airport for their flight to Edmonton, AB. The atmosphere is tense as they board the plane. Once in Edmonton they need to cab their way to Edmonton City Hall and interrupt a wedding to get their next clue. Gino and Jesse are the first to arrive and seem  very reluctant to interrupt. You know it's all staged right guys? Come on now. Simi has no issues though, Runs up and says I object, can I have my clue please. Don't get in that girl's way!
Teams now need to find the Edmonton Waste Management Center where their Detour is waiting for them. They need to choose from Paper – where they need to work on the sorting line and remove all plastic and garbage and place it into two different bins. Once their plastic and garbage bins each weigh 13kg  they will get their clue. or Plastic – where they need to dismantle 6 old television sets and sort their parts for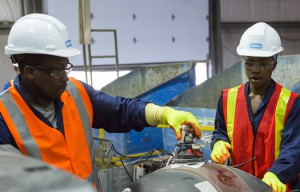 recycling. If they break the glass of the tv set that one doesn't count anymore. The challenge here is this roadblock is blind. They need to choose before know the specifics of them. Brent and Sean choose paper while everyone else heads over to plastic. Simi and Ope were the first to arrive and took some time to figure out how to remove parts without breaking them and had a 2 tv set lead on the teams. Over at paper the brothers were concerned they were alone because they had no idea where they were in the pack but soon discovered garbage gold when shingles where passing them on the line. At paper the Gino and Jesse and Matt and Nick had no problems figuring out how to dismantle the TV's and soon caught up. Brent and Sean were the first to leave the detour. Gino and Jesse left plastic first to find their cab had left. The only cab remaining was Nick and Matt's so we know all is fair in Amazing Race so they took their cab.
Their bags weren't in it, it's not against the rules. Sneaky and conniving yes but perfectly legal. Simi and Ope's cab also took off so the they called their cab first and left their name. Nick and Matt called theirs and they both waited. Simi asked them not to pull a Gino and Jesse and take their cab but guess what. They got in the first cab that showed up. Ope wasn't letting them go without a fight though  but the wrestlers won and sped off in the cab saying the driver had no name so it was theirs. When the second cab  arrived Ope got confirmation the guys were lying when on the meter the contact names said Nick. Watch out boys. Ope has an axe to grind.
Everyone is making their way to Ottewell Curling Club where the second face off of the race will take
place. Here the teams will face off by playing one end of Canadian sport Curling. Each get 8 rocks. The team closest to the button wins the round. Last teams there needs to wait out a penalty. Brent and Sean arrive first and have to wait for a second team to arrive. They are hoping it's not Captains Canada Gino and Jesse and aren't happy to see them pull up. God is smiling on  them today though and much to Gino and Jesse's dismay Brent and Sean win round 1. Matt and Nick are the next arrive and can't wait to challenge them after the cabotage back at the recycling center. Nick and Matt win the next end of curling against Gino and Jesse and feel they got a little bit of revenge for the cab incident. Gino and Jesse finally manage to beat someone when Simi and Ope arrive and then steal their cab to make matters even worse for them. Mental note, when in Edmonton, don't ask your cab driver to wait for you, because they won't! While Nick and Matt fight with Gino and Jesse,  Simi and Ope wait out their time penalty then call another cab. Simi has a bit of a panic attack knowing this is most likely the end for them. Ope tells her not to give up, there is still race to be raced.
After completing the face off everyone has to find a Petro Canada gas station in St, Albert and using only snack items manage to spend 250 000 petro points in 90 seconds. Brent and Sean are out in no time. Nick and Matt don't read the clue correctly so they end up having to do it twice after putting in gas cans and other non food
items. Everyone else seems to get out quick and they race back in time to Fort Edmonton Park where they need to find Kelly's Saloon. Their Roadblock – Who Wants To Raise The Bar is waiting their for them. Here one team member needs to dress in period costume and memorize lines and recreate a historic scene that happened in that saloon. Brent, Matt, Jesse and Ope all have issues with their lines but Jesse is a terrible actor. We found something he can't do!! Brent is first out of the challenge and Nick isn't far behind. Ope is left hoping to get justice for his cab theft but it doesn't happen when Jesse finally gets his lines right and leave him there. Check out the teams looking back at their time as actors here! It's pretty hilarious
Now all teams are heading towards the pit stop at the Muttart Conservatory. After taking someones cab, but calling a replacement so they aren't stranded (like good boys do)  Brent and Sean arrive first and win a trip to Dubai and 2 years of free gas. Nick and Matt follow them in second place. It's a cab race between the Gino and Jesse and Simi and Ope but the brothers beat them to the mat snagging that last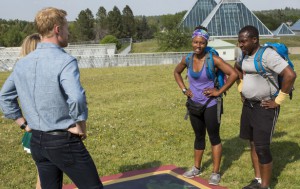 finale spot. Simi and Ope arrive last. I am hoping Jon has good news and says that finale is going to be 4 people but no such luck. For a team that was consistently in the back of the pack escaping elimination week after week their race was fun to watch. I loved their drive and the relationship between them. Ope's parting words about how his relationship with Simi has changed and strengthened over the race and their love for being in Canada had me in tears. I hope there is an All-Star season and we see them on it! Brent and Sean had some fun in the cab doing "Ope" Click here To see this hilarious video 
OK sappiness over, we are on to the LAST leg of Amazing Race Canada taking place in Whistler, British Columbia. I love all three teams left in the race and will be over the moon for any of them to win, but my heart is with the Nova Scotian brothers Brent and Sean. I want so badly for these boys to take home the money and prizes. Who are you pulling for now? Comment below nad let me know.