Need a break from politics, "fake news," or the winter blues? Not a fan of the Winter Olympics because they interrupt your regular TV schedule? Here's a great solution for you—check out the first ever US edition of Celebrity Big Brother! You won't get the full experience without watching the live feeds, so click HERE to sign up for your 1-week CBS All Access FREE trial, where you can watch all the drama go down live—unedited and uncensored. Form your own opinions about the edited shows you'll see on CBS. You may find the houseguest you're rooting for gets the "villain" edit while the most despicable ends up on The Amazing Race.
The show only lasts less than 3 weeks but squeezes in 13 episodes. If you record Big Brother on your DVR, make sure to add Big Brother Celebrity Edition per Julie Chen's House Tour. Here's the full schedule:
Wednesday, February 7 at 8 to 9 p.m. Season Premiere
Thursday, February 8 at 8 to 9 p.m.
Friday, February 9 at 8 to 10 p.m. 2-hour episode
Sunday, February 11 at 8 to 9 p.m.
Monday, February 12 at 8 to 9 p.m.
Wednesday, February 14 at 8-9 p.m.
Friday, February 16 at 8 to 10 p.m. 2-hour episode
Sunday, February 18 at 8 to 9 p.m.
Monday, February 19 at 8 to 9 p.m.
Wednesday, February 21 at 8-9 p.m.
Friday, February 23 at 8 to 10 p.m. 2-hour episode
Saturday, February 24 at 8 to 9 p.m.
Sunday, February 25 at 8 to 10 p.m. Season Finale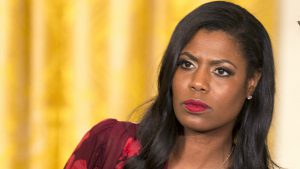 Expect the unexpected AND high drama with this cast, especially between Brandi and Omarosa, who already have beef with each other from Celebrity Apprentice. Omorosa's not leaving unless security drags her out, and she might drop a few breadcrumbs to interest us in the book she's surely writing about her time in the White House. Maybe Celebrity Big Brother isn't a TOTAL break from politics, but it's enough to take the edge off. Ross Matthews, best known from The Tonight Show and as a judge on RuPaul's Drag Race, is hilarious and will give us awesome DRs. He's a Big Brother superfan and used to do pre-and-post show interviews. Shannon Elizabeth, best known from American Pie, is another superfan, is now a professional poker player and happens to be friends with Vanessa Rousso.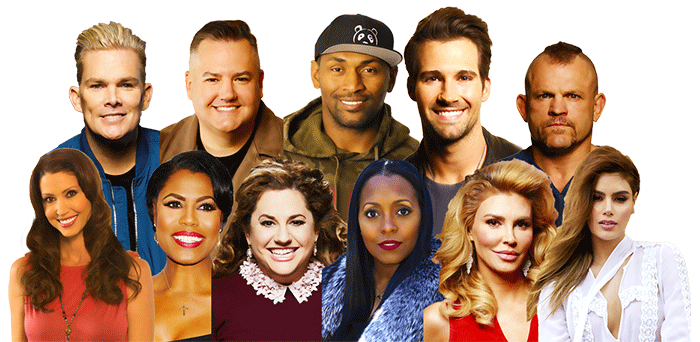 The full cast is pictured above and this weekend will be my full cast reveal blog. I wasn't 100% familiar with all the celebrities. Wink. Wink. I look forward to judging them with you in the coming weeks.  There's a Twitter hashtag identity crisis for Celebrity Big Brother. Who wants to type #CelebrityBigBrother when tweeting about the show? We've got shit to do, so fewer keystrokes, please. Is it #CBB, which many fans are using, even though that usually refers to the UK version? What about #CBBUS, which fans who watch both UK and US versions are using? Are we really going with #CelebBB as stated on-screen during the BB19 finale? That's the least popular one, but it is CBS's show. If we mut tag them all, that's more keystrokes than #CelebrityBigBrother. Let us know which hashtag you prefer with the Twitter poll posted by @rebeccakayj.
In the meantime, enjoy Eric's nightly comedic shows on YouNow with Celebrity Big Brother tea served piping hot. Former Big Brother houseguests will join him once the season starts. Follow him on Twitter @RealityRecaps. You can follow me @rebeccakayj.
There is going to be SO MUCH to keep up with this season!  So make sure you follow us on TWITTER and check our Celebrity Big Brother page daily for updates!  Of course if you wanna watch the action and drama play out live then GET THE FEEDS FROM US.  It's a great way to support us!  Just CLICK HERE to get them now!
WAIT!  Before you go… please comment below and let us know what you think! 
AND DON'T FORGET… we are doing YouNow shows all season when the feeds go down so make sure you BECOME A FAN there!  We will of course be doing recap shows and interviews too!  Whenever something goes down on the feeds we will get on social media via YouNow or Twitter to discuss LIVE with you!  We will also have recap blogs after every episode and speaking of episodes we will also be live on YowNow live tweeting during them!   Still want more?  Then become a Patreon for EXCLUSIVE content, giveaways, access to reality stars and become a member of the private Patreon group!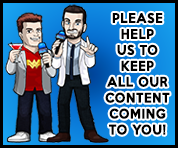 So in order to help support us in our coverage of Big Brother this season please consider: Getting the live feeds from us here or becoming a Patreon, making a pay pal donation.  Of course we get it, money can be tight… so if you'd like to help us for free then be sure to subscribe to our shows in YouTube, iTunes, YouNow, and thumbs up and give us a nice review (we want to win a podcast award this year). Also following us on your favorite social media site (by clicking the icons in the side bar) and then sharing our content there is also a great way to help as well! We can't thank you enough for enjoying our shows these last 8 years, hopefully with your support we can continue to do them for the rest of the year.  You could also see what specific help we need by checking out our HELP US page HERE!  We can't thank you enough for all your support!  We love you all!  
We also have a BRAND NEW TWITTER ACCOUNT which we will be using solely for our Live Feed updates.  It's a great way for you to find out what is going down as it happens 24/7 on the live feeds!  We wanted to keep it separate from our MAIN TWITTER ACCOUNT which covers all our shows because we love you and don't want to fill up your timelines!  Plus we will be posting news, gossip and spoilers there about CBBUS exclusively too and we don't like to spoil on our main twitter account.  Now while twitter is a great way to get your 140 character live feed updates sometimes you just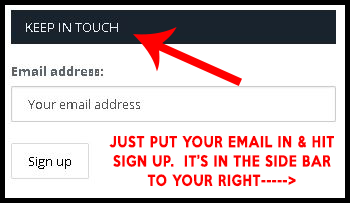 need more details!  Which is why we suggest you also join our news letter!  This way you can get info like the exact cameras and flashback times for the updates we are giving you, plus interact with other fans!  You can also get special prizes and all the latest info by subscribing to our monthly newsletter (WE WON'T SPAM YOU).   Thank you for all the support!