//pagead2.googlesyndication.com/pagead/js/adsbygoogle.js //
First and foremost, thank you BB production for giving Cody and Jessica the edit they deserved this episode!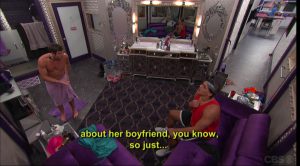 After his nomination speech calling Jessica out, Josh tries talking to her in the bathroom. She is sitting on the couch while Cody showers. (They literally go everywhere in the house together and seclude themselves from everyone else.) Josh is trying to tell her that she's not his actual target, but she and Cody go off on him. AGAIN! While Josh is trying to tell Jessica that Cody wrecked her game, but he sees them as separate players, Cody jumps in and says that she doesn't want to talk to Josh because he is bashing her boyfriend. Cody goes on to say that they don't want to hear anything that Josh says. Josh says that he is willing to talk to her when she calms down. She states that she is calm. Of all the dumb moves in BB history, being an asshole to the HOH that could change your girlfriend's destiny in the game is among the biggest. Dumbass douchebag.
Christmas tells Josh about receiving the Den of Temptation Ring of Replacement to further build him that Paul is the only other person that knows, and Paul told her that she should replace Cody if he is drawn for POV. Paul explains in DR that he wants to make sure that Jessica goes home this week and that the Ring of Replacement doesn't bite him in future weeks. Meanwhile, Cody is giving Jessica a pep talk, telling her that he is confident in their competition abilities over Josh, Elena and Mark. She is praying that Cody's name is pulled for Veto because it's do or die. Jessica intentionally threw the safety comp to become the 3rd nominee, which wouldn't have been necessary had she not used the hex last week. She could be sitting pretty with the ability to halt this week's eviction and could've rebuilt her social game sans Cody. She is throwing her game away.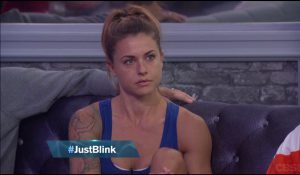 Christmas and Josh go to talk to Paul about not using the Ring to replace Cody if he is drawn. Josh is back to insisting that his target is Elena. In DR, Paul points out that Jessica didn't know what to do the first time Cody was evicted, and Cody won't know what to do when Jessica leaves. Paul makes a very important point to Christmas and Josh: Jessica and Cody are 2 votes in jury that will never vote for them out of spite. He says Elena would make a fairer decision. They make a secret signal for Josh to blink at Christmas if she should use her Ring. At the veto draw, Alex and Cody are picked to play in addition to Josh, Elena, Mark and Jessica. Jessica and Cody seem very pleased. Paul is about to jump out of his skin, eagerly watching for blinking from Christmas and Josh. #JustBlink
This is one of the most glorious scenes ever. #ChristmasGift for BB viewers! Christmas announces her intention to use the Ring of Replacement, and it appears on the screen behind Cody's head. She explains that she can replace any of the people randomly drawn and she is choosing to use it now. She is replacing Cody. Jessica and Cody look FURIOUS! Paul says in DR that using it now ensures: A. Cody doesn't get to play B. The chances of getting Jessica out are increased exponentially and C. All the temptations have been exhausted.
After the Veto draw, Cody is crying on Jessica's shoulder with Jessica telling him that it's not over yet and him telling her that she has to win. #VictimNoises from the guy who hates people crying! LMAO! That's what you get for encouraging your girl to use the hex to save you when it was obvious it would destroy her game. She was warned. By Christmas, Elena, Paul and a roomful of people. Granted, they probably wouldn't have stuck to the deal, but Cody you cost your girl her game. And seeing you realize it in this moment is glorious. Douchebag, cry me a river.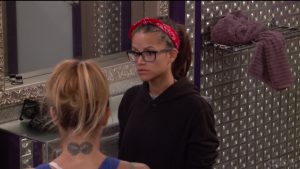 Jessica is in the bathroom when Christmas scoots in to speak to her. Jessica tells Christmas that she has nothing to say to her because she'd shared a lot of sweet and sincere things with her, and "You decided to use your gift to take me out of the game." Christmas calmly replies that she told Jessica exactly what would happen if she used her hex. She likes Jessica personally, but she needs to learn to separate game from personal. In DR, Christmas says that Cody threw her on the block in the beginning of the game, and now she gets to take his power away to save his girl. In DR, Jessica says that Christmas is stabbing her in the back and she can go to hell.
After their exchange, Jessica reports back to her commanding officer Cody that Christmas told her to separate game from personal. Cody calls her a witch with her sorcery. What's that make your girlfriend for using the hex last week? Jessica says if she wins veto she is going to be a very sore winner. Um, you're already a huge bitch; what more can you do to make houseguests and viewers think less of you? We've seen you aggressively argue with Christmas, Josh, Raven, Paul, Alex and Megan. That's more than 1/3 of the cast. We see who you are: a sore fucking loser who threw her game away for a man you met less than 2 months ago whose qualities include being a climate change denying, Trump and 9/11 conspiracy theory supporting and transgender intolerant douchebag with violent tendencies who has little to no contact with his family and very few friends. Oh, but he has a big dick, so why does all that bad shit matter? I digress.
The Veto comp is OTEV. It takes place in a grave yard swamp with a frog as this year's OTEV. One of the tombstones says, "Here lies Nicole's 2nd Showmance." LMAO! Christmas isn't medically cleared to compete in the competition. The pig asks the players to help find his family. Then, he turns into OTEV the possessed piglet, and begins puking green slime all over the players, taking direct aim at the guys' junk. He says, "You are my fucking (bleeped) servants." He eats souls, including theirs if they don't get questions correct. Players are asked questions about past comps and must find shoe soles buried in the graveyard with numbers that correspond to the questions. The questions and eliminated houseguests are:
1. How many souls competed in Bowlerina? (Answer: 4) Eliminated: Elena
2. How many souls were featured in the Inked and Evicted photos? (Answer: 3) Eliminated: Jessica In DR, she says, "They got lucky." Nope, that's karma biting you in the ass.
3. How many souls doled out punishments in What's the Hold Up? (Answer: 10) Eliminated: Josh
4. How many souls scored under 20 points in Under the Weather? (Answer: 5) Eliminated: Alex Alex beat Mark up the ramp, but he collided with her, and she dropped her sole down the ramp.
Mark wins veto and an aggressive puke to the groin from OTEV possessed pigleg. In DR, Jessica says she thinks her game is over. Jessica cries to Cody, saying that she doesn't want him to be sad when she leaves, and she looks forward to them after the house. Really? Really!! I'm thinking his antisocial, "I have a broken down '97 truck" isn't going to fit in with a name-dropping VIP Concierge's lifestyle. Girl, you're the breadwinner in this relationship. Jessica said on feeds that she spent $2K on makeup to come on BB; bet that's more than that truck is worth. Cody says in DR that he's going to be angry and tear through the house but he'll be bummed for 1 night. Great. More anger from Cody.
At the Veto Meeting, Mark uses the POV on himself. Mark's speech is cheesy; he says, "This meatball nominated me but I'm more of a cannoli kind of a guy." Huh? Josh names Raven the replacement nominee after she awkwardly volunteered. I will say, I'm officially confused. On the feeds, people have referred to Jessica and Elena's veto speeches, but they were edited out of the episode. Damn it. I want to know what they said.
Jessica teases that she's going to cause a little drama and flip the house upside down before she leaves. (Maybe she should have that conversation with the HOH before burning her game down to the ground.) We'll see if she does the mature tonight. Doubful.
GET THE FLASHBACK TIMES HERE
Before you go… please comment below and let us know what you think!  Who do you think will win? Are you excited for this season? Let me know!
AND DON'T FORGET… we are doing YouNow shows all season when the feeds go down so make sure you BECOME A FAN there!  We will of course be doing recap shows and interviews too!  Whenever something goes down on the feeds we will get oepisodes, we will also be live tweeting during them!   Still want more?  Then become a Patreon for EXCLUSIVE content, giveaways, access to reality stars and become a member of the private Patreon group!  But what we're really excited about is our BIG BROTHER SPOILERS PAGE!  It's full of "Cheat Sheets" for you to use to stay on top of all the latest alliances and info!
So in order to help support us in our coverage of Big Brother this season please consider: Getting the live feeds from us here or becoming a Patreon, making a PayPal donation.  Of course we get it, money can be tight… so if you'd like to help us for free then be sure to subscribe to our shows in YouTube, iTunes, YouNow, and thumbs up and give us a nice review (we want to win a podcast award this year). Following us on your favorite social media site and sharing our content there is a great way to support us, too! We can't thank you enough for enjoying our shows these last 8 years, hopefully with your support we can continue to do them for the rest of the year.  You could also see what specific help we need by checking out our HELP US page HERE!  We can't thank you enough for all your support!  We love you all!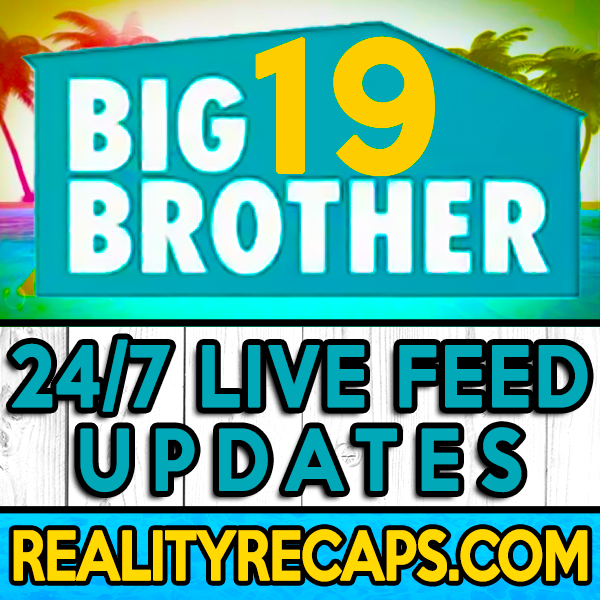 We also have a BRAND NEW TWITTER ACCOUNT which we will be using solely for our Live Feed updates.  It's a great way for you to find out what is going down as it happens 24/7 on the live feeds!  We wanted to keep it separate from our MAIN TWITTER ACCOUNT which covers all our shows because we love you and don't want to fill up your timelines!  Plus we will be posting news, gossip and spoilers there about BB19 exclusively too and we don't like to spoil on our main twitter account.  Now while twitter is a great way to get your 140 character live feed updates sometimes you just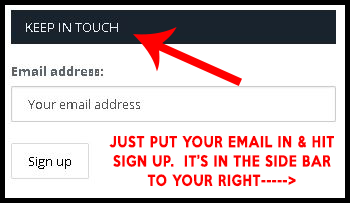 need more details, which is why we suggest you also join our newsletter!  This way you can get info like the exact cameras and flashback times for the updates we are giving you!  Plus, you can also get special prizes and all the latest info by subscribing to our monthly newsletter (WE WON'T SPAM YOU).  Thank you for all the support!