For the live Veto and Eviction, we see a recap of Ross' HOH, noting the formation of the backdoor-Shannon-plan if any members of the alliance of Ross, Brandi, Marissa and Ari or if Keisha or Omorosa win veto and pull themselves off the block, Shannon will be replacement nominee. Julie tells us this is the fastest pace game in BB history and wonders who will be on the block after the live veto competition is played. Julie gives a fake cough, mocking Omorosa's ridiculous DR cough after returning to the BB house from the hospital. In DR, Shannon says that she knows that Omorosa's asthma attack was real, but she thinks that Omorosa is playing it up for sympathy and as strategy. You think? The viewers and apparently Julie Chen concur.
After nominations, Ross was expecting the wrath of Omorosa, but he gets none. On feeds, Ross referenced a conversation with Omorosa after the fiery nomination ceremony; she told him she was making good TV. She tells Ross that going to the ER gave her perspective beyond the game. Ross says in DR that he's not buying the whole "improved Omorosa" scam.
Meanwhile, Ari and Brandi say that what they are doing makes no sense because Shannon needs to go. Brandi says in DR that Miss Coconut Oil head is going crazy and is overplaying the game. Omorosa has no strength and by making this move, they're making James and Shannon stronger. They want to backdoor Shannon. Brandi brings up the idea of backdooring Shannon or James with Ross. Since Ross and Marissa already joked about the same thing, he thinks he can rally the votes to make it happen. Ross fears that he must backdoor Shannon or he'll be the one talking to Julie next eviction. He discusses it more seriously with Marissa, and she agrees that they should try and send Shannon out next.
Omorosa was a villain in all the reality shows she's done previously, but now she's talking about the White House and the producers are lapping it up like a thirsty dog on a Summer day. Ross wonders if she is breaking news. (She is!) She talks about DACA and how aggressively Trump is coming after Dreamers. She says that she's seen the plans, and that the raids are going to get more aggressive. She explains that under Obama, all these kids signed up under DACA, and now Trump is using it as a tool to raid their homes for undocumented family members. Mark wonders if all that she is saying is true or if it's for the game. She goes onto say that as bad as Trump is, Pence is much worse. She says that Pence says things that he believes Jesus tells him to say. She says it's scary. The other houseguests are shocked and want Omorosa to tell them it's going to be okay. She says it's not. Wild guess—Trump wishes they'd had her sign a NDA before she was escorted out by security. I don't like politics mixing in with my BB; it was supposed to be an escape from all the crazy news coming out of Washington. Instead, BB is making political news. This is why Omorosa was added to the cast—great PR for the show. For Omorosa, she gets to make digs at her former employer on national TV for our entertainment pleasure and try to rehab her image. (The latter is not working!)
Ross talks to Mark about the possibility of getting Shannon out because they're all playing her game. Mark agrees to vote out Shannon if Ross backdoors her. Mark says he's going to talk to James about it, and Ross and Marissa tell him that he can't. Mark tipped his hand that he and James are working together, though. Did Ross and Marissa catch that?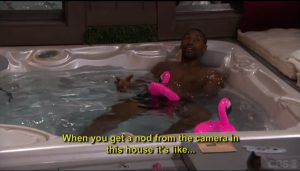 Metta shows his crazy side again in the hot tub. He's excited that he can get the camera to nod. He asks if the camera wants to see the ducks fight. The camera nods, and Matta makes them fight until 1 of them wins. (BTW, Metta those are swans.) He's a silly house guest and has grown on me, despite trying to leave twice. Meanwhile, as Ross, Brandi, Ari and Marissa are discussing backdooring her, Shannon comes to the HOH door. They all ignore her knocking, pretend they're sleeping and she goes away.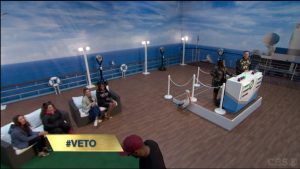 The live "Now You Sea It" Veto Competition is held; it's a questions competition with elimination in each round. They are asked questions about Big Brother Celebrity Cruise posters. Players are: Ross, Keisha, Omorosa, Brandi, Shannon and Marissa.
Here are the rounds:
Ross vs. Keisha: Keisha wins.
Shannon vs. Omorosa: Omorosa wins
Marissa vs. Brandi: Marissa wins
Keisha vs. Omorosa: Omorosa wins
Omorosa vs. Marissa: Marissa wins
We see some serious talk going on in the backyard among Marissa and Keisha with Keisha crying that she'll help them make the move, but she really needs to get home to feed her baby. Omorosa walks over since Brandi and Ross are also there. Marissa is giving Keisha the option of deciding what she does with the veto.
When they come inside for the live Veto Meeting, Marissa chooses not to use the POV. WTF?? Why not use it on Omorosa and still backdoor Shannon? It makes zero sense after all the build up to a major blindside backdoor of arguably the best player in the house. It could've still happened, and you'd get Omorosa back on your side moving forward. SMH!
When it's time for the speeches, Keisha gives a tearful plea to send her home to her child because she isn't producing enough breast milk being away from her. She says it's not about missing her child, it's about her child's health and well-being. She throws Shannon under the bus during her speech, saying that she did Shannon's dirty work when she became HOH, indicating the Omorosa's speech basically says to honor Keisha's wishes and send her home, which makes the live audience laugh because it is totally self-serving. She's the 'evil mean chic' of the season, but she was already that before she entered the BB house.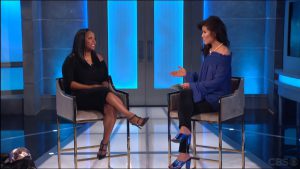 The houseguests grant Keisha's request and vote her out unanimously. When Keisha is speaking with Julie, Julie asks her how old her daughter is. Keisha says that she just turned 1. By that age, children have usually started eating baby food, so Keisha quickly says that her daughter will eat some food, but she prefers breast milk. Was it that or did Keisha want to leave after the girls' alliance fell apart and she found herself out of the loop on the block? I want to give her the benefit of the doubt, but still question it. NOTE TO CBS: Don't cast anyone on BB that is currently breast feeding.
Before you go, please comment below. What do you think of the celebrity's game play this season?
Enjoy Eric's nightly comedic shows on YouNow with Celebrity Big Brother tea served piping hot. Former Big Brother houseguests will join him during the season. Next week, there are 3 guests lined up that you won't want to miss. Make sure to FAN him on YouNow. Follow him on Twitter @RealityRecaps. You can follow me @rebeccakayj.
There is going to be SO MUCH to keep up with this season at a much faster pace!  So make sure you follow us on TWITTER and check our Celebrity Big Brother page daily for updates!  Of course if you wanna watch the action and drama play out live then GET THE FEEDS FROM US.  It's a great way to support us!  Just CLICK HERE to get them now!
AND DON'T FORGET… we are doing YouNow shows all season when the feeds go down so make sure you BECOME A FAN there!  We will of course be doing recap shows and interviews too!  Whenever something goes down on the feeds we will get on social media via YouNow or Twitter to discuss LIVE with you!  We will also have recap blogs after every episode and speaking of episodes we will also be live on YowNow live tweeting during them!   Still want more?  Then become a Patreon for EXCLUSIVE content, giveaways, access to reality stars and become a member of the private Patreon group! 
So in order to help support us in our coverage of Big Brother this season please consider: Getting the live feeds from us here or becoming a Patreon, making a pay pal donation.  Of course we get it, money can be tight… so if you'd like to help us for free then be sure to subscribe to our shows in YouTube, iTunes, YouNow, and thumbs up and give us a nice review (we want to win a podcast award this year). Also following us on your favorite social media site (by clicking the icons in the side bar) and then sharing our content there is also a great way to help as well! We can't thank you enough for enjoying our shows these last 8 years,hopefully with your support we can continue to do them for the rest of the year.  You could also see what specific help we need by checking out our HELP US page HERE!  We can't thank you enough for all your support!  We love you all!