After the failed backdoor of Shannon, we see the hours leading up to Keisha's eviction. On feeds that a.m., as Brandi told her they would save her with the veto and backdoor Shannon, Keisha was on board. After Keisha's eviction, Omarosa thinks that she'll be on the block fighting for her life for every eviction. 2 hours before the eviction, Keisha told the women that she needs to go home because she wasn't producing enough breast milk being away from her child. Ari says in DR that Keisha leaving is going to affect her game and her alliance's game. Keisha lets Omarosa know that they wanted to backdoor Shannon but since she is her baby's food source, she needs to go home.
Brandi is upset that Keisha wants to go home because she needs to feed her kids, too. She says it may not be breast milk, but food is food. In DR, she further rants that if you know you're breast-feeding your child, maybe don't sign up to play the game. She says she's worked her butt off to make this backdoor happen. Brandi tells Ari that if she wins the POV, she's still using it on Keisha. I don't blame Brandi for feeling this way. Keisha dis eff up Brandi's game by leaving the game, but again, Marissa could've used the veto on Omarosa and sent Shannon home. Still baffles my mind! Keisha tells Ross in front of Omarosa that Brandi is mad she wants to go home. In DR, Omarosa says it makes her blood boil that Brandi isn't more understanding about Keisha going home to her daughter. It's not fair to put game above the health and well-being of Keisha's child. Brandi shouldn't berate her. (Bitch, please. This keeps you in the house.) In DR, Metta says that when he wanted to go home to his wife, no one would let him. But they let Keisha go. Now that he's here, he might as well play.
Shannon doesn't remember what Keisha was referring to in her speech (because she's told too many lies) but she'll check in with the alliance to make sure it's alright. She talks to James and Ross. James says he already knows he was the original target and she flipped the vote so it doesn't matter now. Ross is silent during this conversation as James references their final 4 being all that matters to him. Ross says in DR that James and Shannon believe Ross and Marissa are still working with them. Ross says he's going to act like he doesn't know what's going on with them, and he demonstrates his confused face. Now he just has to make sure that Shannon doesn't know about the backdoor plan until she leaves.
Ross is dressed as a sea captain for hosting the HOH comp. On the feeds, he says that his character is a straight man named Captain Pervy. He's freaking hysterical. I wish it made the episode. They play a game of mini-golf in which they must make a hole in 1 on each of 3 holes while huge 'super-fans' are blowing at them. In the DR, Omarosa says that she was out of the loop last week, but this week she's in the loop and knows that Shannon is the target. Shannon says that her or someone from her alliance needs to win HOH so they can get Omarosa out because Omarosa is the only threat to her game. (Little does she know!) Ari says that either her, Brandi, Marissa or even Omarosa must win to get Shannon out. Here are the individual times:
Brandi: 5:56
Shannon 3:04
Omarosa eliminated
Marissa eliminated
Ari 2:18
Metta eliminated
Mark eliminated (says he doesn't need to win. He's going with a non-threat strategy.)
James eliminated by 1/10th of a second (Shannon told him not to throw it and a strategy for hitting the 3rd hole.)
Ari wins HOH! In DR, Shannon says that she feels safe and Ari is the perfect person to win HOH. Omorosa says that she feels safe for this eviction because the plan is to backdoor Shannon. Brandi says since Ari is in power, she's in power, and she can't wait to get rid of the ice queen. We see Ari, Brandi and Omarosa celebrating in the green bedroom. Omarosa says that last week, they were gunning for her and this week, she's celebrating with the HOH.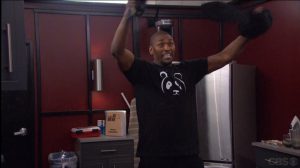 James is trying to think of who the second nom should be. He wants Metta and Omarosa nominated. Meanwhile, Metta does his own victory dance in the storage room because he's excited that Ari won HOH, and they can get rid of Shannon or James. He wants to get rid of every person that wouldn't let him go home the first week. In DR, Metta says they wanted to drag him along like a toy on a string, but now this toy is alive. They've unleashed Metta World Beast. It's time to divide and conquer. He talks to Brandi and Ari, who tell him to keep playing the wild and crazy card. In DR, he says that he's a natural born champion who'll make each person sorry they didn't send him out week 1. Metta advises Ari that they need to put up James and Shannon together. Ari agrees. Metta has become a fifth member of the Ari, Brandi, Marissa and Ross alliance.
Everyone asks Omarosa what it was like working in the White House. She describes it as a museum. Asked what the residence is like, Omarosa says Trump did a total renovation, but because it's a museum, changes to the structure aren't allowed. She says it's hard to go from Trump Tower to the White House. She says that Trump stays there, implying alone. Omarosa says that Melania is great, speaks 7 languages and is very sharp. She says it was hard the first month to go from calling him Donald to President. She slipped a couple of times, but you learn quickly when men with guns are around.
It's noted on screen that a game changing vote is coming to via CBS.com/bigbrobot
Marissa and Ross push to backdoor Shannon. Ari is set on putting up James and Shannon so they definitely get 1 of them out and the HOH isn't wasted. They say that everyone is going to try to come in between them, but nothing can break up the 4 of them. (Until someone outside of their alliance wins power.)
Ari doesn't want to be alone so Shannon can manipulate her because her mind is made up. Brandi says that as long as Omarosa or Metta is around, James and Shannon can't talk game with her. Omarosa plants herself in the HOH room, and if she leaves, then Metta comes in. Metta says in DR that he is using his professional blocking talents from the NBA to keep Shannon away from Ari. Shannon says she can't talk to Ari about nominating Metta because he won't leave the HOH room.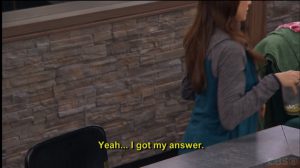 Shannon and James are talking. She tells him that she woke up feeling like they are turning on them. In DR, Shannon says she knows what it means when people won't look you in the eye. She says Omarosa is hanging out with them, laughing. After sitting at the kitchen counter for 2 minutes, while people are busy washing dishes and cooking. She storms off saying: "Yep. I got my answer. I'm done." Mark and James say she shouldn't do that; it's not in the spirit of the game. Shannon gets in her bed, saying she's so ready to go home. James commiserates with Shannon, telling her they've both been targets from Day 1. Shannon is crying, saying that she has no friends in there and it's frustrating. He tells her there's lots of game left and she's damn good at it. (Except for the part where she overplayed, made herself a huge target and is now blanketing a la Audrey!)
At the nomination ceremony, before it even starts, Shannon comes to the table in sunglasses looking pissed. Brandi asks if she's okay. She says that she never got a chance to talk, never turned on anyone, she's not lying to anyone. (Hello? Remember flipping the vote on Keisha and Omorosa?) Brandi tells her that it's very obvious that she's aligned with James. Shannon says they aligned as a group of 7. Brandi says it seems like 2 people off on their own. Shannon claims she doesn't have an alliance with James or with her (indicating Omarosa).  Shannon says she told them everything about what "she and I" had. Shannon doesn't say Omarosa's name even though she's sitting right there. Shannon says she is lying about something she didn't say when she hasn't talked game with her since she got back from the hospital. Omarosa finally speaks up "since this is a come to Jesus meeting". She asks Shannon if she campaigned against her and if she went to Keisha to talk about her while she was in the hospital. Shannon says she told Keisha the truth about what Omarosa was saying. Then she contradicts herself, saying that she was staying true to what they had. BOOM—Shannon just blew her own game up. Ari nominates James and Shannon. She tells them they're the biggest competitors in the house. It's not personal and this is her decision.
James is disappointed in Ari and thinks that she's following Brandi's lead. Mr. Ego says, "What happened last time someone put me on the block? They went home next." (By choice. To breast feed. Idiot.) I hate how arrogant James is—such a douchebag. Shannon says the house has been against her from the beginning and she doesn't have any fight left in her. Omarosa says that Shannon has been scheming, lying, and trying to blow up her game—revenge is best served cold. The women and Ross are seen going to comfort Shannon after nominations.
Before you go, please comment below. What do you think of the celebrity's game play this season?
Enjoy Eric's nightly comedic shows on YouNow with Celebrity Big Brother tea served piping hot. Former Big Brother houseguests will join him during the season. Next week, there are 3 guests lined up that you won't want to miss. Make sure to FAN him on YouNow. Follow him on Twitter @RealityRecaps. You can follow me @rebeccakayj.
There is going to be SO MUCH to keep up with this season at a much faster pace!  So make sure you follow us on TWITTER and check our Celebrity Big Brother page daily for updates!  Of course if you wanna watch the action and drama play out live then GET THE FEEDS FROM US.  It's a great way to support us!  Just CLICK HERE to get them now!
AND DON'T FORGET… we are doing YouNow shows all season when the feeds go down so make sure you BECOME A FAN there!  We will of course be doing recap shows and interviews too!  Whenever something goes down on the feeds we will get on social media via YouNow or Twitter to discuss LIVE with you!  We will also have recap blogs after every episode and speaking of episodes we will also be live on YowNow live tweeting during them!   Still want more?  Then become a Patreon for EXCLUSIVE content, giveaways, access to reality stars and become a member of the private Patreon group! 
So in order to help support us in our coverage of Big Brother this season please consider: Getting the live feeds from us here or becoming a Patreon, making a pay pal donation.  Of course we get it, money can be tight… so if you'd like to help us for free then be sure to subscribe to our shows in YouTube, iTunes, YouNow, and thumbs up and give us a nice review (we want to win a podcast award this year). Also following us on your favorite social media site (by clicking the icons in the side bar) and then sharing our content there is also a great way to help as well! We can't thank you enough for enjoying our shows these last 8 years,hopefully with your support we can continue to do them for the rest of the year.  You could also see what specific help we need by checking out our HELP US page HERE!  We can't thank you enough for all your support!  We love you all!