We are starting off the 10th leg of the race leaving Delhi, India. Everyone is now in do or die mode and the racers have left the building. Sean and Brent show up at the airport  and everyone looks mildly irritated that they are still there. Teams are flying to Penticton, British Columbia where they need to take a taxi to D'Angelo Estates Winery to find their clue in the waiting trucks. Once they find the trucks they need to get them out of a maze by moving the trucks in front of it either front or back. It's basically a huge game of Chinese Puzzle. Matt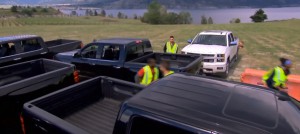 and Nick are the first there and first out needing only 4 moves to free themselves. The other teams all end up there together so every time they move a truck out of their way they are actually putting it into someone elses way. It forces the teams to play a little nasty with hear other. Brent and Sean make it out second which is good because they need to make up as much time as they can to do their speed bump. Gino and Jesse leave third followed by Simi and Ope. Needing 27 moves Dujean and Leilani are last to leave the winery.
Their clue tells them they are going to Summerland Waterfront Resort where their Roadblock Who Wants To Get Wet? Lots of water on this race this year. Nick takes this roadblock and the ones to decided need to go wakeboarding and complete a 2 part obstacle course that has a slide and a jump. Nick uses his lead to learn how to stand but it doesn't work so well. He's having a hard time. Brent and Sean show up and
Sean decides to do this roadblock, soon after Gino and Jesse arrive. Jesse does a  but learns how to do it easily and is first to leave the roadblock. Simi is doing this challenge since her dad can't swim and so is Leilani. Sean completes the challenge second leaving the three teams to duke it out. Feeling the pressure Nick finally is up and stays up on his board leaving the challenge third.Matt calling him as graceful as a pig had a fun time in the boat with the instructor. Simi gets out fourth leaving Leilani to struggle. She takes a nasty hit on the slide and cuts open her leg. Shes chooses to continue on and does finish the challenge but she's pretty weak.
Teams are driving themselves to Covert Farms now for the Detour. Teams need to choose between Brains and Brawn. In Brains – they need to find 3 bottles of wine in the vineyard using co-ordinates and posts, then tests their knowledge of trajectory with a potato launcher and lastly stack 10 pallets. In Brawn – they need to load ten 65lb onion sacks onto a truck. Flip a tractor tire 100m and put is on a rack then cross monkey bars over a pile of manure. One falls down, both need to start over again! Once done which ever detour they choose they must complete a Freak n Farmer Mud Run. At the end of the detour is the dreaded Double U-Turn! First of arrive Gino and Jesse of course choose Brawn. They fly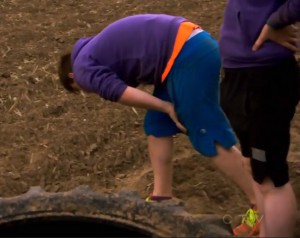 through the sacks of onions but have a tiny bit of trouble with tire but cross the monkey bars with no problems. They choose to increase their lead and rivalry with Nick and Matt by U-turning them. It's a race to the detour between the wrestlers and Brent and Sean. Sean makes Brent pull over on the way so he can pee because he swallowed so much water doing the Roadblock. Brent is irritated but Matt and Nick get their chance to over take them. They arrive first and choose Brawn. Brent and Sean have to complete a speed bump before they can get their clue. The boys need to bottle, cork and label 12 bottles of Covert Farms wine. Right up their alley since they LOVE wine. They finish that with little problems and choose to do BRAWN!!! Really Sean. I'm shocked since he throws up at any physical exertion but OK. Nick struggles a bit with this detour. He's dog tired from the road block and this challenge need a lot of arms strength but they get it done to find out they are U-turned. No problem, Dujean and Leilani are behind them so they U-turn them to ensure they won't come in last. I'm not surprised that poor Sean is barfing his guts up on the tire flip, but I will give these boys a ton of credit. They have face EVERY physical challenge and completed it I don't think I could! Nick and Matt are sailing through Brains and even
have to do the mud run twice. Simi and Ope show up and even they pick Brawn. They muddle through it til the monkey bars. Simi has no strength left and after some falls decided to climb to the top and traverse it. There was no rule against it so good job girl, way to use your brains. Like Ope so eloquently said this leg, nothing good comes easy without sweat. Leilani and Dujean also choose brawn after bickering the whole ride there about how Dujean thinks he could have done the roadblock better.  With her injury I totally don't get this choice but then with the U-turn it doens't really matter.  The two continue fighting throughout this challenge. Leilani has no strength left in her and Dujean isn't being very sympathetic. After struggling through at the monkey bars, some more fighting and many falls in the manure a decision needs to be made. Penalty or switch. First she wants to switch, but she's so mad at Dujean she is fine we are taking a penalty. They find out they are U-turned and decide to just move on without completing it. Leilani has ultimately given up on the race. You never like to see anyone so defeated. Racing with an ex has proven to be more difficult than she thought.
After completing the detour they must drive themselves to Osoyoos Desert Model Railroad. There they
need to search 4000 sqft of model railroad for mini Jon Montgomery hidden within 1800 mini people once they find him they need a magnifying glass to read their next destination. Tired and frustrated Gino starts to melt down but after a hug and some understanding from his brother he's OK and manages to find mini Jon. Sean and Brent show up and are in awe of the railroad and try to be logical about this. Where would Jon be? He's an Olympian…a skater right? No boys. He did the Skeleton but nice try to they do manage to find him passing Nick and Matt on their way in. Nick and Matt don't have much trouble finding Jon but poor Simi does. She is beyond exhausted and keeps banging her head on the glass partition. Finally they find mini Jon too.
Big Jon is waiting for them at Nk'Mip Desert Cultural Centre at the 10th pit stop of the Amazing Race Canada. Gino and Jesse arrive first winning their fourth leg of Amazing Race Canada. These two may be replacing Zach Olyenik from BBCAN3 as Captains Canada. They have won a trip to Tokyo and 2 years of free gas. If you haven't been keeping track, that is  trips and 4.5 years of free gas. Even if they don't win the race they have still managed to clean up pretty good here. Brent and Sean and Nick and Matt are in a foot
race for 2nd place. The Brothers manage to outrun them and come in second and Nick and Matt sit in very familiar third place. Simi and Ope have a solid fourth place finish. Leilani and Dujean arrive last to the mat. Without even having to go to the Railroad they were so behind the other teams. They have been eliminated from the Amazing Race. Unfortunately when asked if they will be friends these two will be  going their separate ways for a while at least.
So our final four are brothers teams Gino and Jesse, Brent and Sean, wrestlers Nick and Matt and father daughter teams Simi and Ope. Simi is the last girl standing on this race and Nick and Matt are the only team no related! Who do you think will come out on top. We head into our second last leg of the race going to Edmonton! Comment below and let me now what you thought of this leg and the choices of Brawn of Brain that these teams made!