It's the night we've all been waiting for. Who does Chris choose to be his wife. The perky fertility nurse from Chicago or the funny virgin from San Diego? Both girls have captures his heart and he his torn. I have always said that the order in which things happen mean something. Normally he presents the girl he likes best first so the other has to live up to that and the one he chooses usually
gets the last date. Does that ring true this episode? First to meet the Soules family is Whitney. She is on her A game today, decked out in country plaid bearing flower and wine she wastes no time fitting in the Chris' family. She tells them that she thought he'd be the perfect guy watching him on Andi's season. Whitney is a student of this show and if you ask me her answers reflect that. The whole time she's there I kept thinking, this is too perfect she's feeding them what they want to hear. At dinner she has them all in tears and sometimes you think she wants to be adopted by the family. She sits with Chris's sisters and tells them that this feels rights, she's ready to be a wife and a mother. In regards to Arlington, she can be a nurse anywhere if that is what she chooses. Whitney has yet to play the dead mother card pulls it out now when she needs it most and tells them that since her mother is gone and she has no father in her life it was important for her to be in a tight-knit family. She has sealed the deal with them. She leaves that conversation feeling like they are pulling for her. Well played Whitney, well-played! Chris sits down with his sisters and they tell him she is unwavering in her love for him, she's all in. Chris comes back with the connection he feels with Becca is hard to find. When having man talk over beers they remind him he came for a wife not a girlfriend. He is defensive when it comes to Becca and that is a red flag. Whitney has a one on one with Mom. Whitney tells her that she knows she loves him, he makes her feel loved. Mom thinks they'd all be lucky if those two go married.  Is Becca at a disadvantage now that Chris' family is so in love with Whitney?
Becca shows up the next day unaware of the impact Whitney has just had on the Soules family. She comes bearing gifts of cookies. Chris really didn't want to have any conversations about Whitney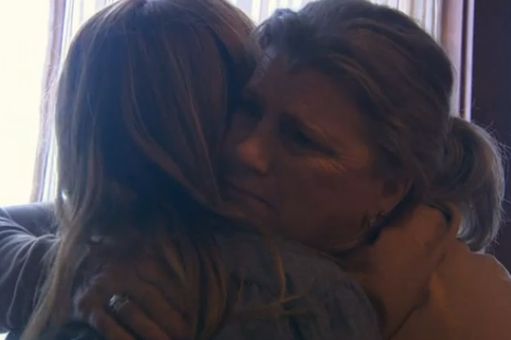 until they met Becca, and his brothers wonder if her coolness and the fact he has to chase her part of her pull. It could be. We know men want what they can't have. Becca is very honest about the fact that she needs to be in love before moving her life. She tells his family how he fit in great with her family. She was shocked at how small Arlington was but could move if the relationship was right. She had the family in stitches laughing as she described Friday nights going to the post office. Forget email and texts. Her family would HAVE to go back to snail mail. For me I'd rather laugh than cry so Becca has my vote. Sitting with the sisters they ask where her head is. She tells them she's falling in love but if she's not in a certain place right now does that mean it has to be over? She tells them honestly the relationship would be long distance until she is sure, and once she is she'd move anywhere. In my opinion that is the most realistic way of thinking about it considering the success rate. His sisters sit with Chris and tell him she's a tough nut to crack and he tells them she's worth the risk. They just want him to push her, ask the questions he needs answers to. Find out what will make him take the leap. Becca sits with him mom, and from the previews I expected disaster, but Chris's mom is such a sweet heart. Becca tells her  how amazing she thinks Chris is and he makes her feel good but she not at the point where she's in love. His mom gets tough and asks if I gave you two days to decided what would you do? She tells her about Bali and how she thought it could be over and she was miserable. Chris' mom is quick to point out that's love. When Becca says she is more concerned with Chris getting hurt, his mom says again….that's love. She's very sweet to Becca and is quick to point out that Becca just doesn't realize how strongly she does love Chris. Becca is overwhelmed and the thought of life without Chris is scary. Chris' dad nails it on the head where Whitney is the sure thing, he's in love with Becca. Does Chris go with what's good on paper or take a chance and follow his heart?
Chris has one last date to make up his mind. Becca gets the first one if you can call it a date. They sit in the hotel and Chris asks her the tough questions he needs answers to. Does he get the answers…..not really. She can't give him a timeline of when she would feel ready to move to Iowa. She doesn't know where she'll be in 5 years. She hates the fact that she's not in love YET but is definitely on her way. While she may not know what she wants in 5 years she knows that right now she wants Chris. She believes in the two of them she just can't move at the fast pace the show requires. Chris asks what would hold her back and we get to the heart of the matter. She needs to figure out what she'd do in Arlington. Her biggest fear is getting there and realizing she doesn't like it. Chris seems relieved that she finally got to the truth. He tells her he'll have her back and they'll figure it out together
Whitney's date was total opposite, he brings her to the farm, its harvest and they drive around in the tractor a bit and then he shows her around his home. The snuggle by the fire and drink wine. Whitney can see this has home, it already feels like that. Later that night Chris really has no questions for her. Whitney's been an open book and laid her feelings out for him. She tells him nothing about Arlington shocked her. Whitney is ready for Chris to put a ring on it, he just needs to make up his mind. To me the difference in the dates alone is pretty much telling of what Chris is going to do but it's not over til one girl is sent crying into a limo.
It's the day of Chris's big decision. Neil Lane takes a trip to Iowa and Chris picks out a ring, the girls are getting themselves all pretty for Chris. Becca is first to arrive at the barn….yes barn….so
now we know the ending. He tells her he had no doubts, he could see her as his wife BUT she isn't ready. It's not fair for either of them to take that leap. There are no tears from Becca, she understands where he's coming from, they hug and he walks her to the limo. She has taken this rejection better than anyone I've ever seen. I guess that is proof he made the right choice. Whitney is next. Nervous but confident she walks up to Chris. Whitney starts off talking and tells him that he has never disappointed her, she knew from the beginning he was the one and she loves him. Chris feels the same way. Their relationship is natural and perfect. Everything is right about it and that is why he wants her for the rest of his life. He tells her he loves her and gets down on one knee and proposes. Of course she says yes. The last order of business is the final rose that she gladly accepts and they sit looking out of the barn window at all the farmland that Whitney will soon be calling home. Did he make the right choice or will he pull a Mesnick and change his mind?  I think he was right to say that Becca wasn't ready and I hope that he and Whitney can make this work and have a wonderful life together.
Now that its been a few months has the rejection set in and is Becca bitter. On After the Final Rose Chris talks to her and yes it's awkward but it's like two friends talking. Obviously Chris made the right choice. Becca is OK. Their honesty with each other allowed them be in this place and Chris tells her that she will find the right person and she'll know she's in love. Enough of that we want Whitney. She bounces out and the two can't keeps their hands off each other. They are so giddy happy. She is the happiest girl in the world and Chris is more confident in his decision than ever before. Smartly Whitney hasn't watched any of the show that she wasn't involved in. She lived it and is confident in her relationship. Chris was honest in his feelings with Becca so she has no questions for Chris either. While she hasn't packed her bags yet, Whitney does plan to move to Arlington in the future. Now we need come comedic relief so cue Jimmy Kimmel who tells Chris bottom line, Becca just wasn't into him. He does have a present for them though, and come back with a giant cow named Juan Pablo. Chris Harrison pets in telling it that it's okay and off he goes.
We also learn that we most likely will be seeing Ashley S on Bachelor in Paradise and we meet our new Bachelorette. Well Bachelorettes! They just couldn't choose so Kaitlyn (YAY) and Britt (UGH) will be at the mansion night one, where 25 guys will decided who will make the better wife. I'll just say I HATE THIS SO MUCH! I have no desire to see Britt on my TV again unless it's Bachelor in Paradise.
Do you agree with Chris' choice? Do you think the decision for two Bachelorettes  was the right one? Comment below and let me know what you thought of this episode! Don't forget to join Michael and I on Tuesday's at 7pm EST on ourROSES page where we break down everything that happened and let you know what we think!  Don't forget we are also covering King of the Nerds, RuPaul's Drag Race, Hell's Kitchen, Survivor, Amazing Race and RHOA, RHOBH and Vanderpump Rules