So much to cover this episode I don't know where to start! We begin in Iowa where Becca actually does get a one on one. Chris must have felt he needed more time with her. They just hang out in his loft and talk. We find out Becca has  been in a relationship on and off for 4 years.  She never really fell in love with that guy or any other for that matter because she simply couldn't see him has her husband. I like these two together but I don't see it working only because of how fast you need to move and that is not Becca's thing. The girls are all waiting for the cocktail party. Jade really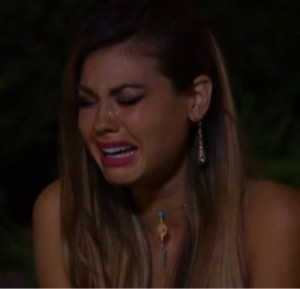 wants to talk to him about her playboy shoot before she brings him home and Britt has a bomb she wants to drop. She wants to leave before the ceremony. Carly doesn't believe her because she changes her mind so much and does so even in the two minutes of this conversation. First there's nothing he can say then she wants to talk to him before she goes. Jade hits the nail on the head, she wants him to beg her to stay. Chris Harrison dashes both their hopes and says there is no cocktail party tonight. Before the first rose is given out Britt interrupts and asks to talk to him. She apologized for her behaviour and when Chris didn't accept it right away and called her on her crap she started blaming Carly. Chris has had enough and tells Britt that they way she behaved is not what he wants in a wife and is sent home before the ceremony begins in a dramatic fake cry fit. Now who goes? Only Kaitlyn is safe and it comes down to Carly and Jade. Carly got sent home. I can really see her being the next Bachelorette. She has a sad love story and she's funny and likeable. I wonder would the outcome had been different if Jade had told him about her modelling that night?
Now it's finally time for hometowns. First up is Becca in Shreveport, LA. After a boat ride in an Alligator filled swamp they go to meet the family. Her family is shocked to see her with a guy in general nevermind holding hands and being affectionate. Chris talked with her sister Katie and she really didn't paint Becca in a great light. Told him that she isn't an intimate person that she doesn't need it or crave it. She just doesn't feel the urge! What a way to talk your sister up to her guy! Mom was much nicer. She has never seen Becca so into a guy before and just warns him not to break her heart. The elephant in the room is Becca's V-card. Katie tells her that she has to tell him. Becca says she will in the fantasy suite. If he respects her decision to wait than great, if not, he's not the one. Normally the date ends here but Chris has one more surprise. He takes her to the fair, which is closed for the night and they have a romantic ferris wheel ride.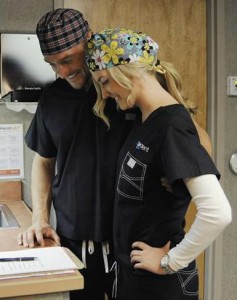 Chris travels to Chicago next to meet Whitney's family. She first brings him to her work and shows him how they make babies. She lightens it up by making him think she wants him to give a "sample" for them to check out his swimmers. Was he ever relieved they were kidding. She then brings him home to meet her sister, her grandmother, her uncle. Whitney was raised by her mother but she passed a few years ago so her sister is feeling a lot of pressure to give her approval. Approval she's not prepared to give until Whitney is the last one standing and she tells Chris that. Whitney plead her case about she wants a proposal at the end of this, their feelings are real and she really wants her sisters approval. At the end of the day though Whitney is an adult and it's her decision. After meeting the family they have some alone time. She presents him with a bottle of wine she bought in Napa that she was saving to drink with her would be husband. No pressure their Chris. Whitney tells Chris she loves him and we have the first L-bomb of the season. All the girls now need to catch up to that!
Now Chris is headed to Phoenix, AZ to meet Kaitlyn and her snow bird family! I am so disappointed we didn't end up in Canada for this. Her family summers in Alberta and winters in Arizona. Before meeting the family though, Kaitlyn brings him to a recording studio to write and record a rap. Payback from the country date I'd say. Kaitlyn is amazing. Chris is the whitest guy on the planet and tries but is terrible. Chris has a ton of people to meet, her parents are divorced and both have partners plus her siblings. I am disappointed we didn't see more of Kaitlyn's family because I think they'd be as fun as Kaitlyn is. We see her talk to mom. She admits to REALLY liking Chris. Her mom just wants to know if her heart is fine. Kaitlyn had a huge heartbreak before and they don't want to see her go down that path again. Kaitlyn has one more surprise in store for Chris, and presents him with a billboard with a KAITLYN <3 CHRIS on it. For closed of Kaitlyn this is a huge show of emotion for her. Is it enough?
Lastly we head over to Gering, Nebraska to meet Jade's family. She is nervous as heck her family will spill the beans to him before she does. Chris gives her a letter jacket from his high school to remember their Iowa date in front of everyone. Talking to her Dad he tells he appreciates her small town values. Her dad warns that Jade has been "too much" for others in the past. Her brother compared her to a wild mustang and Chris is wondering what Jade they are all talking about. Jade's dad tells her that he needs to know about her past because he doesn't want her with someone who doesn't support her through her good and bad. He'll trust her decisions on what she wants. Her father is super sweet. Where most dads would disown a daughter for doing what Jade has done he decided to stand behind her and love her despite of it. Jade talks to Chris after meeting her family in his hotel. She tells him about the modelling and offers to show him pictures. If it makes you feel comfortable he replies. Of course he wants to see you nude, WITH YOUR PERMISSION! Chris is blushing like a teenager but assures her that this revelation won't affect their relationship at all.
They head back to Iowa for the rose ceremony. Everyone is nervous. I honestly thought that this was Kaitlyn's last week with us but in a shocking turn of events Jade is the one sent home. I guess after letting her secret set in, it really was too much for him to handle! We are finally leaving the USA for the fantasy suite dates. A warm, romantic locale is just what the doctor ordered.
Do you think Jade should have revealed her past before now! Did Chris waste time getting to know her when he could have gotten to know another girl (Carly) better? Comment below and let me know what you thought of this episode! Don't forget to join Michael and I on Wednesday at 7pm EST on ourROSES page  this week only (sorry I've been so sick this last week) where we break down everything that happened and let you know what we think!  Don't forget we are also covering King of the Nerds, Celebrity Apprentice and RHOA, RHOBH and Vanderpump Rules