The Bachelor is back for its 19th installment.  Chris is back after Andi broke his heart and is ready to find the love of his life and bring her back to Iowa.  There are a few changes this season. First Chris gets to choose from a record number 30 girls, second he is living a stone throws away from the mansion. I am sure many girls will walk the path to his bedroom. Thirdly he'll meet half the ladies mingle then meet the other half. Just enough time for the first wave to get possessive and crazy. Lastly I have been told that the dates won't be extravagant and the travel will be less because Chris wants things to be more real. Is this really Chris' request or budget cuts from ABC?
The first hour was in my opinion a waste of time. A red carpet event for the Bachelor alumni. Erica Rose was there with her tiara, she will ride the Bachelor fame train til the end of the line! Chris talks to The Bachelor couple Catherine and Sean, we check in with  Andi and Josh and Lacy and Marcus too. The best (and worst) part was his talk with Nikki. Finally we might get the scoop on the hot mess of a relationship she had with Juan Pablo, but no, she came in with tho stick phases.  We are two different people and it was two different lifestyles were her answers to any questions Chris asked.  Boring and disappointing were the words to describe it.
Finally after all the crap we get to the nitty-gritty. Limos start pulling up. In the first limo we get Britt, Whitney, Kelsey, Megan and Ashley I. First out is Britt who gives Chris THE longest hug ever. She almost starts to cry in his arms and he is really liking her. Kelsey gets a second glance as she walks away and Chris says WOW!  Those two are definitely on his radar. Limo two brings us Trina, Reegan, Tara, Amber and Nikki. Reegan (the tissue saleswoman) brings him a fake heart in a cooler and Tara shows up in shorts and flannel shirt to show her country side. Once in the mansion she changes into a black dress sneaks outside and into a Limo to reemerge. It takes Chris a minute to realize it's Tara but I think he likes the country girl in her. Limo three pulls up and inside are Amanda, Jillian, Mackenzie, Ashley S. and Kaitlyn. Before Amanda exits she gives the driver a note for Chris telling him to turn around and close his eyes. She sneaks up from behind and wants to be is secret admirer, playing on the fact that he sent Andi anonymous notes last season. Kaitlyn starts right out of the gate telling him he can plow her field anytime. Chris is shocked and speechless.
We break from Bachelor tradition here as Chris H allows Chris to enter the house and mingle with the first 15.  Kaitlyn breaks the ice with a dirty joke and the girls are shocked. Tara is hitting the whiskey pretty hard so she will fun by the end of the night. Ashley S NEVER blinks. The girl eyes are wide as saucers and it's the creepiest thing ever. Amanda is like a human with googly eyes. These three will bring an interesting evening to us I hope. Britt is the first to sit with Chris one on one. She tells him that she wants him to feel safe with her, that he can talk to her when he's happy, sad, confused angry. The connection is obvious between the two of them and you can tell that he was resisting the urge to kiss her before they got up and rejoined the others. Chris is loving Kelsey's dimples and Whitney and him bond over their common ground of making babies. Her human ones in a fertility clinic and him pig babies on the farm. Chris H comes in with the ever so ominous first impression rose and the first 15 start to panic. They are still wondering if this is all the girls some KNOW more are coming others are unsure. The Chris' finally head outside for more limos.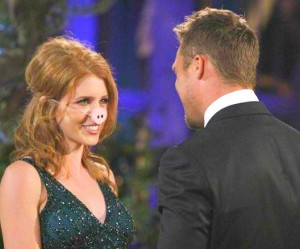 Limo four is filled with Samantha, Michelle, Juelia, and Becca. He was really liking Becca or more Becca in her short dress when Tandra pulls up on a motorcycle which catches Chris' attention. While Chris is meeting these girls the ones inside are preparing to stone wall the new girls while watching the intro's go down through the window. Limo five was the limo of gimmicks and props. Alissa the flight attendant brings a seatbelt and buckles him in because it's going to be a bumpy ride. Jordan brings him some whiskey and they do a shot together and Nicole emerges from the limo with pig nose on her face to make Chris laugh and succeed. The girls inside aren't loving her gimmick. Tara is still in there knocking back whiskey like it's her job. Brittany our WWE diva in training emerges in a dress (and I use that term loosely). There wasn't much dress there and she's carrying a poster that says #SoulesMates a cute play on his last name. Carly comes out looking like a cross between a cake topper and kid off Toddlers and Tiaras carrying a karaoke machine. She sings him a little song (off-key I may add) and all the girls inside thinks she's nuts. I think she caught Chris's attention though. The last limo pulls up and Tracy, Bo,Kimberly, Kara, and Jade are here. Tracy gives him a cute note from a kid in her 4th grade class and now we are of to the crazy races.
With 30 girls Chris is overwhelmed and starts making his rounds. Tara is now trashed, and she's a sloppy drunk. I'm not sure what's going on with Ashley S but she has yet to blink and she is bordering on Clare Crowley crazy. She is going on about how people are like onions and I'm not sure if she's high or drunk or both. While being interviewed she thinks she sees onions (LSD Anyone) and actually goes into the bushes and pulls out a pomegranate. She also plucked a yellow rose off one of the bushes and tries to give it to Brittany as a peace-offering for her interrupting her time with Chris. Brittany doesn't want to let her have Chris but realizes she isn't going to win this match and leaves without the rose. It's typical can I steal him from you stuff with no real drama until the camera cuts to Tara who is just so inebriated. Finally Chris decides to give out his first impression rose. I'm not surprised when he sneaks the rose out to Britt. You can tell these two are really into each other, he gives her the rose and the two share a HOT kiss. I will lay it out here that Britt may be THE ONE. I'll give the girl credit. She was first out of the limo, she has watched him talk and flirt with 29 other girls and never once let the crazy out! Could she be the one! It's not unusual for the first impression winner be the one to take home the bling! I like this girl, didn't think I would when her bio package had her on the corner giving out free hugs but I was wrong.
Finally the rose ceremony begins. Chris is handing out roses left and right. Girls are looking terrified, some are throwing death glares then there's Tara. She has yet to sober up and is stomping her feet, almost passing out, her eyes are rolling back in her head and she goes from hot to cold. You can see her behaviour is distracting Chris and at one point he leaves his post to talk to Chris H. He tells him that he wanted to choose her but this is making him reconsider. Obviously Chris! This girl is the youngest of the bunch and although age is just a number her display tonight shows her maturity. The other girls are pissed that she may get a rose and they will get sent home. Chris is told to follow his gut and sent back out to finish the ceremony. Shocking to everyone there and myself Tara gets a rose and so does Ashley S. Did producers tell him he has to keep the crazy for a few episodes to hook us in? The girls sent home were Nicole,  Brittany, Amanda, Kara, Jillian, Kimberly, Michelle, Bo and Reegan. I would have swapped out Tara with Jillian but Chris will learn from his mistake I'm sure! If you want to see how Chris feels about some of these ladies check him out on Jimmy Kimmel below. It's hilarious!
Did you agree with Chris' choices? From the previews it looks like a lot of drama is coming out way. Don't forget to join  Michael and I every Tuesday at 7pm for our live recap of the episode. Get all our thoughts on all the drama and share your thoughts with us as well. Even if you can't watch live tweet your questions or comment #YRRLive anytime before the show starts and we will be sure to use them on the show.