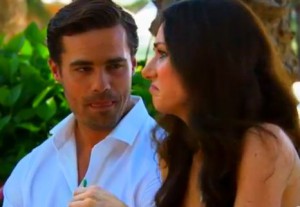 After a crazy week in Cabo Tim is now trying to make true connections in the Bahamas. Tim wastes no time and as the ladies are checking out the amazing suite they are staying in this week there is a date card waiting. Let's Explore Paradise – We'll  Go Our Own Way is the hint that Natalie gets for her date. She is so excited! She is already in love with the guy despite having no time with him and she rushes off to get ready. She meets time in town with a giant hug. His plan for her is to just spend the afternoon walking and talking trying to find some natural connections. His time with her has always felt forced and even in Cabo their one on one time was so awkward the girls could see it  and to Tim it felt more like an interview. They grab some Daiquiri's because a little rum can't hurt to help you relax right? Wrong! This girl is on constant edge, the conversation is awkward and sometimes non-existent. Tim is desperately trying to make conversation and it just isn't working. Back at the suite the girls are talking and Lisa who I was loving last week went total mean girl. She is calling her bat shit crazy and will vomit if she comes back with the rose. I think with Lisa she is a brutally honest person and sometimes forgets that there is sometimes a wrong time and place for that. The girls are sitting there wondering what the heck is going on. April thinks she's a bully, Trisha thinks she has some sort of multiple personality
disorder. I have to say the more I see of Trisha the more I like her. Back on the date Tim is still trying to salvage something and brings her to the beach. Here he reveals that there is no rose on this date. She panics thinking that she is being sent home. He is trying to explain to her that he wants her to stay to explore if they have something and she's not hearing it. I think he thought that her knowing that there wasn't a possibility of her going home at the end of the date might have loosened her up but it backfired on him. She thinks he doesn't like her, nothing he can say can change her mind. She decides to leave on her own. Natalie goes back to the hotel and tells the girls she is leaving. Who do you think was the first to comfort her. Maybe April or perhaps Kaylynn? Nope, it was Lisa. The girls jaws drop. Natalie walked in the house in the middle of Lisa bashing her and she was the first out of her seat hugging her and telling her what a beautiful person she is. Lisa has these girls on high alert. Perhaps Lisa is a little cray herself. Do you think Tim should have told Natalie about the date not having a rose right away? Could that have made a difference in her actions on the date? I think Tim's intentions were good, but I also think that Natalie is not the girl for him so it's best she is gone now.
While Tim was on the worst date in Bachelor history the next date card arrives and reads Don't Be Afraid To Show Me Some Skin. The card is accompanied by bikinis for the girls. Kaylynn, April, Sachelle, Dominique and Lisa are invited to spend the day with Tim.  Rileigh is one pissed of girl, only her and Trisha are left and she realizes that this is probably the dreaded two on one date. The ladies all meet Tim decked out in their new swimwear expecting a photo shoot or something. Come on ladies. He has already done that. There is a boat waiting and Tim tells them they are going to and see some fish and maybe some turtles. Oh Boy! Turtles! The girls act like they are kids and can't wait to see turtles. Well they are on the boat looking for fish when they see the sharks and that is when Tim tells them they are shark diving without a cage. UM HELL NO!  Kaylynn is terrified (Don't blame her totally Team Kaylynn here)  and the girls are all thinking great Kaylynn is attention seeking again. Tim does give her a little reassurance, he helps all the girls in the water. I was shocked to see Kaylynn and April were the last two out with Tim. A few sharks come pretty close to Kaylynn and that is it, she'd done. She gets out leaving Tim in the water with April. Had
it been anyone else no big deal, but Kaylynn, besides you his strongest connection is with April! Silly girl you stay in that water and let the sharks eat you! But Tim and April are left for some one on one time and that strengthens his bond with her even more. After shark diving he takes them to a private island. Right away he pulls Dominique aside. I know what you're thinking, Who's Dominique? First time she's had any real screen time. He told her he pulled her aside because they haven't talked much and he wants to get to know her better and did he ever! Well he got to know her tongue pretty well. These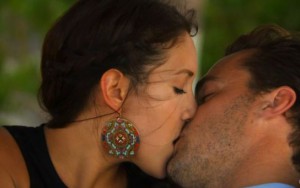 two were making out within minutes and it was hot. I can see why he may want to keep her around. Is this the start of a deeper relationship or will the sparks fizzle? Kaylynn busts them up and back with group Dominique tells them they kissed and all the girls are jealous. Dominique has been the girl they all assume will go home so the fact that he has totally made out with her has them all uneasy Meanwhile, Tim and Kaylynn are making out in the exact same place he just made out with Dominique! Despite her drama Tim is drawn to this girl and I have to say this week Kaylynn has brought her A game. She is calm, cool and confident. That is the Kaylynn I love to see and Tim is digging her still. April busts them up and takes him to the swings. Now Kaylynn is revealing her kiss and all the girls are dumbfounded that he is kissing all these girls. Really??? If he is kissing you, do you really think he's not doing the same with all the other girls? Smarten up ladies!  He didn't come here to shake hands.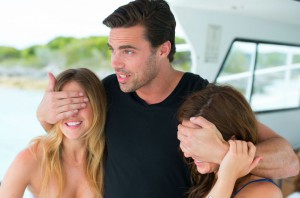 Rileigh and Trisha get their dreaded two on one date card while the other girls are making out with Tim. No one wants the two on one. It just plain sucks. One of you will be going home at the end of the night and you are either fighting for his attention or awkwardly waiting for your turn to talk to him alone. At least on the group dates when he is off with another girl you have 4 or 5 others to keep you company!  The ladies show up for a private boat ride for 3 where Tim is going to take this time to decide who he wants to keep on the date. First he talks to Rileigh. They have a good physical/emotional connection but their conversation never gets really deep. You'd think for a philosophy student deep conversation would be your thing, NO. Then he talks to Trisha. Unlike Rileigh and her seriousness, Trish is just fun and funny to be around. They talked about who they would have brought with them on this trip if they could bring one friend then Trish drops the bomb that she was engaged before. She had been with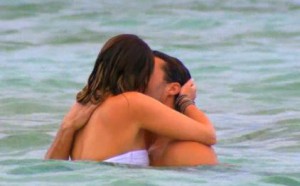 the guy for 8 years and decided she wasn't ready to marry him. OK Let's think about this. You weren't ready to marry a guy you dated for 8 YEARS but are thinking you can find your husband in 8 WEEKS! After their talks Tim brings them on a smaller boat to a sand dune so they can both see the beautiful table set for 2! He then makes each think he's going to pick them and hands his rose to —–TRISHA  YES! Thank God, I did not like Rileigh. Me and my spell check are very grateful. All in front of a very amused Bahamian butler. He then puts Rileigh back on the boat and goes back to Trish where they of course end up making out in the ocean. He is becoming the Canadian version of Juan Pablo but worlds less douchey and he actually speaks to his women. Do you think Tim sent the right lady home?
We go right into the Rose Ceremony where one girl will be going home……..or will they? We know Tim likes to trim the fat  quickly. We are also missing Tyler Harcott the last few weeks. I get confused when I'm not told it's the final rose of the night. Bring Tyler back please! Tim says he is attracted to all the girls here and this is the hardest ceremony yet.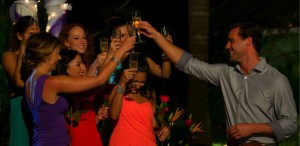 Dominique feels threatened, her relationship being the least solid. Trish has her rose from the two on one and Tim gives roses out to Sachelle, Lisa and April. We are stuck with the awkward pause of who is he going to pick Dominique or Kaylynn? Will this be a blind side and Kaylynn get sent home? Tim then says he needs a minute, looking like he's going to vomit and rushes to the cluster of production standing not far away. I immediately think, he's asking for another rose. Kaylynn out loud asks what the FUCK is he doing? Sure enough, Tim comes back with another rose and says he couldn't let either of them go. Both Kaylynn and Dominque stay! I knew this was going to have to happen at some point in the show, because he sent too many home last week. With Natalie and Rileigh already gone  everyone is safe and sound and they are all going to Toronto! No bikinis this week boys! Don't forget they moved the show to Tuesdays at 8pm from here on out because you aren't going to want to miss a moment of this season!