I can't believe I'm already saying this, but we are at the end of RuPaul's Drag Race season 7! Monday night we will witness the crowning of America's Next Drag Superstar and also the reveal of season 7's Miss Congeniality! In preparation for the grand finale, Logo aired the special "Countdown to the Crown" episode that brings us all the highlights and lowlights from the season, some unaired footage, and commentary from some of our favorite queens from past seasons such as reigning queen Bianca Del Rio, Adore Delano, Jinkx Monsoon, Alaska, Alyssa Edwards, Latrice Royale, Sharon Needles, Raja, Raven and more!
It would be kinda silly for me to recap a recap episode of RuPaul's Drag Race… you should have been reading my recap blogs all season long! 😉 But I'll share some of the top moments from the episode with you anyway, because I'm such a nice guy like that.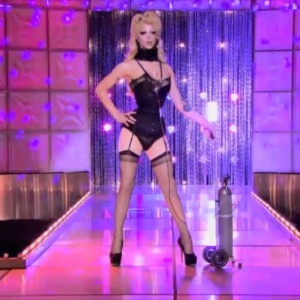 Mean Lean Queens:
#4: Jasmine Masters: ABS EVERYWHERE
#3: Miss Fame: SERVING SLEEK CHIC
#2: Pearl: NO PADS, NO PROBLEM
#1: Violet Chachki: CINCH IT! (seriously, how ridiculous was that waist?!)
Large is Still in Charge:
#3: Kennedy Davenport: IT DO TAKE CURVES!
#2: Ginger Minj: BINGE ON THE MINJ
#1: Jaidynn Diore Fierce: MAY THE FIERCE BE WITH YOU!
Top Hairy Marys:
#5: Katya as drag Abraham Lincoln (should have been #1 in my opinion)
#4: Pearl's red paper mache beard
#3: Kandy Ho's hairy box
#2: Max's "avant garde" beard
#1: Kennedy Davenport as Little Richard in Snatch Game!
Sissy That Talk: Best Catchphrases:
#8: Ginger Minj: "I flood my basement!"
#7: The Chachki Cheer: "Come through!"
#6: Jaidynn Diore Fierce: "No ma'am, no Pam!"
#5: Miss Fame: "I'm a brand!"
#4: The Kennedy Curse: "The struggle is real!"
#3: Jasmine Masters: "No tea, no shade, no pink lemonade"
#2: Pearl: "Flazéda"
#1: RuPaul: "She done already done had herses!"
Top 3 Moments of Truth:
#3: Violet Chachki: "I hate Michelle Visage."
#2: Katya and Miss Fame talk about their sobriety
#1: That uncomfortable staring contest between Pearl and RuPaul
Those were some of the top moments from this season of Drag Race, but what we all really were watching this episode for was the WORLD PREMIERE of RuPaul's "Born Naked" music video featuring our final three queens: Ginger Minj, Violet Chachki and Pearl!
#TEAMGINGER #GlamourToad  
Monday is the grand finale, hunties! Let me know who YOU want to win in the comments below or on Twitter! See y'all soon!
Don't forget to check out all our amazing coverage of all your favorite reality shows! BBCAN3 just wrapped and you can find all of the season's recap videos, blogs, and finale coverage HERE! Big Brother 17 starts in less than a month and we will be covering that from all angles with weekly recap blogs, live feed updates, live shows and more! And of course, don't forget I am covering Hell's Kitchen this season as well. 🙂