Meghan and Hailey are setting up for game night that night. Meghan feels since Vicki's mothers passing and all
the arguing that a fun night playing games should help. But Hailey can't get away from Meghan's trying to parent when Meghan begins to go over some rules of the house. Hailey failed to do her school work recently and Meghan thinks she needs a more steady household. Heather and Terry are hitting the town for a day date to go shopping. Heather is over excited to go clothes shopping since all she has been buying lately is stuff for their new house! Terry is so confused when asking how much stuff was and Heather answers with "like four hundred for a shirt". Terry says that's so expensive but Heather fires back you don't like cheap things. While out walking they stop into a jewelry shop and Meghan happens to call. Meghan tells her she is excited for game night and has it set up like Candy Land. Heather tells her that Terry wont be able to make it cause of work but that ends up working perfectly cause Jim couldn't make it for same reason. They agree to be each other's date.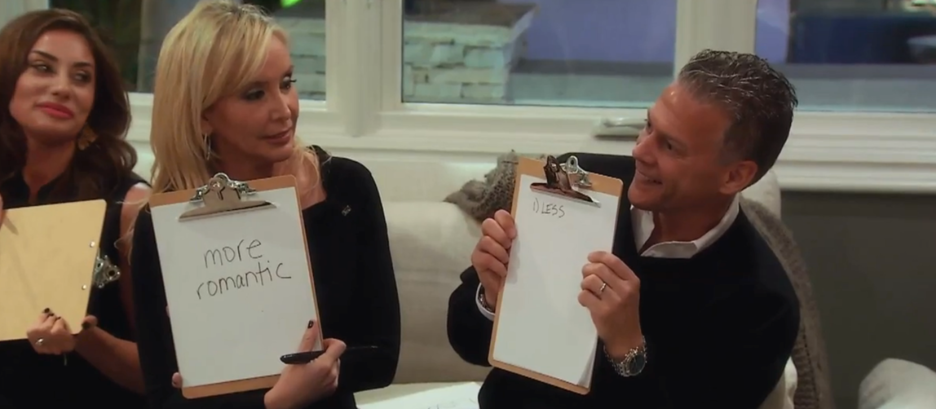 Its game night and Meghan is all ready with her hosts. Lizzie and Christian are the first to arrive and are surprised to find out Jim couldn't make it.  Christian asks where he was cause he was excited to hangout more with him. Meghan tells them how he was supposed to be there but work came up. Lizzie is unsure if she could handle Meghan's situation with Jim always gone. The rest of the ladies all arrive and nobody seems to care that Heather is there without Terry. Shannon pulls Lizzie aside and asks why Jim isn't there. Lizzie explains what Meghan said and it just further confuses Shannon. The couples all sit down and begin to play The Newlywed Game. Everyone seems to be enjoying themselves and laughing. Then there was the question of whether their spouse was more or less romantic a week after marriage. Shannon said more while David said less. This immediately makes Shannon upset and about to cry. David tries to explain how it was from when they first got married not right now but Shannon only sees it as of right now. Game is over and everyone grabs a bite to eat and drink. Heather and Meghan call the ladies over to all sit and talk but Vicki is over it. Ladies say their good-bye's to Vicki and sit down. Meghan expresses how she wants to get Botox done to her forehead and Shannon asks where? It was all over Shannon's face that she was confused. Shannon's reaction causes Meghan to tell her she has judgy eyes and Shannon says sorry just was confused. After this exchange the ladies all head home since they leave in a couple days for Tahiti.
It's Tahiti time and the ladies all begin to arrive to the airport. When Heather arrives in a somewhat see thru shirt it shocks Vicki who begins to scream "Where is Heather Dubrow". Once they all arrive they begin to board for their flight and are very excited. Once they arrive in Tahiti they begin to get their luggage loaded on the bus when Shannon tells Vicki she has been coughing up fluid. Vicki is confused and tells her she can't get sick on day one but your suppose to do that on the last day! They check-in and Shannon tells the girls she is gonna skip drinks to sleep. The group head to the hotel bar for some drinks to celebrate their first night.  Vicki asks outta confusion Meghan and Jim's schedule for living. Meghan politely explains how it's about 50/50 for Jim between OC and St Lewis. Vicki asks why she doesn't go back with him and Meghan explains they she is in OC for Hailey cause she can't live with her mother full time. Vicki continues to make comments and Meghan says she doesn't know how else to tell her anymore that she lives here cause LuAnn is sick.
It's the next morning and everyone is all packed up and ready to head to their next hotel. While on the bus at some point Tamra asks how much further cause she has to go to the bathroom. They finally pull over and Tamra runs to the restroom while the rest of the ladies shop in this Jewelry store. While shopping Tamra asks Heather how much she is allowed to spend before asking Terry and Heather says it's about Ten Thousand. This shocks some of the ladies and they begin to all ask each other. Tamra jokes saying her's is about thousand and that she would still ask Eddie first. Vicki begins to really share her feeling by saying that if you don't work you should always ask. Meghan seemingly defending Shannon says that being a mother is a job and Vicki says "I know but I mean one where you get a check". Shannon seems little hurt by Vicki's statements about non working women and spending. Heather says to Vicki that what she is saying is that She should always ask first and Vicki says yes. You can see by Heather face that she doesn't agree with this statement. Kind of comes off like Vicki is jealous since she is always the one making money in her relationships.
The ladies end shopping with some lunch. The joke of embarrassing stories and Vicki quickly goes after Meghan again. Asks her is she has ever worked and Meghan tells them of her last job. Vicki can't believe she would quit her job once she met Jim but Meghan explains how it just wasn't working for their relationship. Then again Vicki asks why she doesn't always go back with Jim and you can see on Meghan's face she is getting annoyed. Meghan explains again to her about her situation with living. Vicki better watch out cause Meghan is not one to back down!
Also don't forget to check out our BRAVO page where you will find all the latest recaps on RHOC and Jon's weekly recap of All things Bravo with Princess Glammy. We are also covering Big Brother 17 Amazing Race Canada and King of the Nerds UK. Eric is also reading you the blogs of all cast from RHOC and interjecting his hilarious take on what happened during the shows. You won't miss a thing Bravo related here at  Your Reality Recaps.