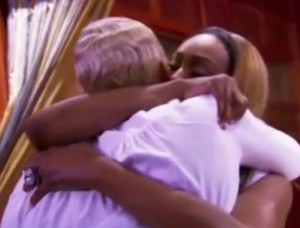 This episodes picks up where we left off, in the middle of NeNe and Cynthia fighting. All the ladies step out and the two of them have a moment to themselves. Cynthia tells NeNe that she is having a hard time getting over the hurt of her calling Peter at bitch last season. NeNe thinks if she was such a true friend she would have had a conversation about it much sooner than this, and not in front of a bunch of women. Cynthia feels a respect line was crossed and NeNe apologizes for making Cynthia feel like she couldn't talk to her. For NeNe to be shedding the amount of tears she is shedding you have to know there is a genuine emotion there. Meanwhile the ladies decide to go home and let the girls talk as long as the need to. NeNe and Cynthia agree they the just both want to move on, and they both hug it out at the restaurant. In the confessionals Cynthia (after months of saying she'll never let NeNe back into her life) admits to missing her and is looking forward to rekindling the friendship. NeNe being very cryptic says she has a hard time letting in people who have wronged her, and won't make the same mistake again. Is that code for making up was all a front? Time will tell!
Phaedra meets with a client Celebrity stylist Derek J. He is being sued by a client who is claiming that he switched her good weave out with a cheaper weave. Phaedra is going to take his case. She goes to the salon to check it out, and discredit what the woman says. Derek gives her a walk through of what happens when someone gets their hair did.
NeNe talks to Greg about the dinner the night before. She tells him she doesn't think she'll ever be best buddies with her again.  Peter thinks she needs to get to the bottom of her feelings but NeNe is not ready to really sit down and examine everything with Cynthia. Over at the Bailey house Cynthia is talking to Peter. She tells him she thinks she made up with NeNe. Peter is less than please about the events of the night. He can't believe she is letting NeNe off the hook. They have been so happy in the last 6 months, he doesn't want to go back to the way things were.
Kandi goes to New York City to visit Todd at work. They are trying to settle all the mamma drama that's been going on, but first he's going to show Kandi the "hood" he grew up in. Cynthia arrives in New York for Fashion week as well. She has got the honor of closing the Kithe Brewster show. Which is a huge deal! Kithe tells her that her ass is getting a little Kim Kardashian like, and she's not too impressed. She walks for him too and he tells her she needs to speed up a bit. Modelling has changed since she last modeled so Cynthia has some learning to do. Kandi and Todd meet up with Cynthia and Peter to have a good time before the stress of next day. Todd doesn't hold back and tells how he really feels about Mama Joyce being rude, and Kandi is not happy.
Kenya and Claudia lighten the mood of the show by attending a cooking class and then Kenya shows up in NYC to support Cynthia in her fashion show. Kandi and Todd shelf their mom issues to go watch as well. After the calmness of the fashion show they go to meet up with Sharon, Todd's mom. Todd wants his mom to move to Atlanta but she won't because of Mama Joyce, and she wants Kandi to own that she didn't tell Todd about her mom calling Sharon a prostitute. Kandi and Sharon aren't getting along very well either. Kandi needs to wake up and stop letting her mother get away with way to much. She says she can't make her mom apologize so she's not going to try. Sharon says that if she sees Joyce she will confront her and probably punch her in the mouth. Not sure if it was Sharon talking or the margaritas but she's threatening to sue her now.
Do you think NeNe and Cynthia are ever going to be the best friends they used to be? Will Sharon and Joyce every bury that hatchet or will this take a toll on Kandi and Todd's marriage. Comment below and let me know what you think. Don't forget to check out all our written blogs on RHOBH and Vanderpump Rules as well as Jon's audio blogs  on our BRAVO PAGE.