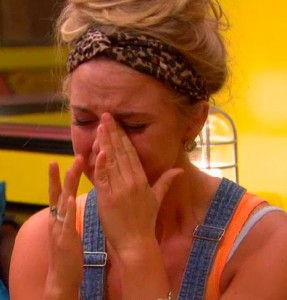 Christine has put Nicole on the block as a replacement nominee and has drawn the line in the sand by siding with the Detonators. Nicole is NOT a happy camper but tries to smooth it over by telling Nicole that Zach pressured her into doing it. She tells her that if she didn't they would definitely come after her next week. Does Nicole buy what Christine is selling, not really but she makes Christine think she does. Nicole doesn't roll over and die just yet she has a little bit of fight left in her and tells Derrick, Cody and Christine that they are Donny's targets. It must be difficult to have to campaign against one of the most genuinely nice guys on the planet. Brittany tried and lost, will Nicole have better luck? Donny doesn't understand why everyone is so afraid of little ole him and Zach tells him they all Fear the Beard. After trying to get everyone to keep her in the house she does one last-ditch effort with Christine, pointing out that  she could be an asset to her where Donny can't. Christine does see the logic in this argument. Would it be better for Christine's game to keep Nicole over Donny? I don't think so. Nicole is a great actor but I know she'd go after Christine the minute she could. She is already trying to get everyone to turn against her by telling Victoria that she has an inappropriate relationship with Cody. I just hope that Christine's decision to side with the Detonators doesn't come back to bite her. As much as I love Christine I think she is fighting a losing battle either way. Do you think she made the right decision to stick with The Detonators plan?
For winning the BOTB competition Caleb, Frankie and Christine were rewarded with a trip to an NFL training camp. It's football and I don't really care about it but I guess after being locked in a house for 50 days I'd be all in for  a football outing. They are off to meet some players, get some swag and meet Jerry Jones the owner of the Dallas Cowboys. The funniest part was when Jerry Jones looked Frankie up and down and was like well we have some work to do to get you looking football-y! Prime time for the rest of the house to scheme and plot about getting rid of Frankie, or Caleb or Christine next but no….what do the most exciting cast in Big Brother history do all day? SLEEP! No lie for those of you with no feeds. They literally slept ALL DAY LONG! With the exception of Donny of course. I am sure as he wandered the house he was just thankful for some peace and quiet. They come back and tell everyone their stories. Caleb things people recognized him, I am sure Frankie is beside himself  with sadness no one recognized him and Christine was just irritated with Frankie all day long.
It's time for vote but not before Julie has her usual talk with the house guests which I never write about but this one was funny. Thank God for Victoria is all I have to say. Julie asks her what the most shocking things this week was expecting her to answer Frankie's big Ariana Grande reveal, but no, Victoria goes on about how she was surprised at how emotional she got this week. She doesn't even notice the smirks and dumbfounded looks on everyone's faces. A little bit of Frankie's soul died just then as the spotlight could not be turned on him. Thank you Victoria for not falling into the Ariana Grande promotion machine. In a shocking unanimous vote, Nicole was voted out of the Big Brother house to join Hayden and Jocasta in Jury. She goes out to talk to Julie and tells us she doesn't know what her relationship with Hayden will be and that her experience was all she hoped and dreamed it would be. Don't worry Nicole fans she has a second shot at the $500000 next week, and my bet is actually on her that she'll win it. Hopefully in the next week she can learn to talk without whining.
It's time for the HOH competition. We find out that it's still a dual HOH. I am so ready for this to be over. I think it should have been over weeks ago. What they intended this twist to be didn't pan out let's just call it a day and kill the twist. On the bright side this is the last  one and we go back to real Big Brother next week. My hope is for Donny and Victoria to win that way 4 Detonators have to go up, and finally we can change the game up a bit. The night before Big Brother kept everyone  awake scaring the crap out of them Big Brother Canada style by putting scary images  in the mirrors.  I must say it was pretty funny watching Cody almost wet himself a few times as he holds on to Frankie for dear life.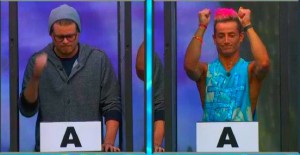 After the ordeal they had a Zombie Outbreak News Alert.  Anyone who watches Big Brother knows if  they are showing you things or giving you information a competition based on it is coming. Tonight we play Dead of Household. Everyone is asked a series of questions based on the news alert Big Brother gave them. The answers to the questions are either A 0r B. Caleb it out question one. My dreams for this weeks HOH went down the toilet when both Donny and Victoria were eliminated question 3.  Zach is out question 4 and it comes down to an all Detonator HOH regardless of who wins. Although we know that whoever wins HOH Derrick is really the true HOH right?  Cody is out and DERRICK AND FRANKIE ARE OUR NEW HOH'S. This is Derrick's second win and Frankie's fourth. I fully expect to see Donny on the block this week, the only question is does Derrick allow Victoria to go up as a pawn and which Detonators go up on the block? Who would you like to see  on the block this week and ultimately go home?
Tonight Jon and I fill you in on all the drama that has happened since Nicole was evicted. If you want to see for yourself the drama that went down then you have to check out all the action on the feeds or use our spoiler section to fill you in. If you don't have the feeds yet there is still time to buy them through us and we provide you with all the Flash back times. Check out all our spoiler pages that can keep you up to date on everything going on in the house! Just click on any of  the links below and you will instantly be put in the loop.  AND REMEMBER IF YOU LOVE BIG BROTHER & HAVEN'T HEARD EVERYTHING WE ARE DOING THIS SEASON YOU MUST CLICK HERE BECAUSE YOU WONT BELIEVE IT!  YOU CAN ALSO CHECK OUT ALL OUR PRESEASON BB16 CONTENT HERE & IF YOU HAVEN'T GOTTEN YOUR LIVE FEEDS YET PURCHASING THEM THROUGH OUR WEBSITE (CLICK ANY BANNER) WE'D BE GRATEFUL!  YOU CAN ALSO SUPPORT ALL OUR CONTENT FOR VIA PAY PAL, PATREON AND EVEN FOR FREE HERE!

We also have a BRAND NEW TWITTER ACCOUNT which we will be using solely for our Live Feed updates.  It's a great way for you to find out what is going down as it happens 24/7 on the live feeds!  We wanted to keep it separate from our MAIN TWITTER ACCOUNT which covers all our shows because we love you and don't want to fill up your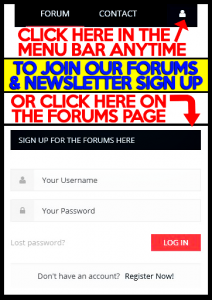 timelines!  Plus we will be posting news, gossip and spoilers there about BB16 exclusively too and we don't like to spoil on our main twitter account.  Now while twitter is a great way to get your 140 character live feed updates sometimes you just need more details!  Which is why we suggest you also join our forums!  This way you can get info like the exact cameras and flashback times for the updates we are giving you, plus interact with other fans!  You can also get special prizes and all the latest info by subscribing to our monthly newsletter (WE WONT SPAM YOU) when you sign up for our forums.  Its easy and free (just two simple steps) by clicking the little man all the way on the right of the menu bar (or in the sidebar on our forums page).  Just make sure you click to subscribe to newsletter when signing up for the forums!  Of course we can do all of this for you because of your generous support.