What a week this has been.  It went from Jon thinking it would be a chill week with Sabrina and Rachelle  as sitting ducks to and insane POV ceremony totally flipping the game on its head. Two of the Sloppy Seconds ended up on the block. The whole is in a state of shock after Allison whipped out her secret
Power of Veto.  Immediately after Allison and Neda have a conversation. Allison need to convince Neda she is still with her despite  her actions but Neda doesn't believe her and wants her out the first chance she gets. These girls have been circling each other for a while. Who will get to strike first? Arlie is keeping cool, calm and collected while he plans his next move. Jon knows that anything that Arlie is doing from this point on is strictly strategy. The Gremlins are celebrating. Sabrina has managed to talk them off the block and now they realize they have become a pretty important part of this weeks vote. Arlie recognizes this and pleads his case to them. He points out just how powerful the Jon/Neda alliance really is, and that if they kept him he would be more than happy to break up this years no-mance showmance.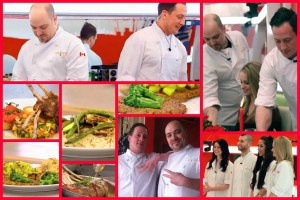 To break up the seriousness of the week the Have-Not were given a challenge of their own, Top Chef Canada style.  They were put in pair and they had to create a dish using ingredients they were given that would highlight  and elevate the taste of slop. The house guests were the judges and the winning pair was rewarded with a gourmet meal prepared by Top Chef Canada contestants Terry Salmond and Vittorio Colacitti. The winners of this challenge were Heather and Neda with their Slop Crusted Chicken.  They were cooked an amazing meal of Ratatouille, Ontario Rack of Lamb and Potato Confit. by the Top Chefs. Lets hope they fixed all the oven issues they were having before the Chefs arrived to make dinner.

After all the distraction Neda and Jon get back to work convincing Allison that Arlie is good for NO ONES game. The whole week it's been a flip-flop of Rachelle and Sabrina over keeping Adel or Arlie and with Allison as the swing boat they need to work really hard to save Adel.  Neither side trusts each other. Arlie has resigned himself to the fact that he is going home and Adel is totally confident that he is going nowhere this week. We waste no time jumping into the votes and with a unanimous vote, our hilarious and fun to watch Arlie Shaban has been evicted from the Big Brother Canada house. He was greeted by Arisa and they had their exit interview  right then. I am going to miss Arlie, I enjoyed watching him play the game and in my mind he is definitely and All-Star. He is now HOJH and I am sure he will play the game there as well. Hopefully we get to watch him control the Jury House.
We then enter into the Pier 21 HOH Challenge. Earlier in the week the house was given a chest of documents about the house guests fictitious  relatives and their heritage to read over and look at. If they were smart the would have known to pay close attention to everything in that chest. The HoH challenge was a true/false quiz based on the items in that. Adel was the f
irst one out of this challenge. The final two came down to Neda and Allison.  It came down to a tie breaker question. They had to guess the amount of acorns were in the backyard in the Nuts to That challenge and Neda won her second HOH of the season! Will she keep her word to the Gremlins or will The Sloppy Seconds hold strong this week? Arisa reveals that Canada will cast the 7th Jury vote this season. What are your thoughts on Canada getting to have a hand in deciding the winner? I'm not so sure about it.  On the SideShow were given a peek into the house. Neda was pulled into the Diary Room and ushered into the War Room! OMG are they going to Topaz her?  I don't think I am spoiling anything here by saying that this is an instant eviction this weekend. Arisa announce that the feeds are going to be cut this on Friday for the weekend. It will be interesting to see how long Neda is cut off from the house. As of now (Friday at 10:48am) she is still alone, eating McDonalds in the War Room.
First I want to give my Evil Neda photo credit to Melissa @thedolphinpoet. She does amazing photo work and she was nice enough to oblige me for this blog. Check out some of her Survivor, The Amazing Race and King of the Nerds work. You won't be disappointed. I hope everyone has a safe and happy Easter/Passover weekend. We will all be going through feed detox once we are cut off. Comment below and keep our minds off the fact we can't hamster watch all weekend. I look forward to all your comments and I'll chat with you all on twitter!