It has been a wild ride in the Big Brother house in the last 4 days. Brittany and Victoria remain on the block after Amber and Jocasta won the BOTB competition. Brittany is adamant the only reason she is on the block is because she won't flirt with Caleb, and she tells that to anyone who will listen over and over and over again. It has gotten so old and tiresome by now and everyone is sick of listening to her talk. Both her and Victoria feel alone in the game. Well ladies that is why you are on the block in the first place. You made no allies, no one has any reason to keep you around so it's time to go home.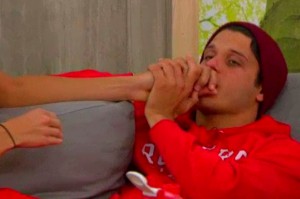 We are still being treated to the Creepy Caleb Stalker show. It's hitting all time highs now. He now waits for her to go to sleep and then goes in and kisses her! Everyone is sitting in the HOH room talking and Amber and Cody are sitting together and Amber's hands are cold so Cody is holding them trying to warm them up and Beast Mode Cowboy has now transformed into Stealth Mode Cowboy. He sneaks up to the HOH room trying to avoid cameras  and walks in to he room and witnesses the "hand holding". He doesn't stay long, just long enough sit stare at them with a sword in his hand to and leaves. Of course Caleb must  now whine about it to everyone. He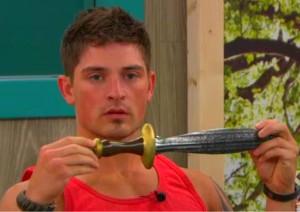 hones in on Zach. He says that Cody doesn't respect his feelings for Amber and he should be leaving her alone. OMG CALEB! She doesn't like you like that! Get a clue, she has told you over and over and over again, she does not want to go on a date with you, that she doesn't like you that way and you don't take the hint. Caleb says Cody is a target for him now.  Zach tries to calm him down by saying Cody is like that with all the girls (which he is), but Zach is a close ally is Cody so of course he wastes no time telling him. Caleb also cries to Brittany that Amber doesn't appreciate all the things he's done for her. He's put himself on the block for her, given her his blankets and she doesn't care, she sits in Cody's back pocket. He says that Brittany deserves to be here more than Victoria, which has given Brittany just enough hope to keep on campaigning.  I'm not sure what is more annoying to me Brittany whining or Caleb whining but I am fixing to lose my mind here. On one hand Amber says I don't like you but then she's giving him kisses on the cheek and hugging him. What do you think of the Caleb/Amber situation?
 It's time to pick players for the Veto meeting. Cody picks Zach, Victoria chose Nicole and Brittany picked out  house guest choice. Who would you expect Brittany to pick. I would assume a weaker girl to increase her odds in winning plus most of these boys have put her on the block at one point but No! Brittany, after her conversation chose Caleb! She must think he'd be playing for her and remove her from the block. Cody is totally shocked, and think something fishy is going on.  Too worry him even further before Veto is played Caleb is campaigning hard for Brittany stay. Cody is now on high alert when it comes to Caleb. He knows Caleb is going to strike at him if he doesn't do it first. Does Cody have the nerve to go against the Detonators and do what is best for HIS game?
This week we are playing BB CUP! It's a World Cup soccer Theme. Frankie is hosting, and the house guests get their first news from the outside world the Germany won the World Cup. Players but their soccer ball on this crazy looking half body kicking machine and launch their ball into the net that is divided up into  points squares.  The person with the lowest score loses the round and gets to pick a prize. The people who are eliminated after them get to choose to keep what they got or trade for someone else's prize. We see this competition every season so the only question really is – What is the unitard going to look like this year?  First round Victoria shocks everyone and scores the highest points.  Our professional soccer player is out this round and his prize is the Veto! In the second round Brittany misses the net completely and is out, she picks Penalty Kicks and quickly trades Cody for
the Veto. Zach is out round three and his prize is a Germany Vacation. He has no use for the Veto and chooses to keep the trip. Nicole scores the lowest score in round 4 and chooses the punishment of having to complete 2400 soccer goals in 24 hours, if you don't complete the task, you can compete in the next veto. She wastes no time in giving that to Brittany. Brittany was PISSED off. They already had Bedgate with Victoria misses in the last round and wins $5000. She takes the Veto from Nicole. Caleb's prize was the Germitard. Caleb has so many options here. It's truth time. How loyal are you to your alliance and are you going to make Cody get even more blood on his hands. You can take the trip from Zach, the money from Nicole or the Veto from nominee Victoria so you can keep the nominations the same and let the plan of Brittany leaving carry on with no complications. If you are so loyal to Cody and the other 4 members of your alliance then you'd grab the Veto!  Caleb trades with Nicole! So now Nicole will be wearing the Germitard and Caleb has $5000 and VICTORIA HAS WON THE VETO.
The house is in total shock! Caleb has betrayed his alliance. Brittany really thought he'd save her so she again is feeling alone. Donny  things Caleb is the Dumbo of all Dumbos and Caleb is pissed off! Cody is looking like a great replacement nominee now. But first we must get to our punishment. Cody has PENALTY KICKS. This means his is given this contraption that will kick him in the butt. Every time Big Brother tells him he must go
to the kicker machine and kick himself 10 times in the bum. Frankie is OBSESSED with this machine. Brittany is in the yard with a soccer ball, net and goal counter. 2400 goals in 24 is INSANE. She is not allowed in the house at all, not even to sleep. She lost toe nails, her feet are so sore and Donny would sit with her for hours to keep her going, bring her Advil and just help her walk. I will say for all her whining Brittany was a beast in this punishment. She did it with a few hours to spare while everyone watched and cheered her on. Great Job Brittany, you earned my respect right there! Then there is Nicole who just came off a week as a Frog and is now in a unitard that looks like leiderhosen and she has to carry around a huge wiener and beer stein. Oh and she has some crazy Robin Hood looking hat to wear too!
The Detonators regroup in the HOH Room. Cody really wants Caleb up on the block. He is terrible for his game on all sorts of
levels and the Veto competition proved to Cody that Caleb is not loyal to HIM. Derrick will not allow this to happen.  They want Brittany to go home and if Caleb is on the block there is a chance he'll go home. Put Donny on the block and Brittany leaving is a sure better. Cody is terrified that Donny could home. Derrick just keeps saying that although Caleb is a pain in the ass he is a number and a loyal one at that. Maybe to you Derrick but not to Cody! Caleb didn't mess up your nominations, he messed up Cody's! The morning of  the Veto meeting Donny and Cody are talking and Donny manages to give Cody the confidence he needs to do what Cody wants and not what Derrick wants. He fully plans on nominating Caleb that afternoon, then he talks to Frankie. These boys share way too much with each other and Frankie tells Derrick that Cody has flipped the switch. Derrick is having no part of that and goes back and talks to him. At the Veto meeting Victoria takes herself down and Cody nominates DONNY in his place.
I hate this decision on so many levels. Mainly I just love Donny, but I also love Cody and want Cody to make a decision that is right for him not for The Detonators. I am tired of the intimidation that is going on this season first with Devin, now Derrick is becoming a not so volatile and paranoid version of him.  I really hope we the end of the 2 HOH's this week. I don't think it worked the way they intended it because we don't have a divided house. This twist would have been amazing last season when the house had clear sides. Who would you want as the next HOH?
I'd like to just take a minute and express my personal condolences to the Grande family. It's no secret that we found out that Frankie's grandfather passed away. Originally the family wasn't going to tell Frankie because they wanted him to stay in the game. They ultimately decided that he needed to know and he was informed by a letter of the news BUT his grandfather had expressed before his passing that he wanted Frankie to stay in the game and not waste the opportunity he was given. Frankie is staying in the game, he was allowed to reach out to his family by speaking through the camera to them last night. CBS will edit it and pass it on to the family. My heart goes out to all the family in this terrible time.  On the bright side Frankie is doing well. The house put their crap aside and supported Frankie through it all, and with Zach and Cody's support has gotten his head back in the game. You can find our breaking news report of Grandpa Grande's passing here. To watch Frankie find out for yourself here is the flashback time:
 July 23rd – 5:00PM BBT – (ALL CAMS) :  Frankie is told of Grandpas death. Watch here
Frankie's eulogy to his grandfather was so heartfelt and touching. Get the kleenex ready and watch for yourself:
The feeds are free for a trial run. Check out all our spoiler pages that can keep you up to date on everything going on in the house! Just click on any of  the links below and you will instantly be put in the loop.  AND REMEMBER IF YOU LOVE BIG BROTHER & HAVEN'T HEARD EVERYTHING WE ARE DOING THIS SEASON YOU MUST CLICK HERE BECAUSE YOU WONT BELIEVE IT!  YOU CAN ALSO CHECK OUT ALL OUR PRESEASON BB16 CONTENT HERE & IF YOU HAVEN'T GOTTEN YOUR LIVE FEEDS YET PURCHASING THEM THROUGH OUR WEBSITE (CLICK ANY BANNER) WE'D BE GRATEFUL!  YOU CAN ALSO SUPPORT ALL OUR CONTENT FOR VIA PAY PAL, PATREON AND EVEN FOR FREE HERE!

We also have a BRAND NEW TWITTER ACCOUNT which we will be using solely for our Live Feed updates.  It's a great way for you to find out what is going down as it happens 24/7 on the live feeds!  We wanted to keep it separate from our MAIN TWITTER ACCOUNT which covers all our shows because we love you and don't want to fill up your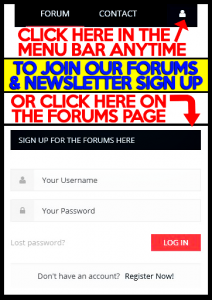 timelines!  Plus we will be posting news, gossip and spoilers there about BB16 exclusively too and we don't like to spoil on our main twitter account.  Now while twitter is a great way to get your 140 character live feed updates sometimes you just need more details!  Which is why we suggest you also join our forums!  This way you can get info like the exact cameras and flashback times for the updates we are giving you, plus interact with other fans!  You can also get special prizes and all the latest info by subscribing to our monthly newsletter (WE WONT SPAM YOU) when you sign up for our forums.  Its easy and free (just two simple steps) by clicking the little man all the way on the right of the menu bar (or in the sidebar on our forums page).  Just make sure you click to subscribe to newsletter when signing up for the forums!  Of course we can do all of this for you because of your generous support.